Despite my family's busy life, I insist that we maintain family dinner time. Unfortunately though, I'm not a skilled chef, so I look for shortcuts as much as possible. If you're like me (and long for easy ways to serve up great meals for your family), then meal delivery kits are a great choice. By having fresh ingredients and clear recipes delivered straight to your doorstep, you can prepare impressive, chef-inspired meals with ease.
When you google "meal delivery kit," though, you quickly find endless options. How can you possibly decide which one will fit your needs?
Here at Food Delivery Guru, we've started a series of posts where we provide unbiased, complete reviews for some of the most popular meal kits such as HelloFresh, EveryPlate, and more.
This Blue Apron review will include the following:
An Overview of Blue Apron
Info How Their Plans Work (pricing #, of meals, etc)
My Personal Experience (Detailed Reviews of Two Blue Apron Meals)
Frequently Asked Questions About Blue Apron and Meal Kits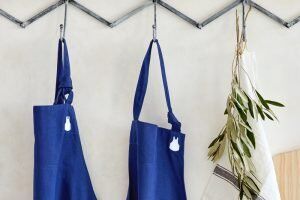 What is Blue Apron?
Blue Apron launched in 2012 by selling just 20 meal kits made of recipes and ingredients. Today, this $2 billion company employs over 4,000 employees and sells upwards of 8 million meal kits per month. Blue Apron is US-based, with headquarters in New York and other offices in California, Texas, and New Jersey.
Essentially, Blue Apron sends you weekly ingredients and recipes for 2-4 meals per week. While these meals aren't cheap, quick-prepare meals, they also aren't ridiculously complicated meals. Their goal is that you develop new culinary skills while experiencing delicious, farm-fresh ingredients. Each Blue Apron recipe involves real cooking, and most of their meals require 30-50 minutes to prepare.
In addition to their meal kits, Blue Apron also offers wines, pantry essentials, and kitchen tools via their online marketplace. They maintain an online cookbook for their subscribers, which can help you prepare your favorite meals or discover new ideas anytime. You can also purchase gift cards or gift subscriptions for friends or family members on their website.
Blue Apron Plans
Like most meal delivery services on the market, Blue Apron offers multiple plan options for their customers. Their plans are determined by your preferred number of servings per meal (2 or 4), plus they offer a vegetarian plan as well as a plan for WW (formerly known as Weight Watchers) users.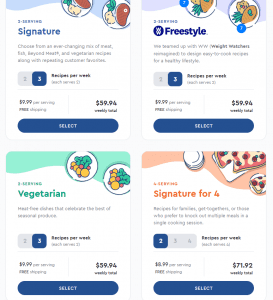 Unlike their competitors, Blue Apron offers free shipping on most of their meal plans as well as the option to change your plan at any time. They offer the option to choose specific protein preferences, which helps if you have certain meat allergies or religious dietary needs. They also offer delivery options on all 7 days of the week in many larger markets (for specific delivery availability, you can enter your zip code on their website).
Signature Plans
Their most versatile plan is by far the Signature Plan. This plan offers options for either 2- or 4-serving meals and the choice of 2 to 4 meals per week. You have the option to select your meals each week from their list of 6 options. They will also pre-select meals for you based on your dietary preferences that you select when setting up your account.
| Plan Type | Number of Meals | Price Per Serving | Total (with shipping) |
| --- | --- | --- | --- |
| Signature 2-Serving | 2 | $9.99 | $47.95 |
| Signature 2-Serving | 3 | $9.99 | $59.94 |
| Signature 4-Serving | 2 | $8.99 | $71.92 |
| Signature 4-Serving | 3 | $7.99 | $95.88 |
| Signature 4-Serving | 4 | $7.49 | $119.84 |
WW Freestyle Plan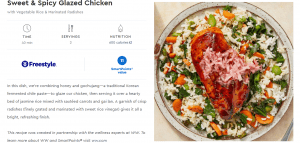 Definitely their most unique plan, this option provides either 2 or 3 meals per week for 2 people. These "easy-to-cook meals for a healthy lifestyle" actually follow the WW guidelines. For each meal available on this plan, you can preview the Smart Points value for each serving in addition to the other nutritional facts available for all their recipes.
| Plan Type | Number of Meals | Price Per Serving | Total (with shipping) |
| --- | --- | --- | --- |
| WW 2-Serving | 2 | $9.99 | $47.95 |
| WW 2-Serving | 3 | $9.99 | $59.94 |
Vegetarian Plan
Although this is a great plan for vegetarians to receive ready-to-make meals at their door, it's by far their most limited option. Blue Apron only provides 3 meal choices per week on their Vegetarian Plan, meaning you will pretty much eat everything they offer. Also, the Vegetarian Plan is only available for two people, so not an option for vegetarian families.
| Plan Type | Number of Meals | Price Per Serving | Total (with shipping) |
| --- | --- | --- | --- |
| Vegetarian 2-Serving | 2 | $9.99 | $47.95 |
| Vegetarian 2-Serving | 3 | $9.99 | $59.94 |
My Personal Blue Apron Experience
In order to provide you with the best Blue Apron review possible, we actually signed up for their service to test it out firsthand. Signing up was a breeze. I found a discount offer online, then proceeded to fill in the needed information.
Since I have a family, I selected the Signature Plan for 4 and 2 meals per week. Although Blue Apron says that they offer delivery every day of the week in many areas, I found that my location only allowed for delivery Tuesday-Saturday. Since I missed the deadline to get my box on the following Tuesday (you must do this anywhere from 3-5 days in advance depending on your exact location), I selected Wednesday.
It took me about 10 minutes total from googling "Blue Apron discount code" to finalize my order.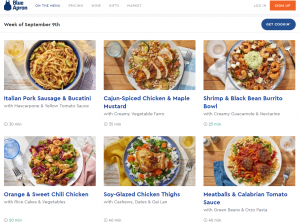 When you preview their weekly menu lineup online, you'll see the name of each dish, a picture of the final product, and an estimated prep time. If you click on an individual menu item, you'll receive slightly more details about the dish including nutritional info.
Once you sign up for their service, you can actually access a step-by-step cooking guide either via their website or their smartphone app (a neat feature that Blue Apron offers). Although they don't provide any videos, they do provide images for each step of the cooking process. I found this useful a few times when I wasn't sure that I was actually reading the directions correctly.
As expected, my order arrived by lunchtime on Wednesday. I wasn't home, but the Blue Apron app notified me that my meal kit would be waiting at the door.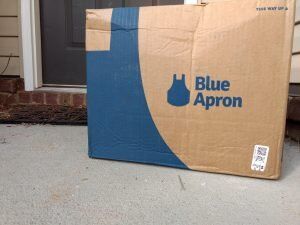 Once I got the children inside and settled, I opened the box. Like most other meal delivery kits I've ordered, this one came packaged to stay cool. Unlike most other kits, however, Blue Apron actually shelled out some serious money on their packaging. They actually used a full insulation pack around everything, which I found quite impressive. Like most of their competitors, they kept the meat separate from the produce and included 2 easy-to-dispose ice packs within the box.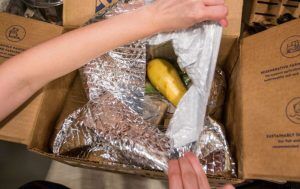 Inside the box, I found all of my ingredients, recipe cards for each meal, and a sheet of nutritional facts for all the meal choices for that week.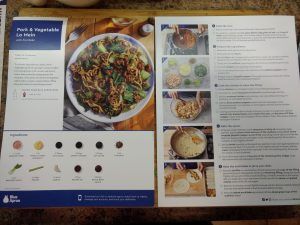 Once I unpackaged everything, I noticed another thing that really shows Blue Apron's attempt to be a "premium service." Although each meal was not packaged completely separate like HelloFresh, they did label everything very well and packaged the non-produce ingredients for each meal in their own plastic bag. While cheaper options like EveryPlate don't do this, I find that the clear labels help you know right away which ingredients go with which meal.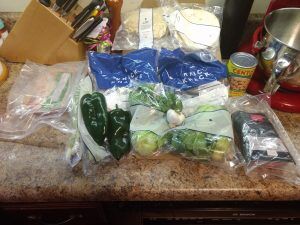 I chose 2 very different meals to prepare for this review: Pork & Vegetable Lo Mein and Chicken Chili Enchiladas. I selected these for several reasons. First, I wanted one item that Blue Apron guaranteed to be a "quick-prep meal." Second, I wanted meals that incorporated different proteins and produce. Finally, I wanted one item that I wasn't sure my kids would eat.
Meal #1: Pork & Vegetable Lo Mein
Since my daughter had a speech therapy appointment on Wednesday afternoon, I chose to start with the lo mein. According to the directions, this meal could be prepared in 30 minutes or less. After a full day at work then an hour long appointment, I needed a meal that I could quickly have on the table.
Even with the chopping required, this meal did come together fairly quickly. I did leave most of my produce on the cutting board so that I didn't dirty up multiple bowls. The directions tell you to put each item in a separate bowl, but then later told you to combine them, so I saved myself some cleanup because I hate dishes. I also felt like the directions went a bit out of order for my liking, but in the end I found ways to keep everything warm.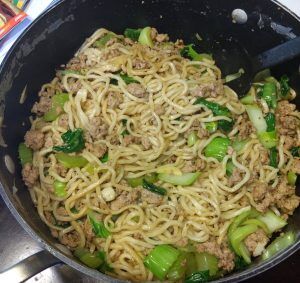 What this dish may lack in appearance, it definitely surpassed in flavor. The spice packet they provided to add at the end really enhanced the dish. As far as children go, my oldest was sceptical at first, but ended up loving the meal once she tried it. She did pick out the bok choy, but at least she ate the majority of the meal?
Minus my annoyance with the number of dishes this dinner required me to use, I loved the meal overall. I even had leftovers for lunch the next day and it tasted just as great!
Meal #2: Chicken Enchiladas
If you've read my other reviews, you know that my family loves Mexican food, so this meal was a no-brainer when we selected it. Since this meal said that it would require 50 minutes to prepare, I started early. I'm glad I did, because there were several steps to the preparation. Again, I felt like this required tons more dishes than other meal kits I'd tried, but the results were mostly worth it. We all devoured this dish and some even snagged additional helpings!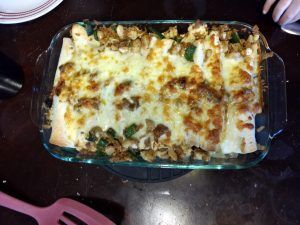 Cancelling Blue Apron
While we did enjoy the meals, the prep times and excessive amount of dishes really didn't entice me to continue with Blue Apron. I'd also read some other reviews that mentioned their cancellation policy being complex, so I wanted to walk through it myself for this Blue Apron review.
While most of Blue Apron's competitors provided an easy cancellation, Blue Apron does not. I spent nearly 15 minutes looking everywhere both in my account settings and on the app. Finally, I searched the company's FAQs and found the needed info. It turns out that Blue Apron actually requires you to email them before cancelling. Then, they provide you with the steps to cancel your account. I feel this is a bit much, especially considering they literally send you an auto-generated email when you contact them. What's more, I followed their listed steps to no avail. Finally, I tried their last resort listed: visiting https://www.blueapron.com/cancel_subscription and following the steps there. Needless to say, that doesn't really make me want to reactivate my account.
Frequently Asked Questions About Blue Apron
1. What is Blue Apron?Blue Apron is a premium meal delivery kit service that offers great options for receiving recipes and ingredients each week. Although they aren't the cheapest option out there, Blue Apron boasts quality ingredients and delicious meals without breaking the bank.
2. How many servings will I receive?Depending on which plan you select, you can receive either 2 or 4 servings per meal.
3. Can I select my meals?Yes, you can select which meals you receive each week with every plan option.
4. When does Blue Apron arrive?You can choose to receive your deliveries on any day of the week in most areas. Always check with their site first, though: I found that I could only receive deliveries on Tuesday-Saturday.
5. What if I'm not home when my Blue Apron delivery arrives?Although they clearly mention on their site that they are not liable for food left outside after delivery, Blue Apron packs each box so that your food will remain fresh for hours.
6. What does a Blue Apron subscription cost?Prices vary per plan, but average around $9.99 per serving. Free shipping is included with all plans where you receive 3 meals per week as well as all of their family plans.
7. What if I don't want a delivery on a certain week?Blue Apron offers the option to skip up to 5 weeks in advance. This is great for people who travel or cannot commit to cooking every week due to busy schedules.
8. What options does Blue Apron offer for specific dietary needs?Blue Apron offers several dietary-specific items. For starters, they offer both a vegetarian plan a well as a WW (Weight Watchers) plan. Furthermore, they offer the option to select which proteins you want to receive or not receive. With this being said, Blue Apron does not offer vegan plans or plans that meet specific food allergies.
9. Does Blue Apron use organic products?Although Blue Apron claims that some of their ingredients come from certified organic sources, not all of them do. If you want a certified organic plan, check out these options.
10. What if I want to cancel my Blue Apron subscription?Unlike most other meal delivery plans, Blue Apron makes the cancellation process a bit more complicated. You must first email cancellations@blueapron.com, then wait for them to provide specific instructions. For the entire process, please scroll up to my personal experience.
11. What makes meal kit delivery services like Blue Apron worth the investment?If you struggle to prepare healthy meals that use fresh ingredients, Blue Apron and other meal delivery services can help you get there. With Blue Apron, you have options regarding your plan and individual recipes, which is great. Blue Apron also offers some options that other similar services do not like the smartphone app, full nutritional info for each meal, and step-by-step instructions both in the box and online. Blue Apron also offers a WW-approved plan, which is a unique option for people trying to eat clean and lose weight.
Final Thoughts on Blue Apron
On the surface, Blue Apron looks like a great meal kit service provider and it is for many people. They offer a varied menu each week, provide very detailed directions and well-labeled ingredients, and great delivery date options. The free shipping is a nice perk, too!
However, based on my personal Blue Apron review, they are not the best meal kit solution for everyone for several reasons.
For starters, if you have a food allergy, count Blue Apron out. The company specifically states they do not cater to people with specific food allergies. Also, Blue Apron's vegetarian options are limited, and they offer no vegan options at all. Although they do offer options to select which proteins you would or would not like, I noticed that they will still show you meals with proteins you didn't select and even allow you to choose them if you hand-select your meals.
Next, I don't feel like Blue Apron caters to busy families at all. Although they offer one 30 minute or less meal per week, the majority of their menu items require 45+ minutes. There are days I literally do not have time to spend an hour in the kitchen on something that takes 5 minutes to eat. Also, all of their menu items require utilizing lots of dishes in the kitchen, which then means you spend even more time in the kitchen after the meal. Then, of course, there was the nearly 45 minutes I spent trying to cancel. My time is precious, and I don't feel they make any efforts to respect that.
If you're single or enjoy spending time in the kitchen, Blue Apron could be a great option for you. Furthermore, if you want a meal delivery kit that offers great menu variety with lots of perks, this is a wonderful one to pick.