Quick Note: Whenever possible, we use affiliate links, which allows us to give you access to discounts and coupons for many of the services below.
Looking for cheap meal delivery services anyone can afford?
You've come to the right place. In this post, we've ranked several popular companies by price, so you can find the cheapest meal delivery service that meets your needs and preferences. That's right, not all meal kits come with costly subscription options and outrageous delivery fees. There are plenty of cheap meal delivery services that'll put food on your plate (and your belly) for less than $7 per meal.
That said, if you just want the cheapest option period, we recommend EveryPlate. Food Delivery Guru readers can save 40% and try the service for only $3.99 per meal, making it the most affordable option we know of.
Try EveryPlate for $3.99 Per Meal!
Want to dive deeper? Let's do it.
We'll start out with a quick head-to-head chart so you can see the big picture (note that prices do sometimes fluctuate — we can't make any guarantees). Then, you can read the short reviews we've written for the different meal services. We have discount links and promo codes for almost half the services listed!
Cheapest Meal Delivery Service Comparison
| Service | Price Per Serving |
| --- | --- |
| EveryPlate | $4.99 ($8.99 shipping) |
| Dinnerly | $5.75 – 6.50 ($8.99 shipping) |
| TakeOut Kit | ~$7.75 (free shipping) |
| HelloFresh | $7.49 – $8.99 ($6.99 shipping) |
| Blue Apron | $7.49 – $9.99 (free shipping) |
| Marley Spoon | $8.99 – $12.99 (free shipping) |
| Freshly | $8.99 – $12.99 (free shipping) |
| Home Chef | $9.95 (free shipping on orders $45+) |
| Plated | $9.95-$11.95 (free shipping on orders $60+) |
| Sun Basket | $10.99-$11.99 ($6.99 shipping) |
| Green Chef | $10.99-$12.99 ($5.99 shipping) |
| Purple Carrot | $12.00 (free shipping) |
Want to learn more about these meal delivery services? Here are some big-picture reviews to help you understand how they work and find the best one for your budget.
1. EveryPlate — arguably the most affordable option
$4.99 per serving ($8.99 shipping)

EveryPlate.com
Billed as "America's Best Value Meal Kit," EveryPlate is sure to deliver—literally. Meals start at just $4.99 per serving (and $8.99 for shipping). EveryPlate is one of the cheapest meal delivery services and can fit almost anyone's budget. The cost-conscious company prides itself on delivering fresh flavors to please every palate, and they'll have meals to satisfy all your cravings. Their kit packaging is recyclable, too, so when you save yourself from hunger, you'll also be saving the environment.
EveryPlate says it best; their meals are as easy as "Decide, deliver, devour," and that's a motto we can get behind!
If you'd like to learn more about EveryPlate, be sure to read our full review of this low-cost meal kit (Big Picture: We really like it!).
Try EveryPlate for $3.99 Per Meal!
2. Dinnerly — kid-friendly meals with only 6 ingredients
$5.75 – $6.50 per serving ($8.99 shipping)

Dinnerly.com
If you love simple, budget-friendly meals, Dinnerly, "The Most Affordable Meal Delivery Service," might be your new go-to.
The kits, which run $4.99 per portion (with $8.99 shipping) are family-friendly and perfect for families on the go; they each contain only 6 ingredients per meal, and prep time is just 30 minutes.
Dinnerly also claims to be "picky-eater proof," so it's an excellent choice for young foodies who prefer chicken nuggets to filet mignon. This company's sure to deliver on its promise to cater to the "kid in you"—and make you smile as you cook!
3. TakeOut Kit — globally inspired cuisine
~$7.75 per serving (free shipping)

TakeoutKit.com
If you dream of traveling the world, but your budget leaves you living vicariously through your taste buds, you need TakeOut Kit in your life. The globally-inspired kits, which will transport you to exotic locales like Japan, Thailand, and Peru, use bold flavors and worldwide classics to satiate your rumbling stomach.
Portions run $6.50 and above, but if you're saving for your next plane ticket, there's no need to fret, because shipping is free.
TakeOut Kit's meals will easily suit your busy lifestyle, too. They have much longer shelf lives than other meal kits, and your food will be ready to eat in 25-45 minutes. Order up and pack your bags, because TakeOut Kit will take your palate on the adventure of a lifetime. Be sure to check out their a la carte option!
*Get 10% off your first order with code WELCOME10
4. HelloFresh — delivery around the world
$7.49 – $8.99 per serving ($6.99 shipping)

HelloFresh.com
Say "hello" to fresh flavors with HelloFresh! If you're in the market for quick, simple meals with fresh ingredients, HelloFresh is the way to go.
This delivery giant prides itself on 30-minute meals with few ingredients, so it's perfect for students, parents of young children, or anyone who loves savory food and despises the amount of time it takes to prepare nutritious meals.
Most HelloFresh meal plans run $7.49 – $8.99, but the most cost-effective meal option is just $6.99. The popular service, headquartered in Germany, is committed to delivering meal kits internationally—you can order HelloFresh meals in 10 different countries on multiple continents!
Clearly, HelloFresh ready meals have won the world over. Check out our full review here!
5. Blue Apron — a very popular meal service
$7.49 – $9.99 per serving (free shipping)

BlueApron.com
Get those (blue) aprons ready, meal kit-lovers! Blue Apron is fresh, out-of-the-box, and ready to deliver farm-sourced, high-quality ingredients to your kitchen. This service has a variety of menu options to fit anyone's needs, so whether you're planning a romantic date night in or a large family dinner, everyone will leave your table satisfied—and wanting more.
Plans start at $8.99, and if you're not a fan of shipping costs, you'll love Blue Apron's free shipping. If you have dietary restrictions, never fear: the kits accommodate a wide variety of dietary needs, including pescatarian diets and vegetarian options, and shellfish allergies.
With its commitment to serving every customer, Blue Apron truly does have a meal to please everyone.
6. Marley Spoon — Martha Stewart's meal delivery service
$8.99 – $12.99 per serving (free shipping)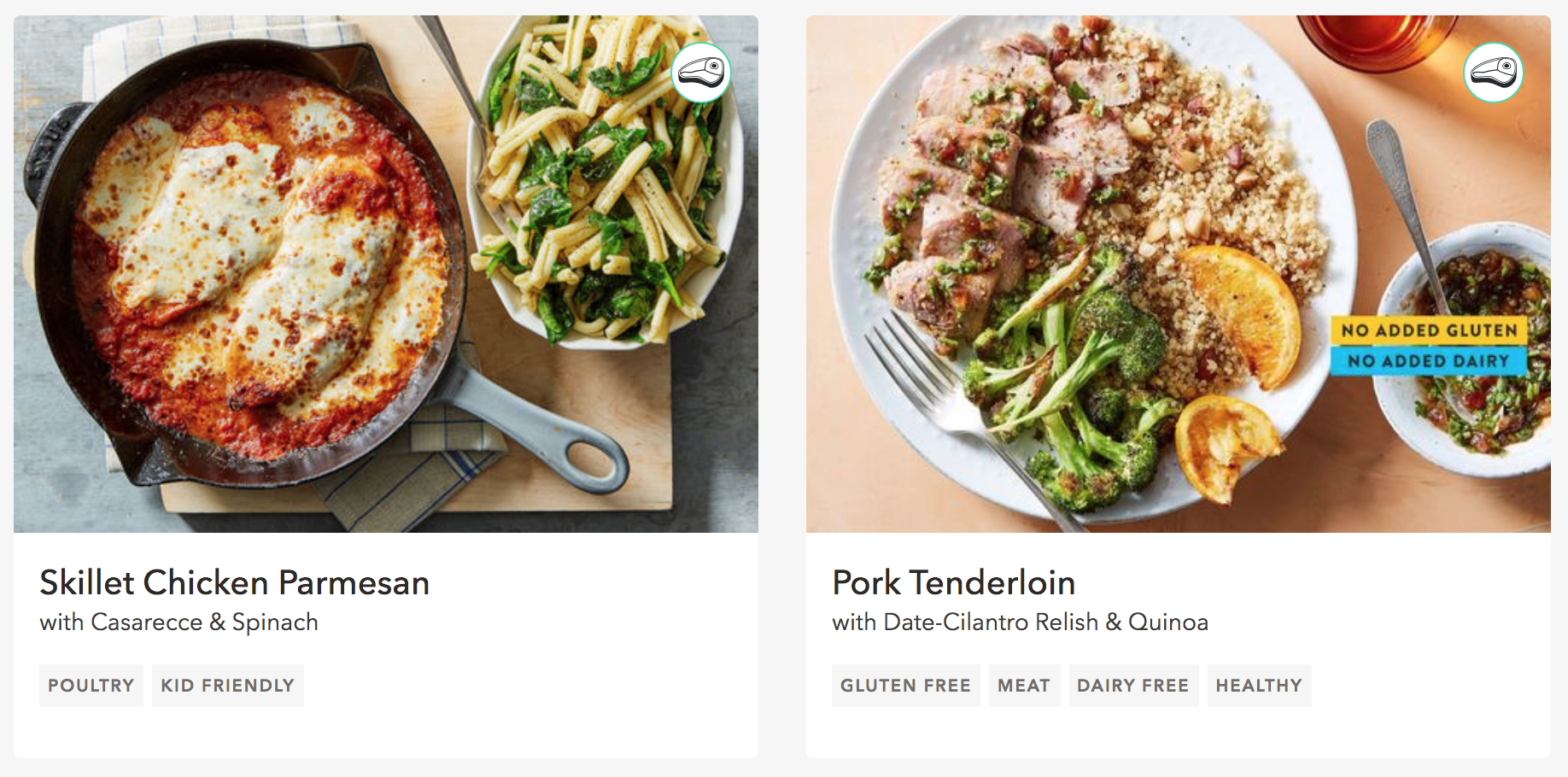 MarleySpoon.com
If you want to add a dash of Martha Stewart and a hefty spoonful of convenience to your kitchen, Marley Spoon will be your new favorite addition to your weeknight routine. The Martha Stewart-owned company promises 30-minute meals that will make your weeknights easier and forever rid you of boring dinners.
That Martha Marley Spoon touch will run you $8.99 – $12.99 per portion, but shipping is free.
If you love quick, healthy versions of your favorite meals, Marley Spoon is sure to make your dinner creations pop!
7. Freshly — Fully prepared meals, great for singles
$8.99 – $12.99 per serving (free shipping)

Freshly.com
All-natural, never frozen, fully prepared meals? Yes, please! If you treat your body like a temple and prefer natural or gluten-free ingredients, Freshly's sure to satisfy your tastes and make your stomach happy.
Coming in at $8.99-$12.99 per week, Freshly's meal plans are a worthy investment for anyone who leaves work too exhausted to meal prep. This company's hallmark is its meals' 2-minute prep time and "no cleanup" commitment.
With all that time you save by not slaving over hot meals every night you can binge-watch your favorite show or curl up with your favorite book… and your delicious, hassle-free meal. The possibilities are endless!
8. Home Chef — very high customer satisfaction
$9.95 per serving ($10.00 shipping on orders under $45)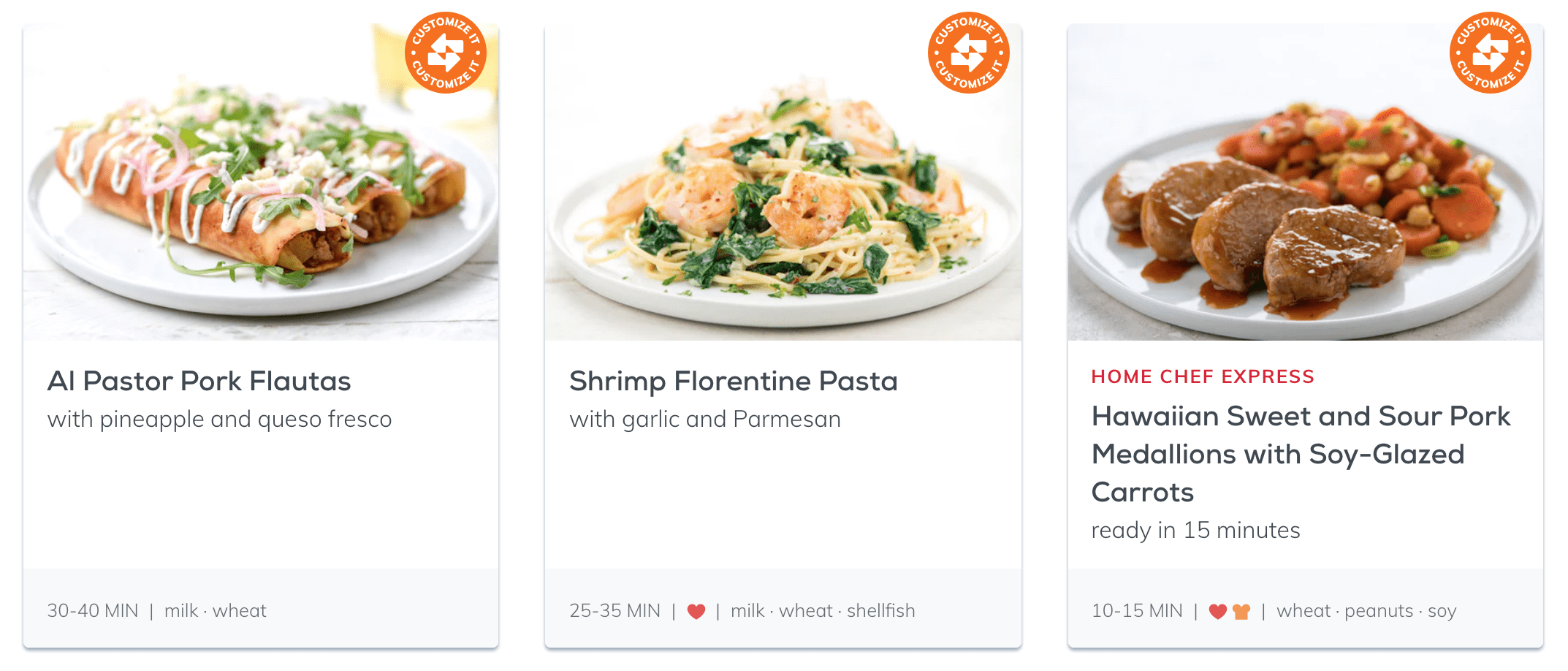 HomeChef.com
Home Chef isn't the cheapest meal delivery service, but it is one of the best-reviewed. Owned by Kroger, Home Chef has one of the highest customer satisfaction ratings among leading meal delivery services. With 26 meal options to choose from, Home Chef has an excellent selection of fresh, delectable meals that is sure to satisfy. Options include steak, chicken, pork, fish, and vegetarian.
Starting at $7.99 per portion ($10 shipping on orders under $45), Home Chef meals will save you money and trips to the grocery store. Their prices can beat grocery prices by over $7. And, if you prefer to order delicious meals in bulk; you're in luck: Shipping is free on orders over $45.
Home Chef also just released a new "Customize It" feature, where you can personalize your choices by "swapping, upgrading, or doubling the recipe protein."
If you love savings and quick, delicious, customizable food, Home Chef will be your affordable diamond in the rough.
9. Plated — a Shark Tank company!
$9.95 – $11.95 per serving (free shipping on orders over $60)

Plated.com
If you're tired of preparing the same five meals week after week, Plated, which is best known for its beginnings on Shark Tank, has the fresh variety you're looking for. Their 20 possible dinner selections, which range from American-style comfort food to international favorites, are sure to satisfy all your cravings… and leave you reaching for their delectable desserts.
This up-and-coming Albertsons-owned company's meal plans come in at $9.95-$11.95 per portion, but if you're looking to stock up on meals, Plated might be your top choice because shipping is free on orders over $60. And, if you choose to fuel your body with natural options, you're sure to love Plated's commitment to providing sustainably sourced, organic, GMO-free food that will definitely pique your taste buds.
If you love all-natural food and buying in bulk, Plated could be a favorite addition to your dinner table.
10. Sun Basket — USDA-certified organic handler
$10.99 – $11.99 per serving ($6.99 shipping)

SunBasket.com
If you've been searching for a meal delivery service that will accommodate all of your dietary needs, Sun Basket will serve up a healthy helping of everything you've ever dreamed of. Although it's not the cheapest meal kit overall, if you have special dietary restrictions, it might be the most affordable option for you personally.
With 11 different menus to choose from, Sun Basket makes it easier to eat:
Mediterranean – healthy meals inspired by the sun-soaked Mediterranean
Gluten-Free – for those with wheat-free dietary preferences
Lean & Clean – low-calorie meals with less than 600 calories per serving
Vegetarian – no meat or seafood, just veggies
Pescatarian – wild-caught seafood and veggies
Paleo – high in protein and dairy-free
Fresh & Ready – oven-ready meals that require no meal prep
Carb-Conscious – low-carb meals with only 25-35g of carbs
Diabetes-friendly – weekly menus approved by the American Diabetes Association
And Chef's Choice – seasonal and hand-picked by Sun Basket chefs
This clean-eating company's meals will run you $10.99-$11.99, plus $6.99 shipping, but if you are craving organic, responsibly-sourced food that won't break your diet, it's a worthy splurge.
With so many weekly options and a 30-minute meal prep time, this groundbreaking meal delivery service is perfect for discerning dieters.
11. Green Chef — Keto and Paleo plans
$10.99 – $12.99 per serving ($5.99 shipping)
Want to make your diet greener? Green Chef has exactly what you're looking for! The up-and-coming company, recently purchased by HelloFresh, carries meals that Vogue has hailed as "crowd-pleasing" and Forbes has dubbed as "like having your own private sous chef."
Green Chef's highly praised meals are worth the price: $10.99-$12.99 with $5.99 shipping. The service carries vegetarian, vegan, paleo, and keto options, so there's no need to worry about accommodating your dietary lifestyle. And, with a breezy 30-minute prep time (thanks to partially pre-prepped ingredients and easy-to-follow recipe cards), the meals require "Less time than it takes to watch an episode of Girls." (Self).
So, get cooking with Green Chef, then get right back to your favorite Girls episode… with delicious food in hand!
12. Purple Carrot — a vegan meal kit subscription
$12.00 per serving (free shipping)

PurpleCarrot.com
If you've searched high and low for tasty vegan meals, Purple Carrot will be your dream come true. Their variety of plans is tailored to accommodate your every need—they carry a "Quick & Easy" plan (featuring 30-minute meals), a high-protein plan to boost your vegan diet, and a "Chef's Choice" plan that's sure to satisfy your inner gourmet.
At $12 per portion, isn't the cheapest meal delivery service in general, but it is comparable to the price of other vegan plans. And shipping is always free.
The company includes an ingredient list for each meal, so you can plan around any food allergies. And if you have any dietary restrictions, Purple Carrot will offer to make recommendations for ingredients you could substitute!
Bonus: Daily Harvest — a smoothie subscription
$6.99 per cup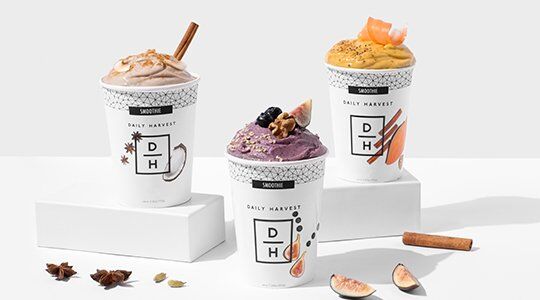 Maybe you aren't in the mood for some heated-up parmesan mashed potatoes and would rather go for something, oh I don't know, a little lighter. When you're hungry, but not "I need a fully cooked meal" hungry, Daily Harvest serves up delicious, superfood smoothies that are the perfect meal on the go that feels like a treat—but without all the guilt.
Each Daily Harvest cup comes with two 8-ounce servings and shipping is free, so long as you live within the "95 percent of the contiguous United States" that Daily Harvest delivers to.
Their plans can be delivered weekly or monthly and come with either 9, 14, or 24 tasty treats of your choice (smoothies, soups, oat bowls, etc) with most of their cups falling in the $6.99 per cup range.
If you'd like to learn more about Daily Harvest and other smoothie subscriptions services, check out our deep-dive here.
What's the cheapest meal delivery service for your needs?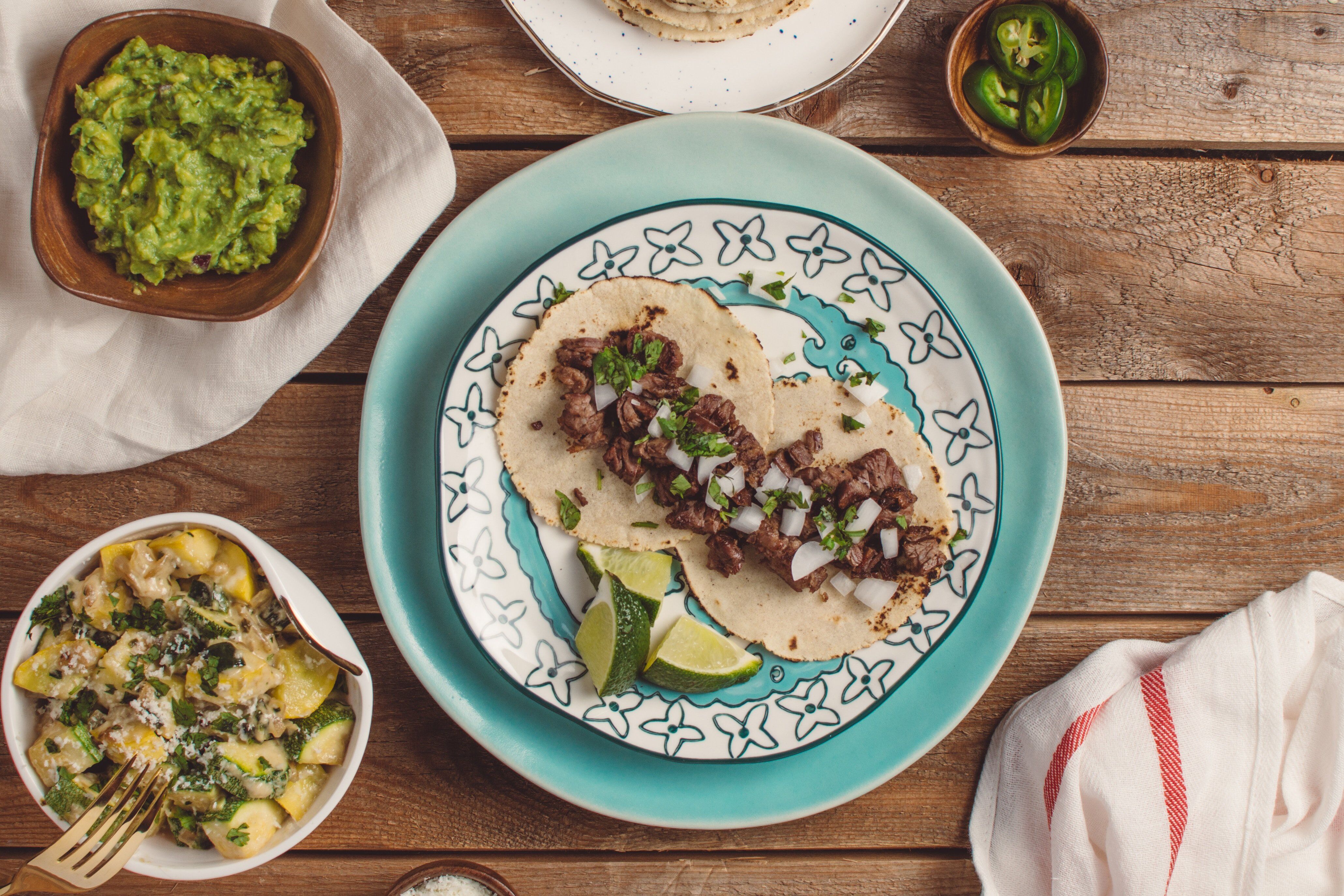 unsplash-logoTravis Yewell
Whether you're looking for organic ingredients, fully prepared meals, vegan options, global cuisine, or skip this week's grocery shopping, there's a company out there ready to make your life more convenient and delicious.
If you're simply looking for the least expensive option, regardless of any other factors, you'll probably want to go with either Dinnerly or EveryPlate. This video does a great job of showing how these affordable meal kits work (specifically Dinnerly).
Whatever you choose, we hope this article has helped you find the cheapest meal delivery service for your needs and priorities.
Order up, get your kitchen ready, and enjoy!