Over the past decade, the meal kit industry has transformed from something relatively unknown to a nearly $5 billion industry. There are upwards of 150 meal kit companies available now. With so many options out there, though, which one should you try first?
For this review, we took an in-depth look at one of the first meal kit companies to hit the United States: HelloFresh.
In this HelloFresh review, we will cover:
What HelloFresh Is
How Their Plans Work
Detailed Reviews of Two HelloFresh Meals
A HelloFresh Unboxing Video
Frequently Asked Questions About HelloFresh and Meal Kits as a Whole
What is Hello Fresh?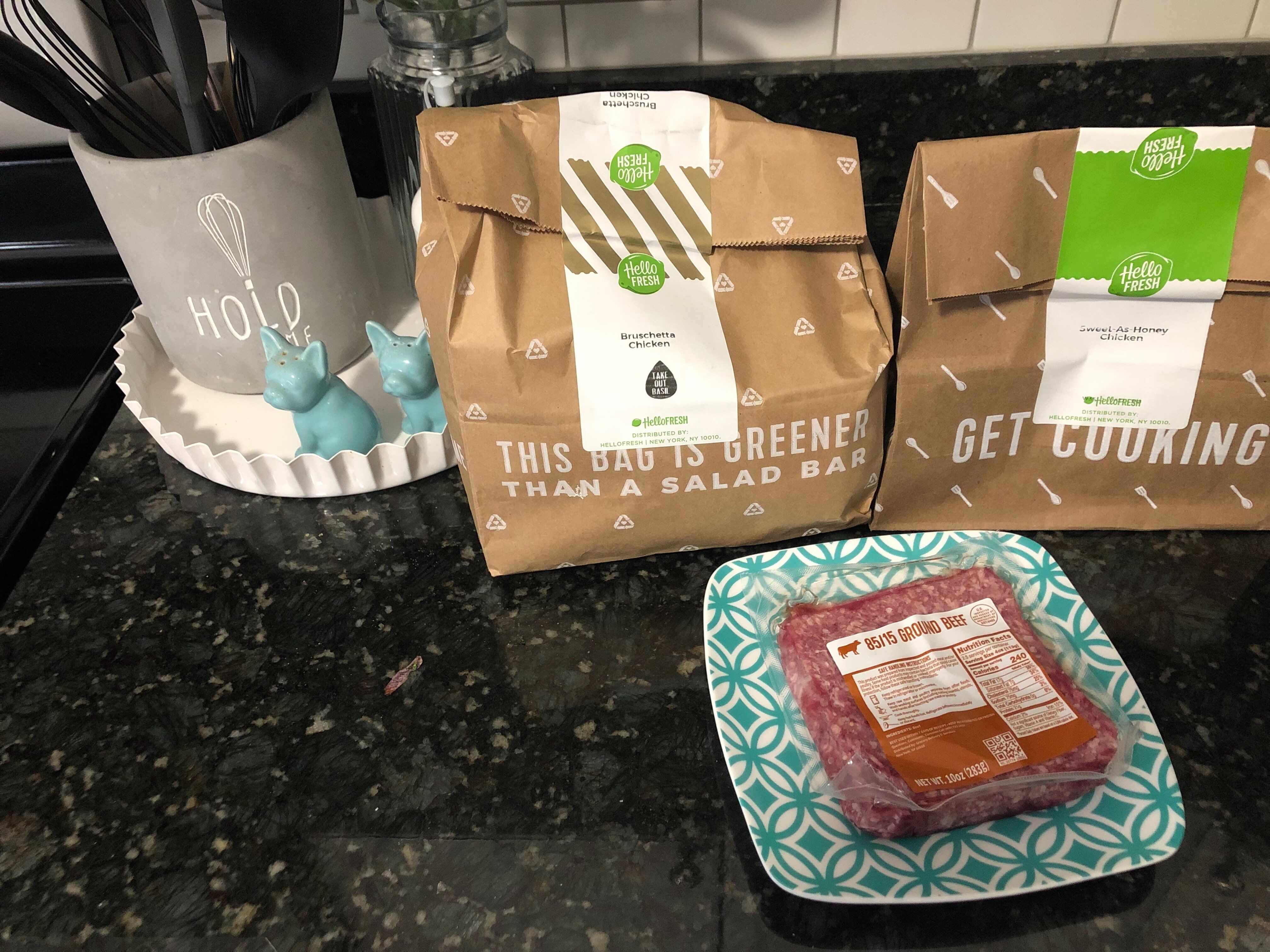 Founded in 2011, HelloFresh now delivers to over 2 million customers in 11 different countries. Many HelloFresh reviews now consider the company a leading global meal kit provider. They were one of the first meal kit companies to enter the US market, and they remain a top name across the country today.
Like most other food delivery services, HelloFresh follows a simple model. You select a plan, then pick meals to arrive at your door. Once the food arrives, you finish the prep work and cooking before enjoying a fully prepared meal. There are no contracts or required monthly orders. In fact, you can either skip weeks or cancel your plan altogether at any time.
HelloFresh Plans
HelloFresh offers a total of 3 different plan options: Classic, Family, Vegetarian.
| Plan | # of Meals Per Week | Average Per Serving |
| --- | --- | --- |
| Classic (2-4 people) | 2, 3, or 4 | $8.99 |
| Family (4 people) | 2 or 3 | $7.50 |
| Vegetarian (2-4 peeps) | 2 or 3 | $8.99 |
Classic Plan
The Classic Plan allows you to choose 2, 3, or 4 meals per week for either 2 or 4 people. This plan offers the most variety in dishes. Most meals on this plan provide a meat or seafood entree with 2 side items (except pasta and Mexican dishes where everything blends together). You can select your meals for each week by logging into your online account, or you can allow HelloFresh to select for you.
Family Plan
The Family Plan provides either 2 or 3 meals per week for 4 people. Although the family plan provides less variety, HelloFresh claims that every recipe on this plan is "kid-tested" and easy to prepare. Since it includes less exotic options, the price per serving lowers with this plan. Just like with the Classic Plan, you can select your meals each week online.
Vegetarian Plan
Similar to the Classic Plan, The Vegetarian Plan only allows you to select meatless options for your weekly meals. You can choose either 2 or 3 meals per week for 2 or 4 people. Unfortunately, this plan provides the least selection.
Meal Selection
For each plan, you can review the meals ahead of time on their website. They provide a snapshot of the recipe that includes the total preparation time, the difficulty level, any tags (Family Friendly, Low Carb, Vegetarian, etc), and any potential allergens within the meal. If you click on the meal, you can also read a more in-depth description and also review the entire recipe. For people who have food allergies or like to prepare ahead, this is a great tool within their meal selection feature.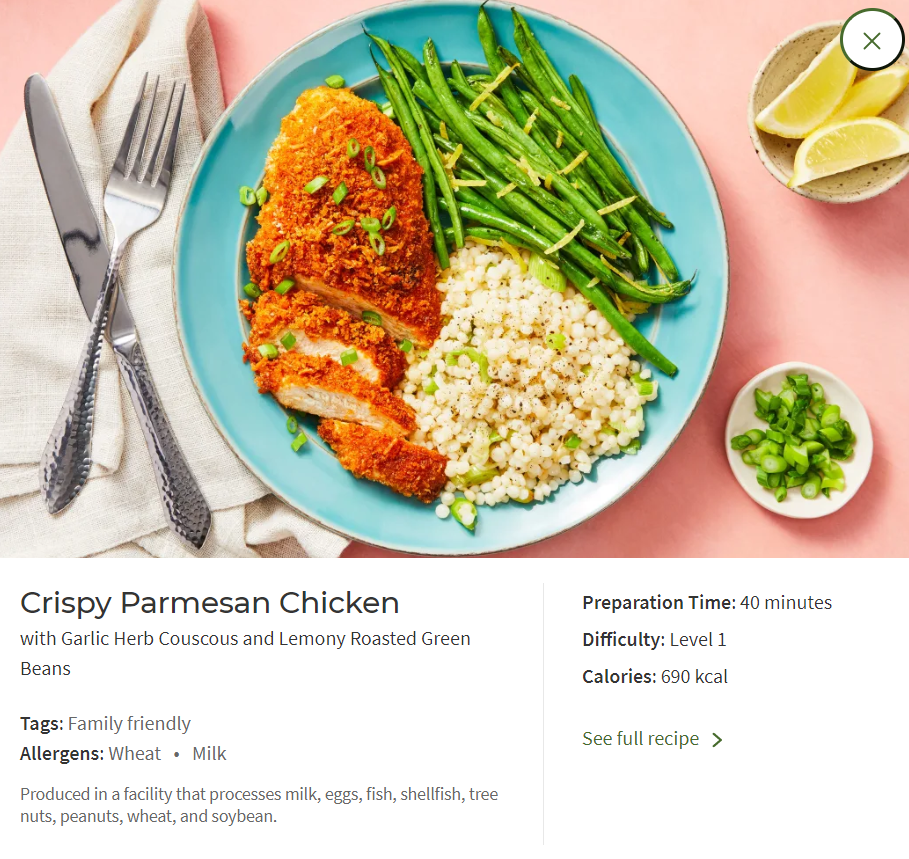 HelloFresh.com
Furthermore, HelloFresh offers at least one premium, or gourmet, meal per week in their recipe lineup. These meals typically cost $5.99 extra per person, but they include premium cuts of protein and more exotic ingredients. According to a HelloFresh review, "These meals are perfect for any night you feel like a restaurant quality meal without any extra effort."
My Personal HelloFresh Experience
For this review, I chose the Family Plan with 2 meals per week. Because I have two fairly young children, I selected two varied, but fairly tame meals: "Amazing Apricot Chicken" and "Sirloin Carne Asada Tacos." As promised, my meals arrived in a well-packaged box by mid-afternoon on Tuesday. Once I cut open the box, I saw the direction cards for each meal plus some other promotional coupons. The produce and other ingredients for each meal came in a separate, well-labeled bag, but the meats came packaged separately and packed within the cooling packs. I immediately noticed that all of the packaging met the recycle-friendly criteria that the website listed. As someone who deeply cares about the environment, this was a major selling point for me.
Meal 1: Apricot Chicken
We jumped right into our meal kit adventure the day the meals arrived. To ensure success from the start, I allowed the real head of our household, my six-year-old, select which meal we would make. As a cooking novice who typically stumbles around the kitchen, I loved the way HelloFresh breaks down everything on the provided meal cards. On the left, they listed any items not in the package that you'd need, as well as a complete listing of what should be in your bag. They also provide a suggested wine pairing for the meal, which is great if you enjoy that or subscribe to their wine box. Then, on the rest of the card, they provided fairly detailed, step-by-step instructions.
When ordering the meal, my first concern was the quality of the produce I would receive. However, both the produce and the chicken breasts looked great. I also worried about the portions, but they definitely provided enough for four people to eat well. And, since my kids definitely didn't eat full portions, I had leftovers for lunch the next day!
I followed the directions almost exactly, with a few exceptions. First of all, I felt that only slicing the fingerling potatoes in half would still make them fairly large and difficult for my four-year-old to eat. So I cut most of them into fourths. The other change I made was how long I cooked the chicken because I used a meat thermometer. Their suggested cooking time wasn't quite enough to bring the chicken to the USDA's recommended 165 degrees Fahrenheit.
Despite all of this, I still had a fully-prepared, well-balanced meal on my table within 45 minutes of the first chop. That's a win in my book!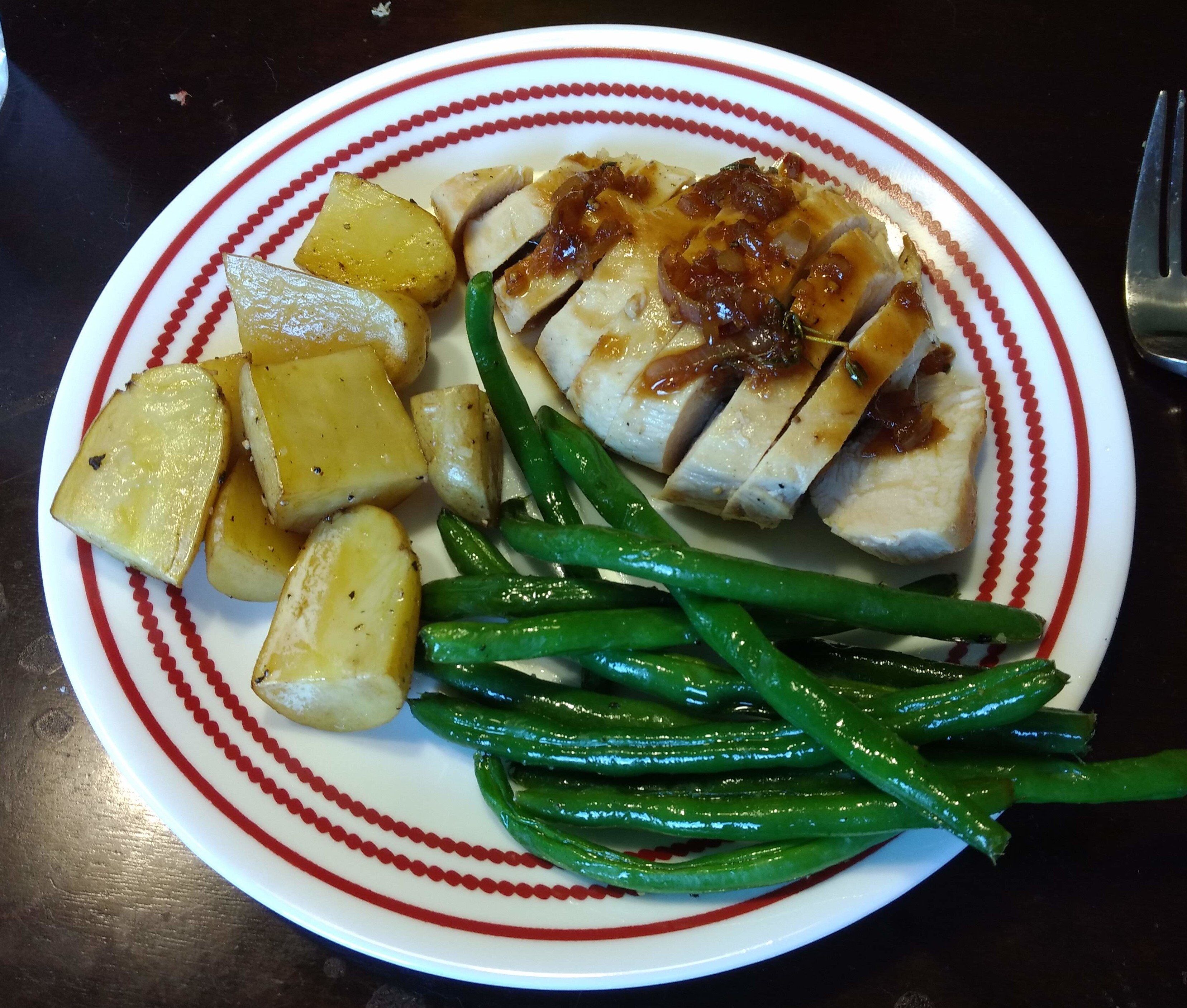 What I loved most about this meal was the versatility built in the preparation. Since each item remained separate, including the sauce, I could meet my family's somewhat picky standards. I plated mine as closely to the provided picture on the recipe card. My husband slathered his chicken in sauce, whereas my children both passed on that. (My four-year-old also avoided the green beans.) Regardless, everyone ate some version of the meal and responded positively to the end result.
My only other complaint, and this is relatively minor, but the meal was a little saltier than I'd like. Since I followed their recommendations, I would advise anyone who doesn't like salt or needs to eat low sodium meals to be a little more sparing with the salt.
Overall, our first HelloFresh review was great!
Meal 2: Carne Asada Tacos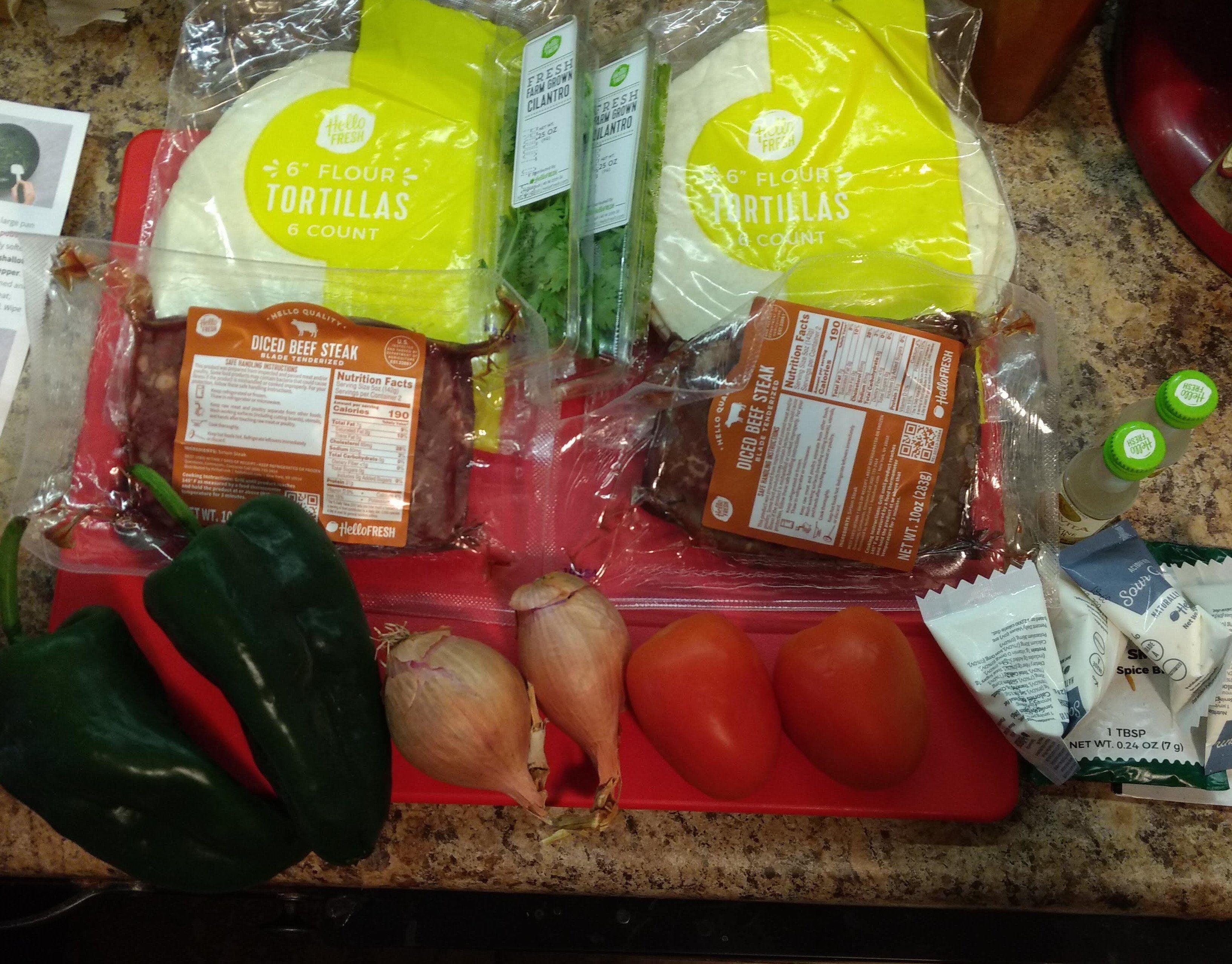 My family loves Mexican food, so I felt certain we would all enjoy this one! Just like with the chicken, what appealed to me when selecting this meal was that it seemed like I could easily separate out items my picky eaters didn't want. I was definitely right.
We received more great produce, minus a small area on one shallot. Luckily, I don't care for onions all that much, so going a little light on them is fine with me.
This meal required much more preparation with all of the produce cutting. I'm sure if you're quick with a knife that you can make this meal in 25 minutes, but between my cautious cutting and my chaotic children, this took nearly 40 minutes from start to finish. Therefore, I would not expect their time estimates to always appear accurate.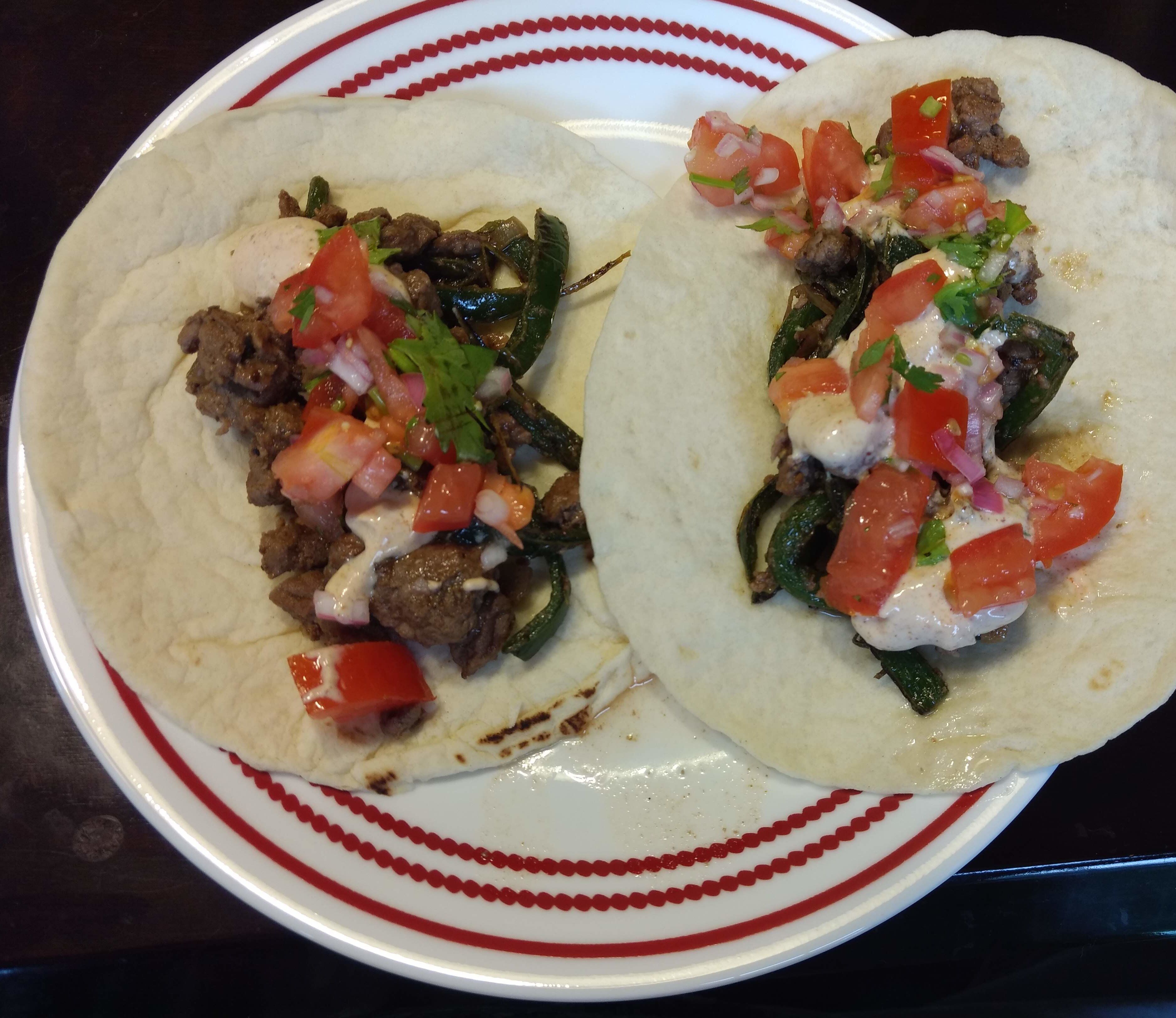 While we also enjoyed this meal a lot, my husband and I both felt that the steak lacked the pop of flavor we expected. If I had it to do over again, I might add some fajita seasoning from the cabinet to dress it up a bit. Also, it does direct you to mix the meat and the poblano peppers towards the end of your prep work, but if you have kids like mine, you can easily keep them separate.
HelloFresh FAQs
What is HelloFresh?HelloFresh is a meal kit delivery service. Their headquarters are located in Europe, but they currently deliver in 11 different markets, including the United States.
How many servings come with each meal?When selecting your subscription, you can choose for them to either provide 2 or 4 servings. You can also select 2-4 meals to receive each week.
Can I select which meals I receive each week?Yes, HelloFresh allows you to select from about a dozen choices each week, and their menu changes weekly. You simply log in and select your meals at least 5 days before your next scheduled delivery date.
When does HelloFresh arrive?In the United States, you can choose to receive your deliveries on Tuesday, Wednesday, or Thursday each week.
What if I'm not home when my box arrives each week?HelloFresh packs each box with measures to keep your ingredients cold and safe for up to 24 hours after delivery.
What does a subscription cost?HelloFresh meals average from $7.50-$9.99/serving depending on which plan you select. They also charge $6.99 or $7.99 for shipping each week depending on your plan.
What if I'm going out of town one week or just don't want this service weekly?HelloFresh actually offers the option to skip weeks. Just log in to your account and go to the meal selection area, then select "Skip Week" to avoid an unwanted delivery.
Does HelloFresh provide meals that meet certain dietary needs?HelloFresh offers vegetarian options both within their plans and individual meals. Although HelloFresh does not provide specific meals for other dietary restrictions, they do provide a full list of ingredients and any potential allergens online for each meal you can select.
Does HelloFresh use organic products?No, unfortunately not. By not using organic products, though, HelloFresh can maintain lower costs. They do, however, make sure that all of their packaging material is recyclable.
What if I want to cancel HelloFresh?You can cancel your HelloFresh plan at any time by just logging into your online account. It takes mere minutes to cancel if you decide it's not right for you.
What makes meal kit delivery services like HelloFresh worth it?Meal kits are great ways to save time and effort. You don't need to spend as long in the grocery store or visit as frequently, plus you don't have to think about what to cook.
Why pick HelloFresh over other meal kit companies?HelloFresh has years of meal delivery experience, they try to keep costs as low as possible, and they do offer the ability to select your meals each week. Furthermore, HelloFresh boasts that they try each meal before offering it to their customers.
Want to See the Food in Action? Watch Our HelloFresh Unboxing Video!
Final Verdict
I know that there are numerous HelloFresh reviews out there, but since our box wasn't provided by HelloFresh for free, I hope that you find this review completely unbiased. Furthermore, I struggled to find a single HelloFresh review from a tired mom's perspective.
After the second night, I asked my husband to sit and seriously discuss the concept, pricing, and overall satisfaction with me. What did we decide? Although you pay slightly more than you would for similar meals if you hit the grocery store on your own, HelloFresh is definitely more affordable than taking our family of 4 out to eat. What's more, the entire recipe comes packaged, portioned, and ready to cook. If you lack creativity or kitchen skills, HelloFresh is definitely worth trying out. In fact, we got online during this discussion and started selecting meals for the next week.
Photo by Lily Banse on Unsplash