Meal delivery services are now a dime a dozen — well, not literally. But just like there is a car to fit every budget, we are now starting to see meal kits that fit different financial situations, too. One such company that is trying to attract more cost conscious customers is EveryPlate.
EveryPlate is a relatively new member to the market, so it's hard to find quality reviews of this specific service. Luckily for you, though, I tested out this subscription service with my family, and I've written what I think is the best EveryPlate review on the internet (I might be biased).
A Quick Note: This article contains my honest opinions after personally trying EveryPlate. And I use affiliate links wherever possible to help cover the costs on running this site.
This EveryPlate review will cover:
What EveryPlate Is
How Their Plans and Pricing Work
Detailed Reviews of Two EveryPlate Meals
Frequently Asked Questions About EveryPlate and Meal Kits
Coupons and promo codes to help you get an even better deal!
What is EveryPlate?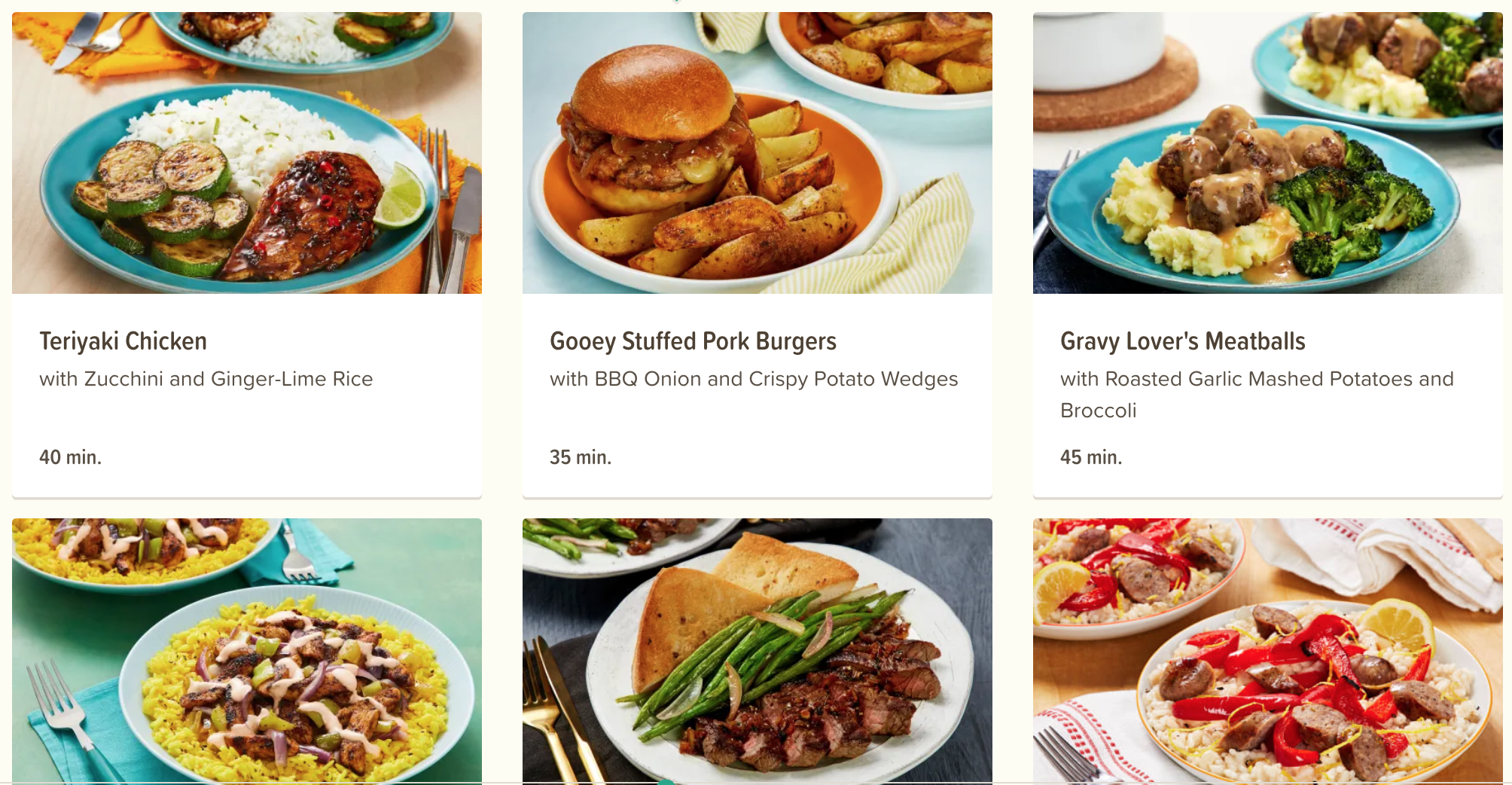 EveryPlate.com
Beginning deliveries in 2018, EveryPlate is a relatively new player in the meal delivery market. They are a budget-friendly meal kit subscription, offering full meals at just $4.99 per serving. In fact, this is why the company boasts about being the "best value meal kit on the market."
EveryPlate makes it clear that they provide access to high-quality, convenient dishes, but they are not trying to be gourmet chefs or serve up fancy fare. With that being said, the company does promise pre-portioned, fresh ingredients that easily transform into filling, flavorful meals. Their weekly menus include eight unique recipes to choose from.
EveryPlate Plans and Pricing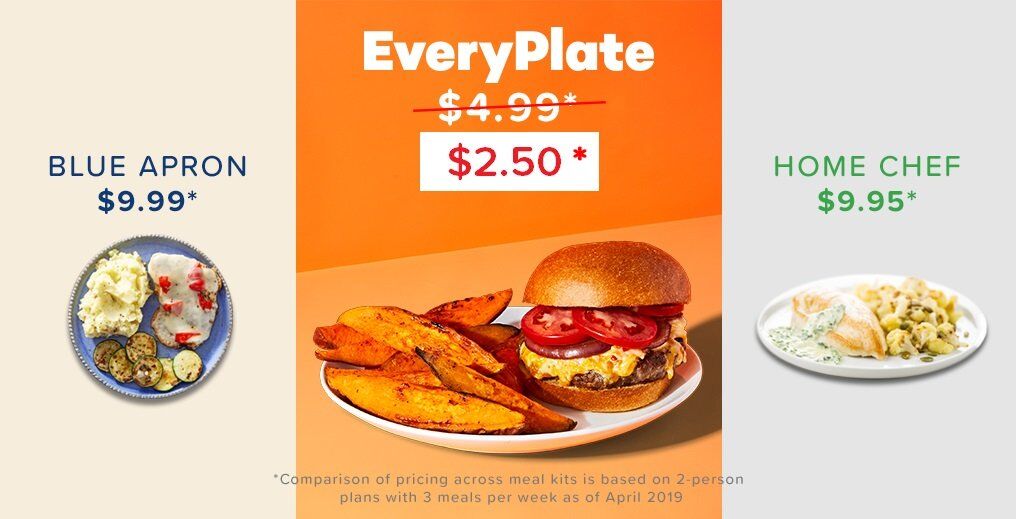 EveryPlate.com
Because EveryPlate's goal is to provide flavorful meals at unbeatable prices, they only offer two basic plans based on how many people you intend to feed.
They charge just $4.99 per serving, meaning the totals only vary based on the number of people and meals included in your plan. Additionally, EveryPlate charges a flat shipping rate of $8.99 per week regardless of how much food you receive or where you live.
All plans allow you to choose which meals you receive from a weekly menu of 8 meal options. Each meal comes with almost all of the ingredients needed to prepare the dish (they leave pantry staples like salt and oil to you). You also get printed instruction sheets with pictures for each meal in your box.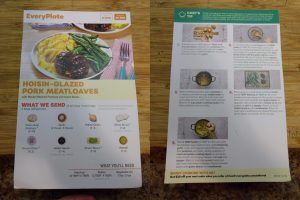 Here's how the plans break down:
Two-Serving Plan
You can choose to receive between three and five meals per week with this option, with the $4.99 per serving price and $8.99 shipping fee remaining the same regardless.
Although this plan says it is for two people, EveryPlate also stresses that this plan is a great option for single people looking to take their lunch to work.
Cost Per Serving

Total Per Week

(includes shipping)

3 Meals for 2 People
$4.99
$38.93
4 Meals for 2 People
$4.99
$48.91
5 Meals for 2 People
$4.99
$58.89
Four-Serving Plan
For anyone feeding a family, the four-serving plan is a great option. You still pay the same per-meal rate and shipping cost. Plus, you can still select from the same eight recipes as the two-serving plan. However, this plan only allows you to receive three meals per week.
Note: Servings are based on adult portions. In my experience, this plan can easily feed a family of 5 or 6 if you have young children.
Cost Per Serving

Total Per Week

(includes shipping)

3 Meals for 4 People
$4.99
$68.87
Website Navigation & Meal Selection
EveryPlate.com
When you visit the EveryPlate website, you'll find lots of info on their meal plans. You can preview the recipe line up for the next week directly on their main page, which is nice.
When you initially sign up, you'll select your plan and enter all of your info before arriving at the meal selection page. However, once you create an account and sign up for their service, you can easily select meals for the upcoming week just by logging in.
NOTE: EveryPlate currently only delivers within the continental United States.
When browsing the meals for a given week, you can preview:
The estimated prep time
A complete list of ingredients including any possible allergens
Step-by-step instructions for the meal

EveryPlate.com
Although EveryPlate has a more limited menu than some other companies, they do provide at least one exotic meal, one fairly basic meal, and meals with varied proteins each week. They also now offer one Premium Meal option per week for an additional $2.99 per serving.
You can preview and select meals up to four weeks in advance. Like I mentioned earlier, you will select your plan's included number of meals from a list of eight options. You can change your selected meals up to five days before your delivery date. After that, you are locked in for the upcoming week.
EveryPlate does offer options to skip weeks as often as you'd like, and they also will automatically select meals for you if you forget to make selections for a given week by the deadline.
My Personal EveryPlate Experience
For this EveryPlate test run, I chose the four-serving plan. Because I have two fairly young children, I selected three varied (but fairly tame) meals: "Carne Asada Fajitas," "Herb Butter Steak," and "Hoisin-Glazed Pork Meatloaves." It took a little longer than I'd hoped to get my first shipment, but once you start a subscription, that shouldn't be a problem moving forward.
As promised, my meals arrived in a well-packaged box by mid-afternoon on Wednesday. Once I cut open the box, I saw the direction cards for each meal plus some other promotional "EveryPlate perks." All of the food products remained tucked under some padding to keep them safe and cool.
Part of what makes this meal kit so affordable is how they package things. For example, the produce and ingredients for each meal came in a single cardboard box. None of the produce or herbs were labeled, so I had to carefully consult the direction cards when preparing each meal.
However, the meats did come labeled and packaged separately within cooling packs. Items like seasoning packets and specialty items like dijon mustard also came in individually labeled packets.
Meal #1: Carne Asada Fajitas
When I saw this recipe option, I knew I needed it in my box. After all, who doesn't love fajitas? My youngest daughter (who has a disability) had an appointment with a specialist Wednesday afternoon, so I started with this meal because it sounded easy to prepare.
One thing I noticed about this meal kit's direction cards is that EveryPlate keeps the instructions simple. While I appreciate reading very little, the lack of precise communication caused a few hiccups on my part since I'm not the most knowledgeable chef. I would actually advise anyone preparing an EveryPlate meal for the first time to actually read the directions entirely through one time before starting any prep work.
Despite my lack of culinary skills, the meal turned out great and took around 45 minutes to get from the refrigerator to the table.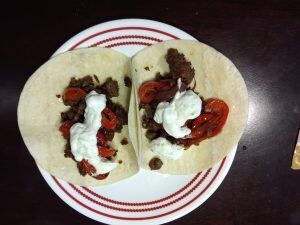 One great part of this meal was the way ingredients remained separate. This allowed each person to prepare their fajitas just the way they wanted without any complaints. I loaded mine up with everything, whereas my husband avoided the sour cream and my daughters requested no peppers or onions. (We made a similar taco recipe with HelloFresh a few weeks prior, but had to do some quick thinking to avoid a meltdown when one child realized that the taco meat contained vegetables.)
I also want to stress the amazing portion sizes in this EveryPlate review. A friend joined us for dinner on fajita night, and we had more than enough food for three adults and two young children. Everyone left the table feeling full and more than satisfied with the meal as a whole.
Meal #2: Herb Butter Steak
Since we had company from out of town for most of the weekend, I didn't get around to making a second meal until Sunday. Much to my surprise, all of the produce remained fresh despite the multi-day wait! I'm actually really glad that life circumstances caused a delay in my meal kit trial, because it allowed me to assess the quality of the produce and its sustainability for this EveryPlate review.
Obviously, EveryPlate is one of the cheapest meal delivery options on the market, but I quickly learned that in addition to cutting costs on their end, they try to simplify as much as possible for their consumers, too. With both the fajitas and this meal, I saw ways that they purposely planned out preparation for you so that you would utilize as few dishes as possible. For example, this meal actually provided a way to cook both the broccoli and potatoes simultaneously. This saved a baking sheet and time, which is a major win in my book!
Once again, dinner traveled from the refrigerator to the table in less than 45 minutes, and provided a delicious, balanced meal for my family.
When I asked my six-year-old for an unbiased assessment of the meal, she said, "This dinner is perfect and incredibly tasty!" (Yes, she has a large vocabulary for a six-year-old.)
Considering that the side items included potatoes and broccoli that she actually ate, I feel that her opinion is worth just as much as the rest of my review. And if you struggle to convince children to eat their veggies, I think you'll agree with me, too.
EveryPlate Promo Code
Want an even better deal on EveryPlate? Simply click our link below to save 50% off your first order! Considering how affordable this service already is, I'm honestly surprised they can offer this 50% discount. But hey, better for you and me, right?
FAQ
1. What is EveryPlate?EveryPlate is a meal kit delivery service that provides weekly meals within the continental United States. Their major selling point is that they are the cheapest option on the market.
2. How many servings will I receive?When selecting your subscription, you can choose for them to either provide 2 or 4 servings. You can also select 3-5 meals to receive each week.
3. Can I select my meals?Yes, EveryPlate allows you to select from eight choices, and their menu changes weekly. You simply log in and select your meals at least 5 days before your next scheduled delivery date.
4. When does EveryPlate arrive?You can choose to receive your deliveries on Wednesday, Thursday, or Friday of each week.
5. What if I'm not home when my EveryPlate shipment arrives?EveryPlate packs each box so that your food will remain fresh for up to 24 hours.
6. What does an EveryPlate subscription cost?EveryPlate meals cost just $4.99/serving! They also charge a flat rate of $8.99 for shipping each week regardless of which plan you choose.
7. What if I don't want a delivery on a certain week?Like many other meal delivery services, EveryPlate offers the option to skip weeks. Just log in to your account and go to the meal selection area, then select "Skip Week" to avoid an unwanted delivery.
8. What options does EveryPlate offer for specific dietary needs?Although you can preview meals and the ingredients before selecting, EveryPlate does not offer any plans or specific meals that meet dietary restrictions. This is one of the many ways that EveryPlate keeps costs so low. If you are looking for plans that meet specific dietary needs, consider reading our vegan meal delivery reviews.
9. Does EveryPlate use organic products?No, unfortunately not. This is one of the ways that EveryPlate keeps consumer costs so low. If you would prefer organic meal delivery kits, read our comparison of Sun Basket and Green Chef.
10. What if I want to cancel my EveryPlate subscription?You can cancel your EveryPlate subscription at any time by just logging into your online account. I went through the process myself for this review, and it takes mere minutes to cancel if you decide it's not right for you.
11. Are meal kit delivery services like EveryPlate worth the investment?Meal kits are great ways to save time and effort. And when you can get meals delivered to your door for less than $5/person, why not take advantage?
EveryPlate is the least expensive meal delivery service out there. Additionally, they offer variety and the ability to select your meals each week just like more costly options such as HelloFresh. If you are looking for the cheapest option that will still provide quality food for two or four people, EveryPlate is a great choice for you.
EveryPlate Review: Final Thoughts
Overall, EveryPlate is a great option for someone looking to jump into meal kits but stick to a budget. They provide many of the basics other companies include at a reduced price. Although they are a relatively new contender in the meal kit market, they already have over 2,000 positive reviews via Facebook in just a year's time.
However, if you need meals that meet specific diets like vegetarian, keto, or Paleo, EveryPlate is not for you. Furthermore, if you want more variety or additional perks like ingredients pre-sorted by recipe, this plan is also not the best choice.
You won't get champagne on a beer budget with any meal delivery service, but what you do get in EveryPlate is a great service for the price. We hope that you find our review to be the best EveryPlate review available, and hopefully this has helped you determine if this meal kit is the best choice for you.