Looking for the best vegan meal delivery service? We'll help you find the choice that's right for you and your family.
In this post, we'll look at 6 companies offering vegan meal delivery across the United States. (Unfortunately, none deliver to Alaska or Hawaii.)
Whether you're a long-time vegan or someone just starting the lifestyle, these services can help you make mealtime more convenient and fun.
In this post, you'll find:
Subscriptions and a la carte options
Plans with lots of organic, non-GMO, and allergy-friendly ingredients
Ingredient boxes and fully prepared/no-prep meals
Customer review scores, prices, shipping info, and more!
Let's start with a big head-to-head comparison chart so you can get an idea of which vegan meal delivery services might be right for you. Then, you can read our full reviews for the options you're interested in. (The green companies are vegan-only; the white companies offer vegan and non-vegan plans).
| | Key Features | Price per meal |
| --- | --- | --- |
| Purple Carrot | Ingredient box subscription, 3 different vegan menus | $12 |
| Sun Basket | Ingredient box subscription, 100% satisfaction guarantee | $11.99 |
| Veestro | Fully prepared meals with a la carte meals & subscriptions | $8 – 12 |
| Green Chef | Ingredient box subscription, well reviewed, balances 100% of carbon emissions | $11.99 |
| Hungryroot | Simple meals, less than 10 mins prep | ~ $9 – $13 |
| Fresh 'n Lean | Fully prepared meals, offers a low carb plan | $9.33 – $11.99 |
Below, you'll find our full reviews for the 6 companies mentioned in the chart above. In each review, you'll learn about key features, health info, pricing, delivery areas, and more!
Purple Carrot — an all vegan meal delivery subscription

purplecarrot.com
In a world designed for meat eaters, it can be hard as a vegan to find tasty recipes and convenient food services to meet your needs. Purple Carrot is trying to change that.
It was founded by Andy Levitt, a pharmaceutical executive who was diagnosed with Crohn's disease at age 40. Inspired by the popular documentary Forks Over Knives, Levitt founded Purple Carrot in January of 2014 to bring the convenience of meal delivery to the vegan community.
Levitt says, "Plants don't just have the power to heal our bodies — they have the power to delight our tastebuds and make a better world for future generations."
Purple Carrot delivers weekly recipes and fresh ingredients for 3 different eating plans:
Quick & Easy (Simple dishes designed to cook in 30 minutes or less)
High protein (Protein packed meals built to energize)
Chef's Choice (Gourmet dishes crafted to elevate your taste buds)
Purple Carrot also offers a higher-protein, gluten-free vegan plan for athletes called "TB12 Performance Meals," which they developed in partnership with New England Patriots quarterback Tom Brady. (You can read more about that here.) If Mr.TB can win 7 Super Bowls on high-protein vegan snacks and meals, it might be worth looking into!
You simply pick a plan and start cooking delicious, plant-based meals with pre-portioned ingredients shipped right to your door! You can change plans, skip your deliveries or cancel at any time.
Purple Carrot Health Info
purplecarrot.com
Regarding the health of their meals, Purple Carrot says, "All of the meals we offer are delicious and nutritious! Our meals include complex carbohydrates from vegetables, nuts, seeds, legumes, and fruits as well as healthy fats and lean proteins. Together, these carbs, fats, and proteins combine to form the best calories to energize both body and mind!"
Meals contain between 500 and 800 calories per serving.
For people with food allergies, Purple Carrot offers to consult with their culinary team and make suggestions for alternative ingredients you could purchase and substitute.
Compared to some of the other services in this article, Purple Carrot will sometimes use fewer organic and non-GMO ingredients.
When I reached out to them about this, their customer service team said:
"We work with a variety of farmers and vendors across the country and strive to provide a consistent experience in each box. Due to constraints with sourcing, shipping locations, and our desire to provide unique ingredients and recipes, we are sometimes limited in our options for organic (and non-GMO) products.
Please know, this is an important issue to us and we understand it is for you and many of our customers as well! We will continue to look into the avenues we could take to increase the number of organic products used in our kits."
Purple Carrot Sustainability Info
Purple Carrot is an all-vegan company (there are no animal options).
The vast majority of their packaging is reusable, recyclable, biodegradable, or compostable.
Each shipping box is made using recycled material to reduce the company's carbon footprint. These cardboard boxes can be broken down and recycled after use.
The company keeps food fresh using non-toxic ice packs. You can melt the ice packs, cut them open, and pour the non-toxic gel into your trash. The remaining plastic is recyclable. Or, you can save the packs and use them for school lunches, road trips, picnics, etc!
You can read their full tip sheet on how to recycle or upcycle their shipping materials right here.
Purple Carrot Pricing
Purple Carrot charges $12 per plate, with a subscription that comes with 3 dinners serving 2 people each week. (If you're ordering for more than 2 people, you can order multiple subscriptions.)
Shipping is free, bringing the weekly total to $72/week.
You can also add breakfasts and lunches if you want to!
(The TB12 Performance Meals come with 2 servings per meal and 3 meals per week for $78/week — $13 per plate.)
Purple Carrot delivers to the contiguous 48 United States.
Veestro Overview — fully prepared vegan meals with an a la carte option

veestro.com
Veestro was founded by Mark and Monica, a brother and sister team who grew up in Costa Rica.
This all-vegan company delivers tasty meals across the United States, and Veestro's service is unique in a few cool ways:
1. Meals are fully prepared, so all you need to do is heat and enjoy.
2. Veestro offers an a la carte, no-subscription option where you can order individual meals (great for singles!) from a big menu, with reviews and comments for each meal.
3. You can find breakfasts, entrees, soups, and desserts.
If you're working toward a specific health goal, Veestro also offers several healthy eating plans, each available for one-time delivery or as an ongoing subscription, including:
Weight loss
21-day kickstart
protein pack
gluten-free
meatless monday
lunchbox
wedding prep pack
kosher pack
Juice cleanse
With any of these plans, you'll get "chef-created, hand crafted meals" delivered right to your door. Unless you pick the juice cleanse…in which case, you'll get — you guessed it — juice. 🙂
Veestro Health Info
veestro.com
Veestro meals are:
100% plant-based
Filled with organic ingredients (96%)
Non-GMO
Chef-prepared
Preservative-free
Lots of Kosher-certified meals, gluten-free meals, soy-free meals, nut-free meals, high protein meals, and low calorie meals (with an easy search feature!)
Veestro Sustainability Info
Veestro is an all-vegan company (no animal options)
Veestro meals are shipped in eco-friendly packaging
Veestro is a PETA Business Friend
Veestro Prices
A la carte entrees tend to fluctuate between $10 – $12. (There's a $35 minimum food subtotal.) Veestro meals last up to 8 weeks in the freezer and one week in the fridge, so it's not a bad idea to stock up with a big order.
Subscription pricing varies depending on which plan you choose, starting at just $8/per meal.
Or you can try their Starter Pack, which gets you 10 of their most popular meals and one juice for only $99 (less than $9.99 per meal).
Veestro delivers across the U.S. (excluding Alaska and Hawaii).
Hungryroot — a customizable subscription with 10-minute vegan meals
Hungryroot started as an all-vegan meal delivery subscription. Although the company now offers non-vegan options as well, it continues to provide tasty vegan meals.
Hungryroot meals are all very low prep, taking less than 10 minutes to whip up. You'll still put the meal together, but you won't spend much time chopping veggies or spiralizing zoodles because they do most of that for you.
hungryroot.com
Another cool feature about Hungryroot is it's a customizable, learning membership.
When you join, you'll fill out a profile to help the company tailor a box to your preferences. Then, you'll be asked to rate the various dishes you try, and Hungryroot will use that feedback to send you more of what you like and less of what you don't. Pretty cool, right?
Unlike Purple Carrot, you also have the option to choose which meals you want from a larger menu, instead of just eating what they send you.
You can skip deliveries or cancel anytime prior to the weekly cut off.
Hungryroot Health Info

hungryroot.com
When you set up your preferences, you can make your Hungry Root membership gluten-free, nut-free, and soy-free.
Meals contain no:
Artificial ingredients
Preservatives
Modified food starches
Trans fats
Refined sugars.
The company says, "We source organic/non-GMO ingredients for all of our products whenever possible. We currently don't mark anything as such unless we can guarantee it to be organic/non-GMO 100% of the time."
They include nutritional and caloric information on each individual product page (meals are under 500 calories). You can download their allergen information right here.
Hungry Root Pricing
Hungryroot offers "Fresh, healthy comfort foods" in 3 convenient plans, each with two servings per meal.
| Plan name | # of meals | Weekly price |
| --- | --- | --- |
| Small Box | 3-4 meals plus 2-3 snacks or sweets | $69 |
| Medium Box | 5-6 meals plus 4-5 snacks or sweets | $99 |
| Large Box | 7-8 meals plus 6-7 snacks or sweets | $129 |
Ground shipping is free for all 3 plans.
Hungryroot delivers to the 48 contiguous states and Washington D.C.
Sun Basket Overview — a subscription with a "Mouthwatering Guarantee"

sunbasket.com
Sun Basket is a San Francisco-based meal delivery subscription service that offers dietitian-approved recipes and pre-measured ingredients for several popular eating approaches.
Their vegan plan features organic produce, non-GMO tofu, house-made sauces and delicious recipes crafted by award-winning chef Justine Kelly.
You can also add salads and snacks to your orders!
Another great feature of Sun Basket is their 100% Money Back guarantee. If any problems arise with your order, just send them an email within 7 days after delivery.
You can skip deliveries or cancel anytime prior to each week's cut off.
Sun Basket Health Info
sunbasket.com
Sun Basket is a USDA-certified organic handler. Currently, over 99% of Sun Basket's produce is organic. All tofu is made from organic, non-GMO soybeans.
Sun Basket's vegan meals:
Run between 550-800 calories per serving
Are packed with protein and fiber, containing at least 15 grams of protein & 5 grams of fiber per serving.
Are rich in omega-3s and good fats sourced from olives, nuts, seeds, and avocados.
Sun Basket Sustainability Info
Works exclusively with ranchers and farmers who raise their animals responsibly and sustainably (remember, they have non-vegan plans too)
Fishermen use low-impact fishing methods such as line fishing
Fisheries are certified by the Marine Stewardship Council (MSC), a leading authority in sustainable seafood.
Packaging is 100% recyclable and compostable
Gives back to the community through Feeding America, local food banks, and employee programs
Sun Basket Pricing
Sun Basket has plans for 2 or 4 people. Both come with 3 recipes per week. Shipping is $6.99 per order and included in the total cost below.
| # People | Price per Serving | Total cost per week |
| --- | --- | --- |
| 2 | $11.99 | $78.93 |
| 4 | $11.99 | $143.88 |
The company delivers to "most zip codes in the United States, excluding AK, HI, MT, and parts of ND and NM."
Green Chef Overview — "the U.S.'s first certified organic meal kit company"
greenchef.com
Green Chef is another well-respected meal-kit delivery service that offers a vegan plan. Its average customer review score of 9.3 out of 10 is the highest of any of the 6 companies we're looking at in this article.
When you subscribe to Green Chef, every week you'll receive a box of ingredients (many of them pre-prepped) with easy recipes that you'll use to prepare tasty vegan meals.
Founded in 2014, Green Chef was "the U.S.'s first certified organic and gluten-free meal kit company," although not all meals on the vegan plan are gluten-free.
Green Chef was recently acquired by Hello Fresh, a German-based meal delivery company.
You can cancel your subscription anytime before the weekly cut off date.
Green Chef Health Info
greenchef.com
Green Chef is a USDA certified organic company.
Each meal comes with a calorie count plus full nutrition information online.
All ingredients go through extensive screening to ensure high standards are met.
Green Chef Sustainability
Balances 100% of their carbon emissions with sustainable offset programs.
Worked with TerraPass to save trees in the City of Arcata Community Forest.
Invested in construction of the Big Smile Wind Farm at Dempsey Ridge.
Provides detailed instructions for how to recycle Green Chef packaging materials.
Partners with regional purveyors of high-integrity foods.
Green Chef Pricing
Green Chef's vegan plan feeds 2 people and comes with 3 dinners per week.
Meals are $11.99 per serving which adds up to $77.93 per box, including shipping (which is $5.99 per box).
Green Chef delivers to almost everywhere in the continental U.S. excluding AK, HI, and parts of LA.
Fresh 'n Lean — a vegan low-carb plan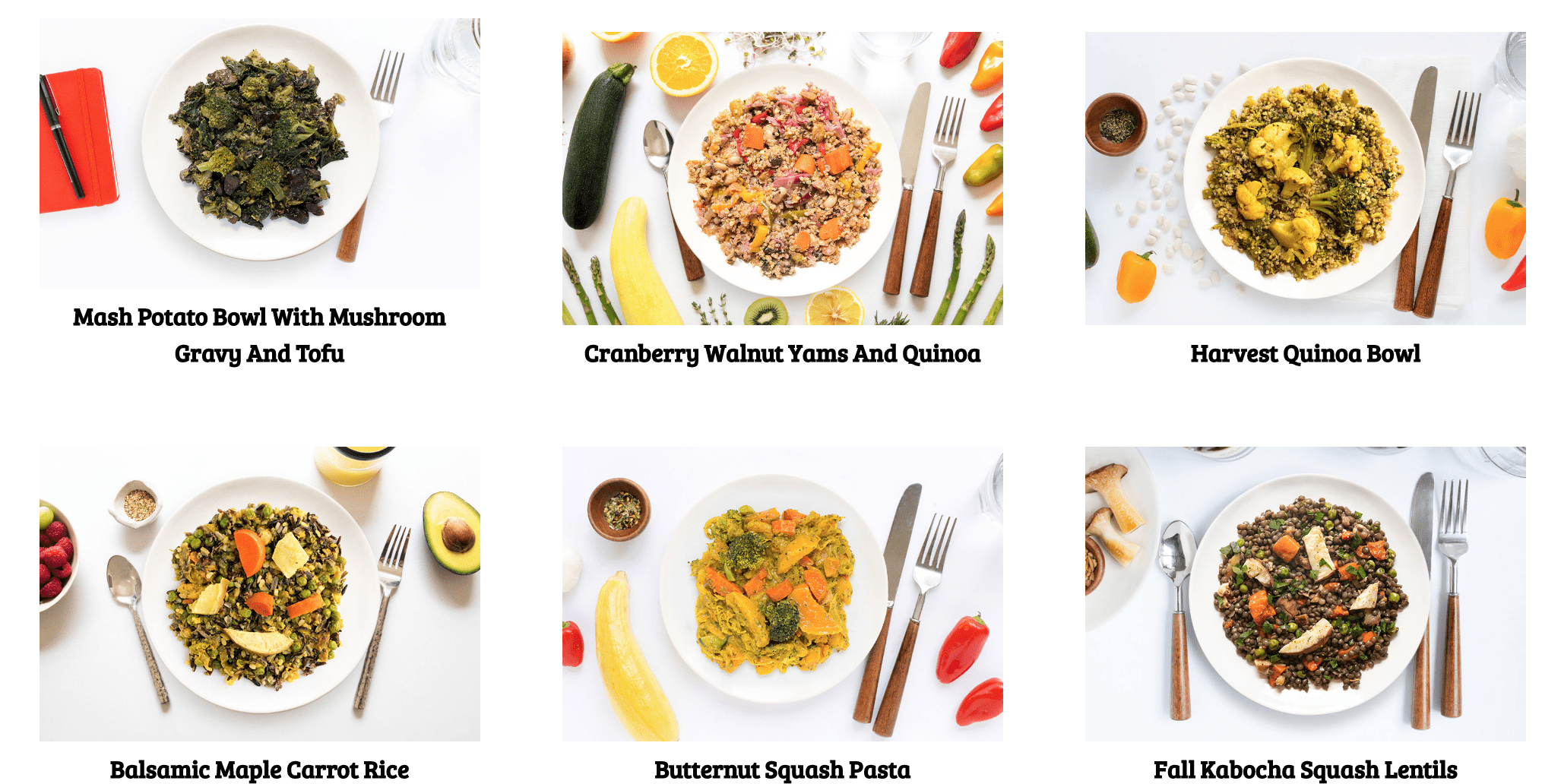 freshnlean.com
Fresh n' Lean is a popular fully-prepared meal delivery service with 2 plant-based plans.
A unique feature is the company offers breakfasts, lunches, and dinners.
Entrees on their Standard Plant-Based plan average 19g of protein, 75g of carbs, 11g of fat, and 475 calories.
Entrees on their Low Carb / Low Cal Plant-Based plan average 14g of protein, 41g of carbs, 10g of fat, and 330 calories.
Similar to Veestro, Fresh 'n Lean also allows you to order meals a la carte, although it can be difficult to find and identify the vegan options.
Thanks to their vacuumed sealed trays, meals typically stay fresh up to 7-10 days after delivery, when you store them in the refrigerator. You can extend the shelf life to 6-8 weeks by storing meals in the freezer.
Fresh 'n Lean Health Info

freshnlean.com
Fresh 'n Lean's vegan prepared meals are always:
Scratch-Made
Organic
Non-GMO
Low-Fat
Gluten-Free
Soy-Free
Dairy-Free
Ready-Made and delivered free
They ask you to declare any food allergies, and they try to work around them.
Fresh 'n Lean Sustainability Info
Regarding their packaging, Fresh 'n Lean says:
"Our meals are vacuum-sealed in BPA-free, recyclable trays. The plastic seals are also recyclable. The trays are delivered in insulated cardboard boxes with ice packs to keep them at safe temperatures."
"The box is cardboard and can be recycled along with the plastic trays and seal. Our ice packs are water-soluble – they can be cut open and poured into a sink, and the plastic casing can be recycled. The styrofoam padding is recyclable depending on your location."
Fresh 'n Lean Pricing
The Standard Plant-Based plan costs $9.33 per meal.
The Low Carb / Low Cal Plant-Based plan costs $11.33 per meal.
A la carte meals are $11.99 with a $100 minimum order.
Shipping is free!
Fresh 'n Lean delivers across the United States. You can view their delivery locations here.
Which Vegan Meal Delivery Service is right for you?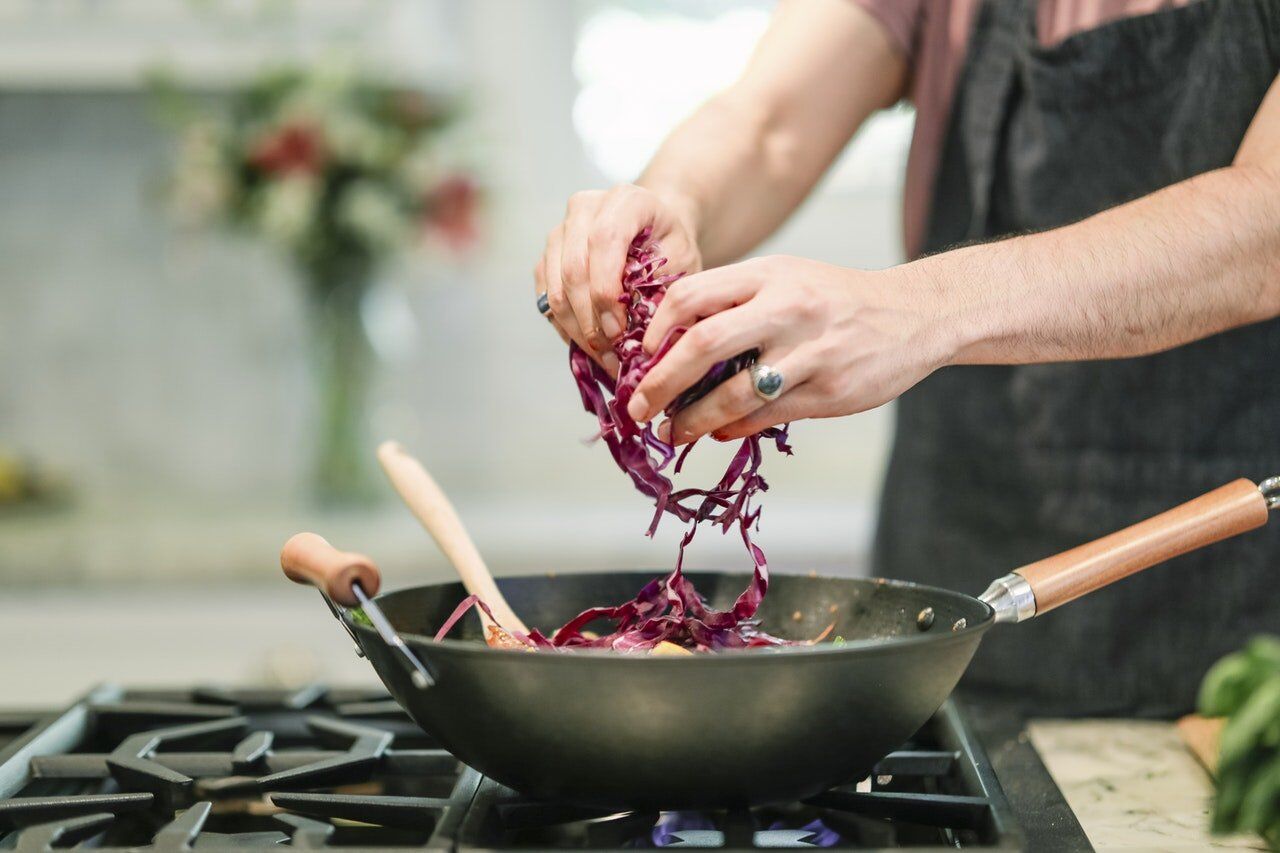 Hopefully this article has given you the clarity you need to pick a vegan food delivery service to try.
Purple Carrot is great if you want the convenience of a typical meal subscription model.
Veestro offers fully prepared meals with lots of organic ingredients and an a la carte ordering option.
Hungryroot is super low prep, very well reviewed, and highly customizable.
Sun Basket uses organic produce and non-GMO tofu and has a 100% money back guarantee.
Green Chef is the best-reviewed service in this post and the United State's first certified organic meal kit company.
Fresh 'n Lean offers affordable, fully prepared breakfasts, lunches, and dinners — along with a low carb plan.
Let us know in the comments which one you've decided to try! Or, if you're having trouble deciding, tell us what's important to you and we can try to help!