Quick Note: Whenever possible, we use affiliate links, which help cover the costs of running this site.
Built on Uber's technology, UberEats makes one simple promise: Crave. Click. Enjoy.
Which is awesome for you, because at the end of a long day, having a delicious meal delivered right to your door is amazing.
Actually, there is one thing that makes it even more amazing, saving money with an UberEats promo code!
Save $5 Off Your First Order: "eats-kyley1015ue."
Already started an order? Once on the UberEats site, click the cart button to continue checking out.
There, you just instantly saved $5 off of your first order.
Every UberEats coupon we offer is human tested which means you don't waste time endlessly browsing those clunky coupon sites.
Already a customer?
The UberEats referral program is a great way to earn $5 discounts by sharing UberEats with your friends.
Inside the UberEats app, go to your profile and click on "FREE FOOD" to find your unique referral code.
How to use an UberEats coupon or promo code
If you've ever ridden with Uber, you know how simple it is to request a ride. The same goes for ordering food with UberEats.
Our mission is to combine the simplicity of UberEats with our quality UberEats promo codes to save you time and money the next time you want restaurant-quality food on your table.
That's why every month, we find UberEats coupons and promo codes and hand test them ourselves.
To use an UberEats promo code, follow these simple instructions:
For web orders
Head over to ubereats.com and create or log into your UberEats account.
Enter in your location and use the filters to find available restaurants in your area. After you have made your choice, click the green bag button in the upper right corner of your screen.
Ensure your location and order information is correct, enter in your payment information (if needed), and look for the "Have a promo code" section under the payments section.
Paste an UberEats promo code into the box and click the button that says "Apply."
Yippee! You've saved some cash with an UberEats coupon!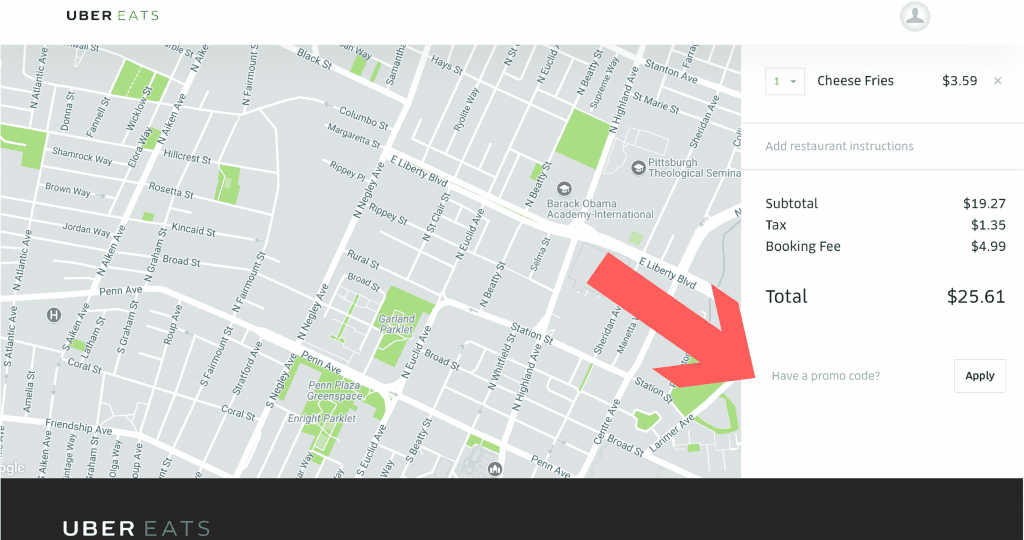 For mobile orders
First, you'll need to download the UberEats app. You can do that here for Apple devices or click here if you have an Android device.
Choose your restaurants and meals and add them to your cart.
Then, click on the green "View Cart" button further down. Make sure your order is correct and then click on "Add Promo code" towards the bottom.
Type in one of our UberEats coupons and hit "Apply".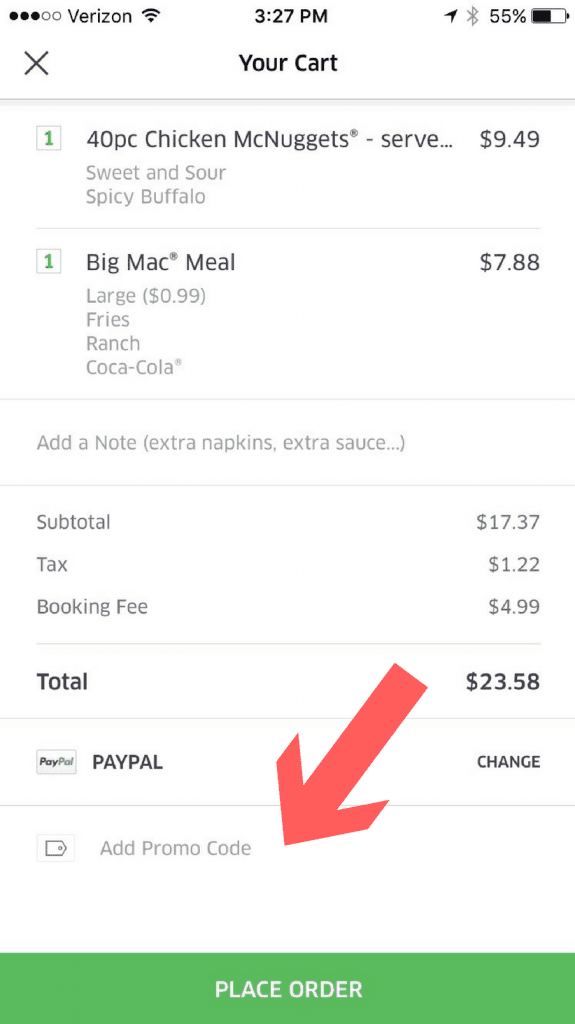 Awesome! As simple as that, you just saved some precious dollar bills!
To summarize:
Select an UberEats promo code from this post
Go to the UberEats website or their mobile app
Paste in your code after you are prompted
Voila
If you find an UberEats promo code that seems to not work, try to:
Make sure there are no blank spaces before (or after) the code
Make sure the UberEats coupon works for your order (i.e. $5 off your order of $15 or more)
Still no luck? Let us know at support@fooddeliveryguru.com so we can remove that UberEats promo code from this list!
Is there an UberEats promo code we're missing?
If you find an UberEats coupon we're missing, leave a comment!
If a code we recommend is expired, please leave a comment or email us at support@fooddeliveryguru.com.
Your feedback helps us keep current, and we appreciate it!
Looking for local fare?
You should try Caviar. A service that partners with restaurants that usually don't deliver, to give you access to tasty, trendy meals.