There are dozens of healthy meal kit subscriptions. But, as you've probably noticed, when you're looking for meal delivery for one person, your options dry up fast.
Sure, you can order a 2-person plan from a traditional meal delivery service and take the leftovers to work the next day (or use them for a quick dinner tomorrow night).
Sure, you can do a bit of grocery shopping or order your favorite comfort foods as takeout.
But wouldn't it be nice if just one meal kit delivery service looked out for you, and only you?
Well, I have some good news: There are six great delivery companies that offer single-serving food delivery options and in this post, we'll help you find the best one for you.
And for all of you home chefs, if prepared meals aren't your thing, we'll also cover which two-person meal kit company we think is best for one person.
Let's dive in!
6 of the best meal delivery services for singles
Note: When talking about services we believe in, we use affiliate links, which help cover the costs of running this site.
Now that we've covered the big picture, let's dive into the details.
Here are our top meal kits for singles:
1. Freshly—Best variety of meals for singles
A subscription for singles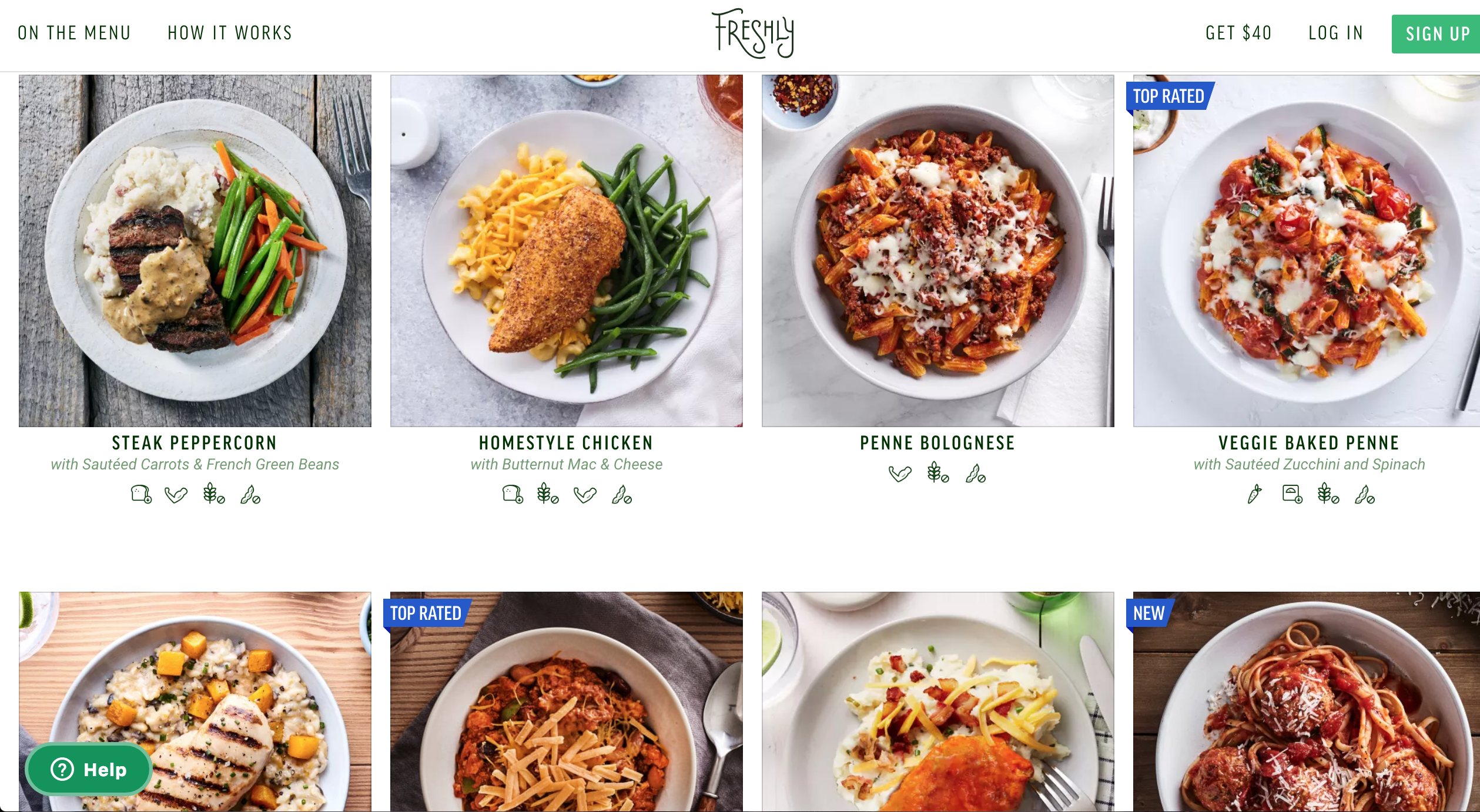 Freshly is a popular meal delivery service that is often compared to famous alternatives like Hello Fresh and Blue Apron.
One key difference is, instead of sending you a box of ingredients, Freshly sends you fully prepared meals. That means virtually no prep time in the kitchen.
Freshly meals arrive fresh, not frozen — already cooked for you. The ready meals save you the hassle of prep work and clean up and are ready to gobble up in under 3 minutes. Super convenient!
With Freshly, you choose from a rotating weekly menu with over 30 options. Meals are sent in single-serving sizes, allowing you to enjoy a tasty meal without drowning in leftovers.
Freshly Health Info
Featuring "nutritious recipes with the best ingredients" Freshly meals are:
Gluten-Free
Packed with Protein
Free from Refined Sugars
All Natural
Freshly Pricing
Freshly offers 4 weekly meal plans depending on the number of meal options you choose to have delivered (either 4, 6, 10, or 12). Since their meals are ready in under 3 minutes, Freshly is a great option for lunch and dinner.
| Meals Per Week | Cost Per Meal | Cost Per Week |
| --- | --- | --- |
| 4 | $12.98 | $45.96 + $5.99 shipping = $51.95 |
| 6 | $10.48 | $56.94 + $5.99 shipping = $62.93 |
| 10 | $9.99 | $89.90 + $9.99 shipping = $99.89 |
| 12 | $9.49 | $101.88 + $11.99 shipping = $113.87 |
2. Factor 75—Best for active singles
Low carb meals for keto & paleo diners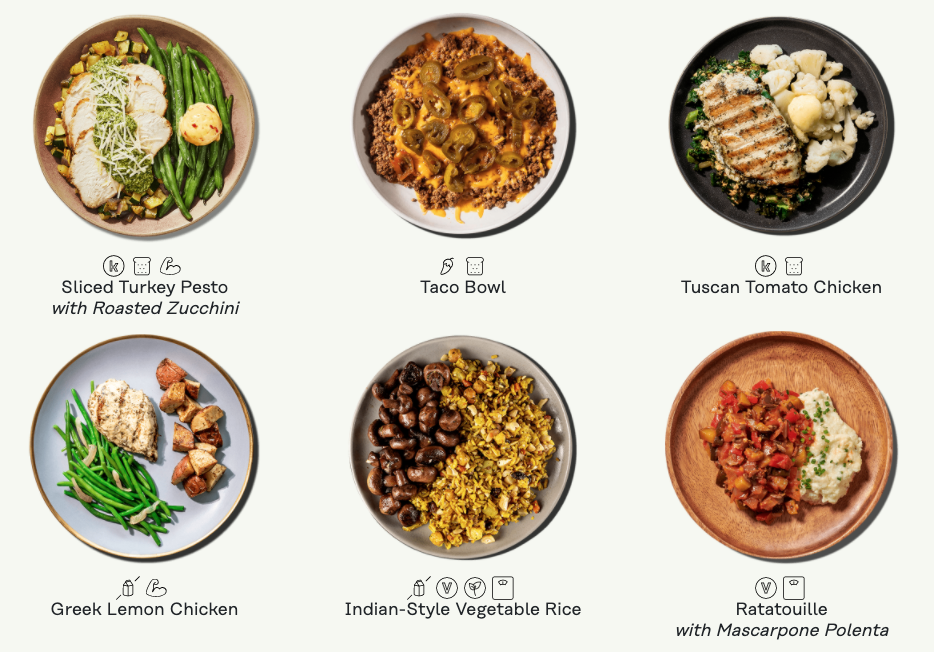 If you're Keto, Paleo, Gluten-free, or just into eating low carb, nutrient-rich foods, Factor 75 may be the top pick meal delivery service for you.
Finding recipes and high-quality ingredients for these popular diets can be time-consuming, but Factor 75 makes it simple by sending out delicious, fully prepared, single-serving meals every week.
Factor 75 uses a team of nutritionists to design their menus, and they even do nutrition counseling — ensuring that customers with strict dietary needs can get what they need.
Factor 75 Health Info
All of Factor 75's meals are:
Grass-fed
Pasture-raised
Gluten-free
Non-GMO
Hormone-free
Generally free of any preservatives
Factor 75 Pricing
Factor 75 subscription service costs are based on the number of meals you'd like delivered each week. Shipping is always free. Here are the current delivery options.
4 meals per week cost $60/week (or $15 each meal)
6 meals per week cost $77/week (or $12.83 each meal)
8 meals per week cost $99/week (or $12.38 each meal)
12 meals per week cost $138/week (or $11.50 each meal)
18 meals per week cost $198/week (or $11 each meal)
Save $25 with code FACTOR2020.
3. Meal Pro—Best workout meals for singles
Customizable "workout meals"
Meal Pro is a single-serving meal delivery service that provides delicious, pre-cooked, meals shipped in special thermal boxes for freshness.
"Designed by athletes and cooked by expert chefs," Meal Pro is geared toward people with fitness goals, offering "workout meals delivered" that contain 35g+ protein per meal and 25oz portion sizes.
Another great feature about Meal Pro is it's highly customizable, perfect for all you omnivores. Want extra protein? You got it. No carb? Double vegetables? Meal Pro lets you pick and choose add-ons.
There are no fixed menus. You always pick the meals you like.
They also give you the option of placing individual orders or going with their subscription option. Again, more choices!
Meal Pro Health Info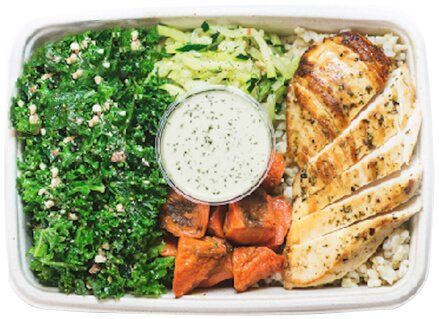 When it comes to the quality of their ingredients, Meal Pro says,
"We use all natural ingredients and prepare food using cooking techniques that optimize for nutrient retention. We use organic brown rice and seasonal vegetables. On the protein side the chicken is hormone free and the red meat is of the Niman Ranch brand with wild salmon (seasonal menu item)."
Meal Pro Pricing
According to their website, "The portion sizes for the price make MealPro the most affordable meal prep in the market."
You can place individual orders, choosing meals with affordable prices from under $10, or you can set up recurring orders.
A perk of the subscription option is you'll get access to the Meal Pro rewards program, where you'll earn points you can redeem for free meals.
Typically, meals range between $10 and $15 depending on how customized they are. Also, shipping costs are dependent on your zip code and whether you order a box with 18 different meals (standard shipping) or a box with 20 (discounted shipping).
Save $10 with code REWARD-4368
4. Veestro—Best vegetarian meals for singles
Vegetarian? We've got you covered.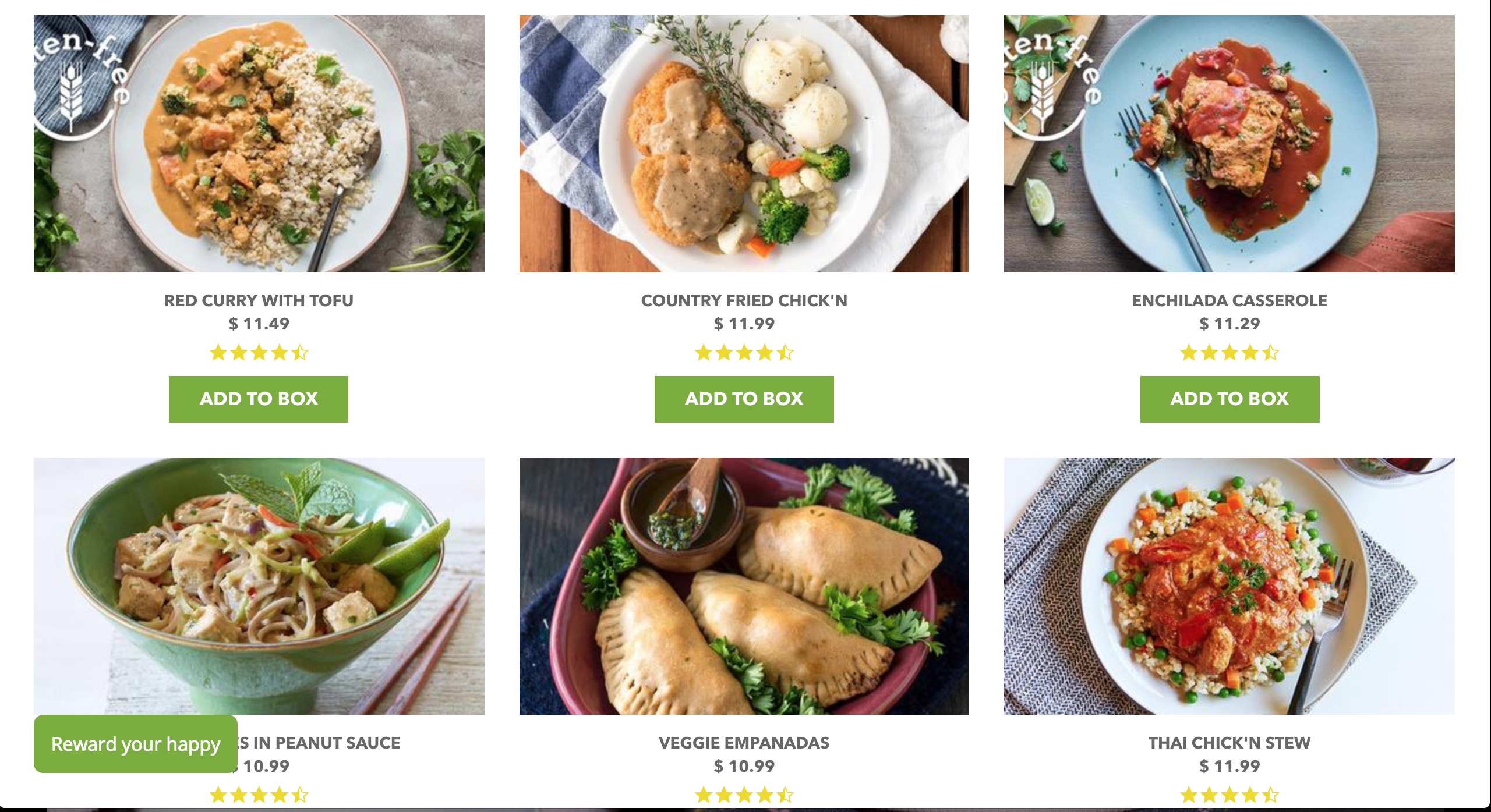 Veestro offers meal kit delivery for singles featuring vegan meals that are "free from meat, chicken, fish, dairy, eggs, and honey," perfect for anyone looking for more vegan and vegetarian options.
They offer two plans: A la carte and weight loss
Their a la carte option allows you to fill a delivery box with fully prepared breakfasts, entrees, soups, and desserts that are all chef-prepared and made fresh from organic ingredients and non-GMO plants.
Or, you can sign up for their weight loss plans, which includes 6 healthy eating options:
high-protein
gluten-free
nut-free
soy-free
spring-favorites
kosher
In any case, "fully prepared chef-created, hand-crafted meals" will be delivered right to your doorstep, in eco-friendly packaging.
One of my favorite features about Veestro is the reviews and comments for individual meals to help you pick just the right options.
Another great Veestro perk? Nationwide delivery! "Veestro delivers to any physical address within the United States" (excluding Alaska and Hawaii).
This map shows what percentage of their past orders have gone to each state: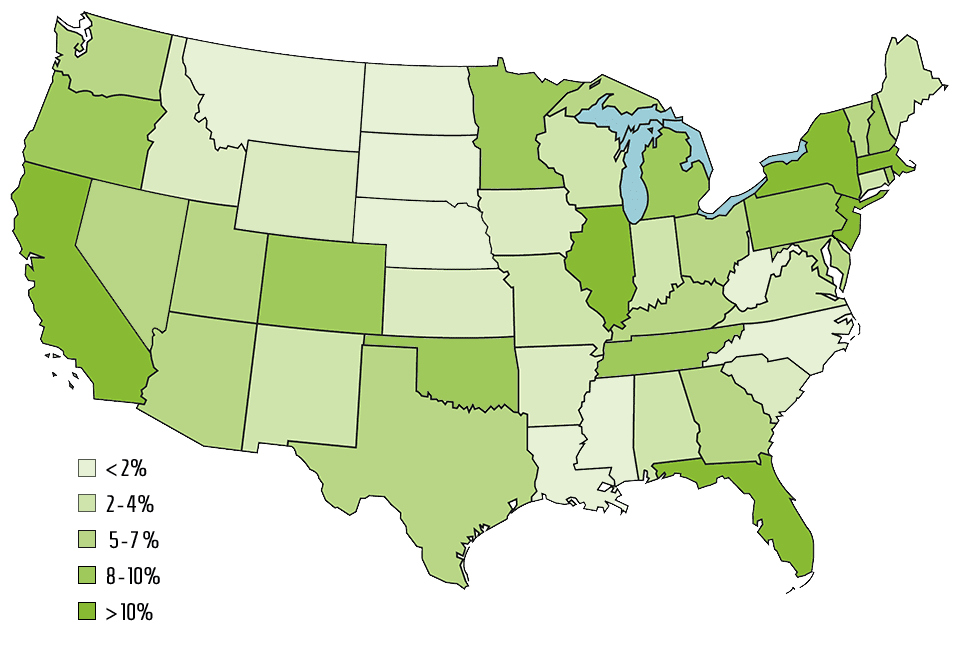 Veestro.com
Veestro Health Info
Veestro delivers easy meals that are "100% plant-based, organic, non-GMO, chef-prepared entrees, soups, and juices, nationwide!"
Meals are "chef-crafted" and "preservative-free," and there are plenty of gluten-free options.
Veestro Pricing
If you're ordering a la carte, your box size will equal 20 meals. You can then choose to subscribe (for every 1, 2, or 4 weeks) and save 10% and free shipping for a total cost of $216 ($10.80 per meal). Or you can choose a one-time order for $240 plus shipping (over $12 per meal).
If you go with the weight loss meal plan, your box will come with 15 meals delivered weekly for a flat rate of $175.50 ($11.70 per meal). You can customize, pause, or cancel your subscription at any time.
Save 35% with code SPRING35
5. Frozen Garden—Best smoothie meals for singles
Mmm, smoothies.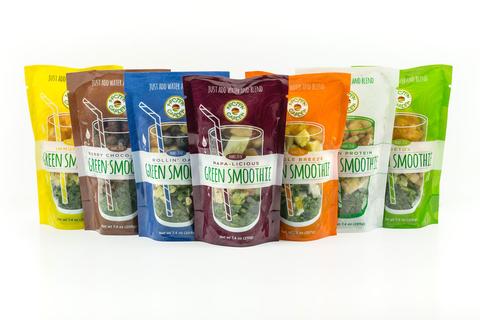 Some meals, you aren't in the mood for a 5-course feast — especially when you're dining solo. You're just looking for a quick breakfast, an afternoon snack, or a way to refuel after a trip to the gym.
You know what's great for that? Smoothies! Similar to the well-known alternative Daily Harvest, Frozen Garden makes it easy for singles to prepare delicious smoothies at home by delivering frozen pre-measured ingredients. All you need to do is add a little water, blend, and enjoy a healthful, home-prepared smoothie.
Frozen Garden also offers Delites (pre-made frozen mixes that can be blended with your favorite milk) and Fusions (frozen cubes made with 100% whole fruit and herbs that have been pureed)
Fusions are available in five flavors:
Lemon Pineapple Ginger
Orange Pineapple Rosemary
Strawberry Lemon Basil
Raspberry Mango Mint
Blueberry Lemon Lavender
And Delites are also available in five flavors:
Banana Bread
Banana Split
Blueberry Muffin
Chocolate Peanut Butter
Oatmeal Cookie
And the best part is, Frozen Garden allows people to order a la carte. Unlike most meal kits for singles, you don't have to sign up for a subscription if you don't want to.
Frozen Garden Health Info
Frozen Garden's smoothies are dense in nutrients and they're made without any powders or supplements. Ingredients include whole fruits, vegetables, dark leafy greens, seeds, and spices. This makes it easy for you to nourish your body — even on the go!
Frozen Garden Smoothies are also:
Gluten-Free
Dairy-Free
Soy Free
Vegan
Contain No Added Sugar
Verified non-GMO by the non-GMO project
And for foods on the Dirty Dozen list of high pesticide levels, Frozen Garden either sources commercial certified organic or gets the ingredients from one of the small local farmers they work with.
Frozen Garden Pricing
Another reason Frozen Garden smoothies make great meals for singles is the low cost.
You can order smoothies for as low as $5.95 apiece if you buy in bulk.
You can also save up to 15% if you subscribe for regular deliveries — like most other meal kits require.
You also have lots of delivery options. You can receive shipments all the way from every week to every twelve weeks, which is great for single people who don't want to get bombarded with more food than they can eat.
Just be aware that Frozen Garden does require a $35 order minimum but offers free shipping for orders over $150.
6. EveryPlate—Best meal kit for singles
A meal kit for singles? No, but close enough.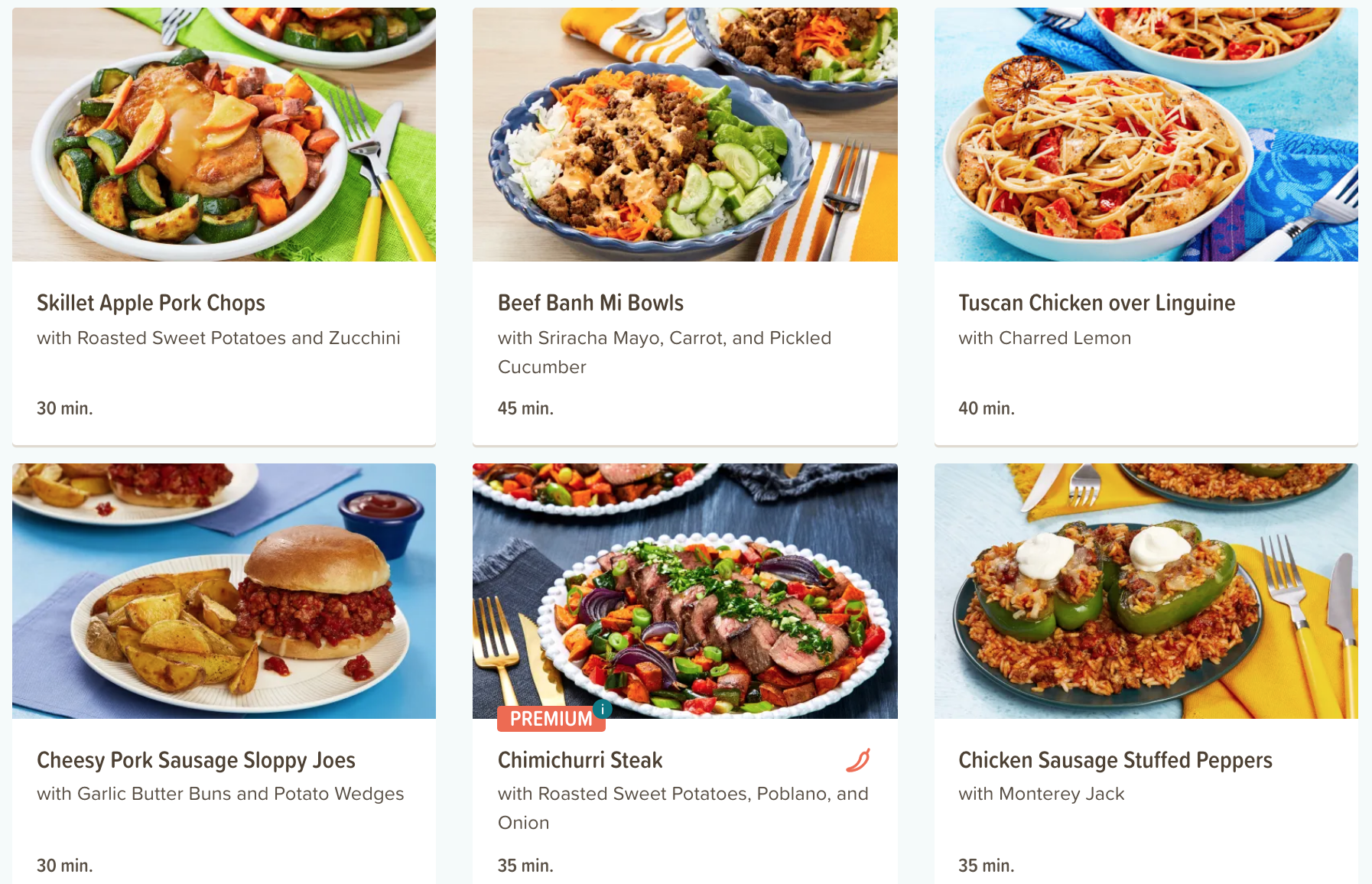 Alright, maybe after reading this, you're still thinking, "What I really want is a meal kit for singles. I don't want another oven-ready penne or soggy zucchini, I want to try new recipes and cook my own meals."
If that's you, we get it. Like we said in the intro, we aren't aware of any true meal kits for singles (and we do our homework). While prepared meals often come in single-serving sizes, ingredient boxes do not which typically leads to a lot of leftovers and food waste.
That said, if you want to know which meal kit we think is best for singles, we recommend EveryPlate, and here's our honest reason why.
EveryPlate is a low-cost meal kit owned by HelloFresh. They ship pre-portioned ingredients and recipe cards for delicious meals, and they save you money by doing it in a no-frills manner.
The result? Meals are only $4.99 per serving, plus shipping.
So, will you get two servings? Yes.
Will you have leftovers? Yes.
BUT, you will only be spending $9.98 per meal, plus shipping. That's very similar to the cost of the other single-serving services we've listed.
And it's comparable to what you'd spend per serving on two-person meal kits like Green Chef and Sun Basket, which cost $10.99 — $12.99 per person.
So, if you want a meal kit for singles, that won't cost you an arm and leg, we encourage you to consider EveryPlate.
EveryPlate Health Info
EveryPlate's mission is to give people access to high-quality, pre-portioned, fresh ingredients that easily transform into filling, flavorful meals. They are not trying to be gourmet chefs, but they do offer eight unique recipes to choose from in their weekly menus.
EveryPlate Pricing
As we discussed above, EveryPlate's pricing is simple — $4.99 per serving, plus shipping. Since shipping is a fixed $8.99, the more meals you order, the lower total cost per meal will be. Here's a table to show how it all multiplies out.
| | Cost Per Serving | Total Per Week (includes shipping) |
| --- | --- | --- |
| 3 Meals for 2 People | $4.99 | $38.93 |
| 4 Meals for 2 People | $4.99 | $48.91 |
| 5 Meals for 2 People | $4.99 | $58.89 |
Bonus: Dinnerly—Meal kit for one
Another meal kit for singles? No, but again, close enough.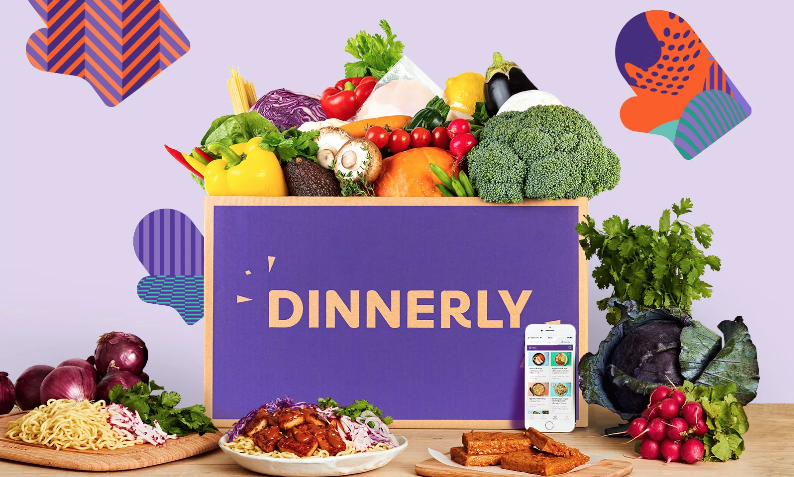 Okay, okay you got us. When we set out to review the best meal delivery services for singles, we originally narrowed down our candidates to 6. However, it has come to our attention that a new contender is on the rise and we're too excited not to share.
That's right, we're talking about Dinnerly, the "the budget-conscious spinoff of Marley Spoon (that's the Martha Stewart associated meal kit service)," as Forbes described them.
One of the reasons singles stay away from meal kit delivery services is that they deliver too much food for too much money. Economically, it makes more sense to go grocery shopping or order your favorite meal from a restaurant.
However, Dinnerly takes a new approach to keep costs low:
Fixed weekly menu lets Dinnerly buy in bulk
Recipes are only repeated once a month each season
Packaging is kept to a minimum
Recipes are emailed to subscribers via digital cards
Dinnerly Health Info
Dinnerly is less focused on offering a variety of dietary needs than the previous services mentioned. They do offer low-carb, low-calorie, keto-friendly, and the ever-ubiquitous "nutritious" meals. They do however offer menu items that are classified as "no added gluten," "no added dairy," as well as vegetarian and vegan options.
Dinnerly Pricing
Dinnerly's pricing is very similar to EveryPlate with meals averaging around $4.99 plus $8.99 for shipping. If you order the 6 meals for 2 people option, you'll pay a hair less at $4.89 plus $8.99 shipping. Not too much of a difference but still much more manageable than the prepared meal delivery services.
| | Cost Per Serving | Total Per Week (includes shipping) |
| --- | --- | --- |
| 3 Meals for 2 People | $5.29 | $40.73 |
| 4 Meals for 2 People | $4.99 | $48.91 |
| 5 Meals for 2 People | $4.99 | $58.89 |
| 6 Meals for 2 People | $4.89 | $67.67 |
Common questions about meal delivery for one person
Are there any meal plans for singles?
There are no meal kits (think ingredient boxes) for singles. At least not that we're aware of. That said, there are many delivery services that offer fully-prepared meals for singles. We share our favorites in this article.
Can a single person use Blue Apron?
Blue Apron does not have a dedicated plan for one person. Singles are welcome to order a two-person plan, but you'll be paying for two servings of every meal and will probably have some leftovers.
Can you get HelloFresh for one person?
HelloFresh doesn't have a plan specifically designed for one person. You can order one of their two-person plans, but you will have to pay for two servings of each meal and you will most likely end up with plenty of leftovers.
Does Purple Carrot offer delivery services for singles?
Unfortunately, like HelloFresh and Blue Apron, Purple Carrot only offers a 2 serving plan and 4 serving family plan.
Which of these "meal kits for singles" is right for you?
As you've noticed, there are some great fully prepared meal companies that truly provide meal delivery for one person, without forcing you to hack the system or eat leftovers all the time.
(Even though ingredient box companies sometimes seem intent on "single shaming" solo diners, as the Washington Post once put it.)
When it comes to choosing the best meal kit service for one person, it really depends on your preferences.
Freshly offers a great selection with the convenient subscription model used by popular meal delivery services.
Factor 75 has paleo and keto-friendly meals.
Meal Pro meals are highly customizable.
Veestro is a tasty option if you're looking for a vegetarian or vegan meal delivery service.
Frozen Garden makes it easy to prepare healthy smoothies at home — perfect for a quick breakfast or a light lunch.
EveryPlate's low cost makes it ideal for singles who want to cook their own meals. You will have some leftovers, but you won't have to pay as much as you would with many other meal kits.
Dinnerly is a budget-conscious meal kit alternative that's comparable to EveryPlate.
It's easy to understand why meal kit subscriptions are so popular. They make dining at home quick and convenient, allowing you to eat healthier and spend less time in the fast food drive-through or the grocery store.
No matter which service you choose, we hope this post has encouraged you to see that meal delivery for singles is possible — allowing you to conveniently eat healthier, delicious meals in the comfort of your home.