I don't know about you, but mac and cheese was a childhood favorite that became a household staple for me in adulthood. I love that it makes a large amount so there's always leftovers (just like lasagna).
But with so many different twists on this classic meal, how can you best reheat macaroni and cheese and maintain all its creamy goodness?
We decided to head to the kitchen once again and test out all the methods we could find to determine the best approaches to reheating your leftover mac and cheese so that it tasted just as great the second time.
About Our Reheating Test
For this test, we first made some homemade macaroni and cheese using a recipe we found online. However, after reading several forums online and completing our own tests, we feel confident that, regardless of what recipe you followed to make your mac and cheese, these reheating methods will help you obtain tasty seconds with your mac and cheese.
We also completed several rounds of testing with each method, changing out certain components or changing temperatures to make sure what we recommend is genuinely the best way to reheat using the listed resources.
Oven Reheating
If there is one takeaway I could offer based on the amounts of food I've reheated in various ways over the past year, it's this: There's always a way to reheat your dish in the oven. This remains true when it comes to mac and cheese.
How to Reheat Mac & Cheese in the Oven
Preheat the oven to 350 degrees Fahrenheit.

Place your macaroni and cheese in an oven-proof dish (I used a glass Pyrex dish).

To add moisture, stir in about 1 tablespoon of milk for every 1 cup of mac and cheese you're reheating.

Cover the dish with aluminum foil and place in the oven for 20 minutes.

After 20 minutes, carefully remove the foil and stir the macaroni, and add a bit of cheese to the top of the dish (if desired).

Continue baking without foil covering for 5-10 minutes, then remove from the oven and enjoy!
Don't Do This!
Don't skip on the milk: It really did help keep the pasta moist and even gave the cheese a second life.

Also don't skip the aluminum foil unless you want crunchy macaroni noodles.
Our End Result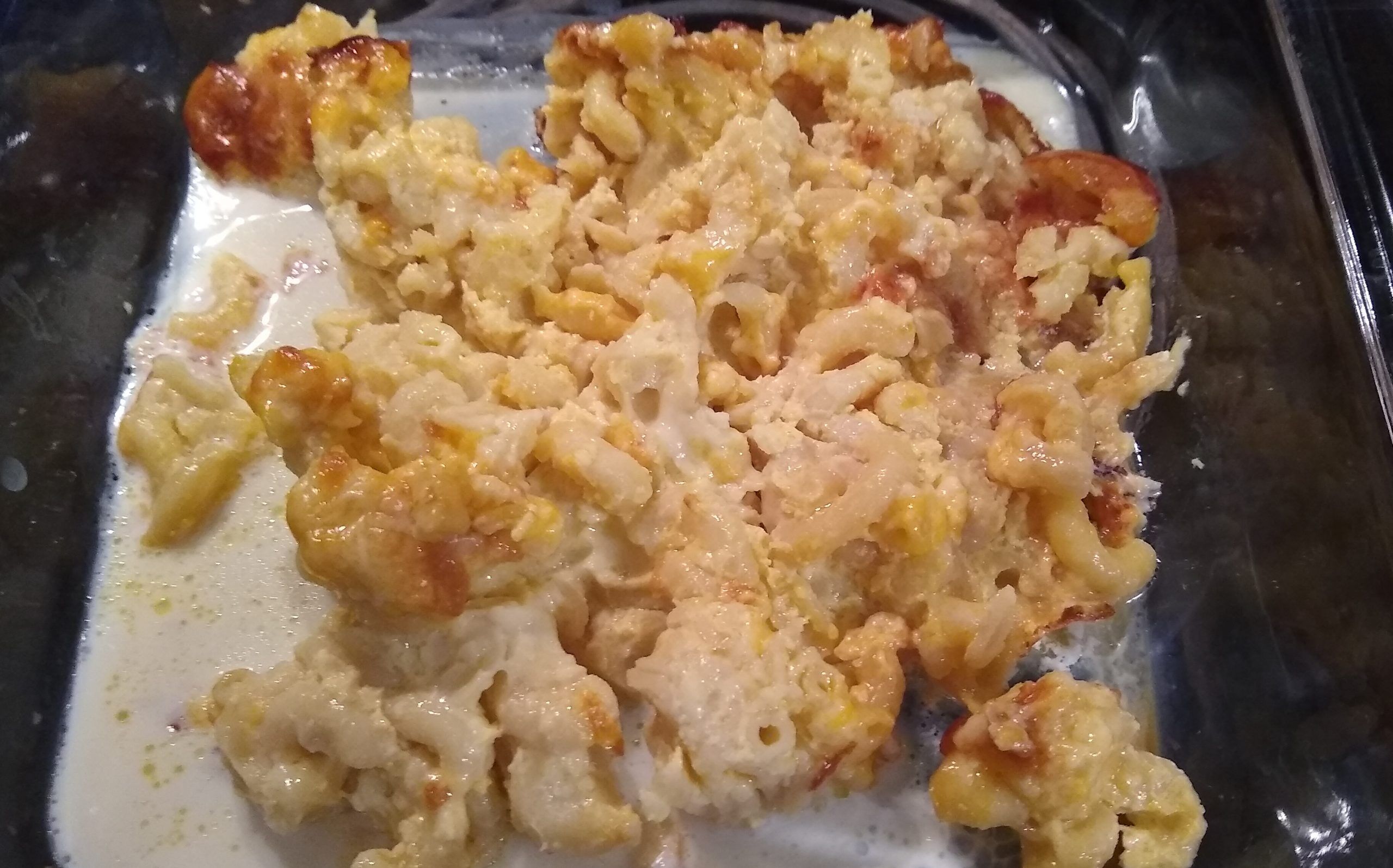 Overall I really loved the way this leftover macaroni and cheese turned out. The cheese was melty and hot, the macaroni was warm but not overcooked or crisp, and the extra bit of cheese on top really made the whole thing pop. If I have the time and resources to do so, I'll reheat my mac and cheese this way almost every single time from here on out.
Stove Top Reheating
Although oven-reheated mac and cheese tastes great, sometimes it's not possible to wait 20-30 minutes to eat. In those cases, consider breaking out a pan on your stovetop and heating up your macaroni and cheese in half the time!
How to Reheat Mac & Cheese on the Stove
Place your leftover macaroni and cheese into a saucepan.

Add a splash of milk (I added 2 tablespoons).

Cover the saucepan and warm over medium heat for approximately 10 minutes, stirring occasionally.

If you notice the mac and cheese is drying out during the heating process, add more milk 1 tablespoon at a time.

After 10 minutes, check to see if the mac and cheese is reheated throughout. If it is heated, remove from the pan and enjoy. If not, continue cooking until heated.
Don't Do This!
Don't forget to stir! I had a mishap on the first round of this test because I answered my phone and forgot about my mac and cheese for nearly 7 minutes — learn from my mistake!

Don't skip out on the milk and consider being a little generous with it because it really did help everything cook up nicely.
Our End Result
Although this method didn't taste quite as perfect as the oven reheating, it still tasted great and cheesy. I also liked the fact that this one didn't take an entire lunch break to reheat. If I don't have time to wait on the oven or don't feel like wasting the energy on a single serving, I'd definitely use this reheating method again.
Microwave Reheating (with special tips)
I know what you're thinking: What happens if I don't have the time or the resources to use either of those two methods? Luckily, I found a way to reheat leftover mac and cheese in the microwave without completely drying it out! To reheat this way, you'll need to make sure that you have some milk and plastic wrap on hand (see steps 2 & 3) — then you just need a few minutes of free time to wait for it to warm up!
How to Reheat Mac & Cheese in the Microwave
Put your leftover macaroni and cheese in a microwave-safe bowl.

Add 1 tablespoon of milk for every 1 cup of mac and cheese in your bowl.

Cover the mac and cheese with plastic wrap, leaving a small spot open to release excess steam.

Heat your mac and cheese on medium power (50%) for 2 minutes, then remove and stir.

After stirring, continue heating in 60-second intervals until the mac and cheese reaches proper temperature.
Don't Do This!
Don't skip the plastic wrap unless you like dried out food that clearly tastes microwaved.

Don't reheat on full blast to save time — you just end up with hot spots in your food while other parts are still cold.
Our End Result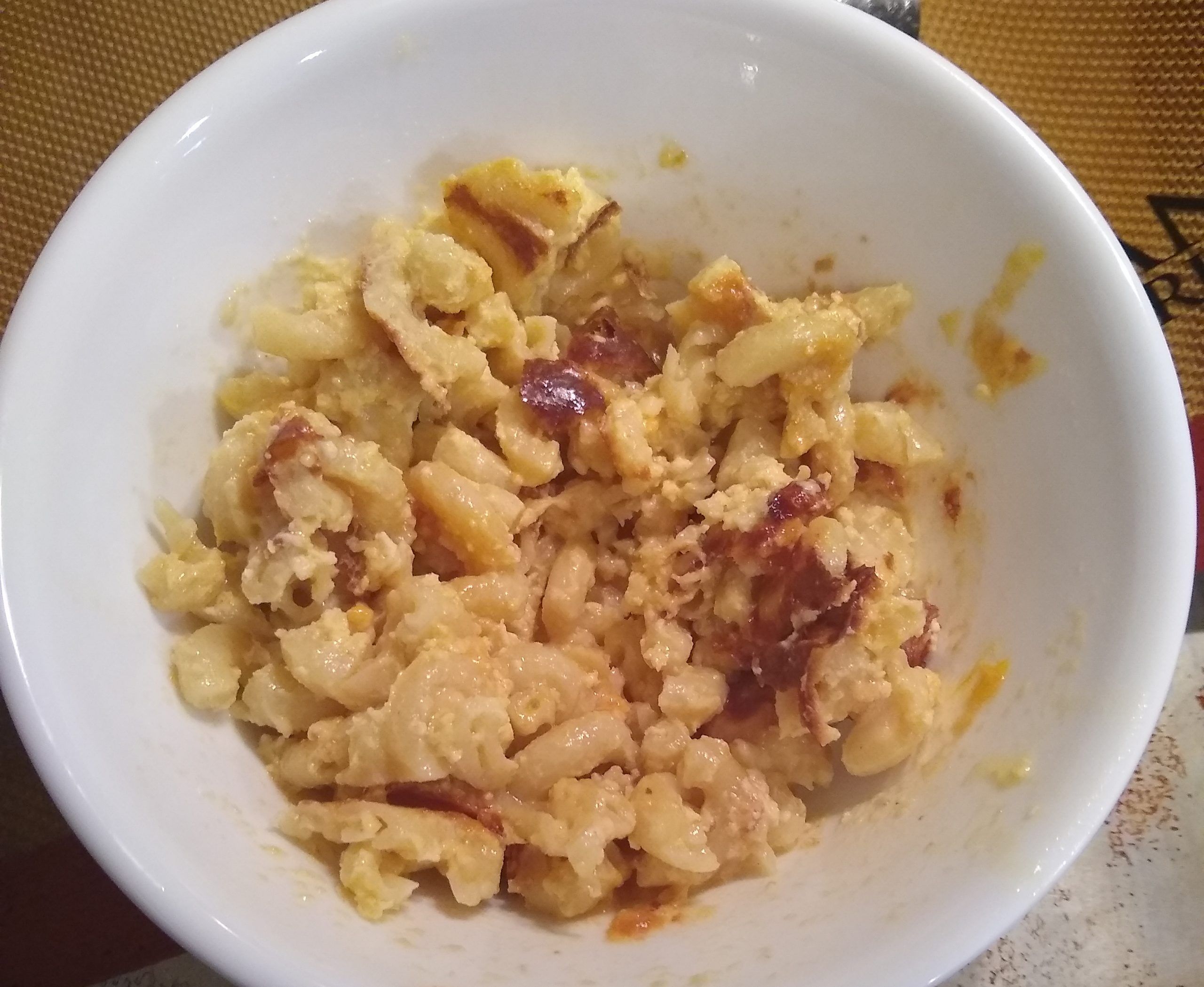 Although I love anything that saves me time, I'm not always the biggest fan of leftovers that are reheated in the microwave. With that being said, this mac and cheese actually turned out pretty good and I could barely tell a difference between this method and the stove top trial. So if you're looking for a way to enjoy that homemade macaroni and cheese during your lunch break at the office, this is definitely the way to go!
Adaptations for Frozen Mac & Cheese Leftovers
Sometimes you can't always use leftovers within a few days, and that's okay. Even if you decide to freeze your leftover mac and cheese, you can still reheat it in the oven by making a few changes to the directions provided above:
Do not add any liquid right away until you see how the macaroni and cheese looks once it starts to heat up.

Instead of checking after 20 minutes, check after 1 hour.

Plan to let the dish cook for an hour and a half instead of 30 minutes total.
Exciting and Different Ways to Still Use That Leftover Mac & Cheese
Sometimes eating things reheated in the exact same way you ate them a day or two before isn't very exciting. However, you can kick things up a notch with one of these exciting ways to reuse leftover mac and cheese.
Mac And Cheese Toast
When I saw this recipe idea from Alton Brown of "Good Eats," I knew it would be a winner. You simply split up your leftover macaroni and cheese into bite-sized pieces, coat with flour, eggs, and bread crumbs, then deep fry and enjoy. If you like all things cheesy and deep fried, then you'll probably enjoy this Mac and Cheese Toast, too.
Cajun Mac & Cheese
While classic mac and cheese tastes great, sometimes it's fun to kick things up a notch. Drawing inspiration from this recipe for Cajun Mac and Cheese, you can easily adapt it to work with your leftovers from the day before. Simply toss in some Cajun seasoning, onions, and bell peppers and breathe new life into your leftovers!
Mexican Chili Mac
Similarly to the Cajun Mac and Cheese recipe, you can also take your leftovers and add ground beef with taco seasoning, a can of Rotel diced tomatoes, and some Mexican grated cheese to create a flavorful Mexican Chili Mac recipe! This one is a family favorite at my house, so I highly recommend it.
Final Thoughts
As you probably gathered, all of these methods yielded tasty results that everyone seemed to enjoy (after a few flops along the way). So whether you have an oven at your disposal or just a microwave and a limited amount of time, you can easily enjoy leftover mac and cheese that tastes (almost) as good as it did the first time.