Garbanzo beans, otherwise known are chickpeas, are a favorite around the world for two reasons: they're convenient and they're cheap. And they're becoming more popular in the U.S. because they're gluten-free. Since we're all about simplifying your life by helping you get food on the table faster, we've rounded up some awesome garbanzo bean recipes for you to experiment with this week.
In this article, you'll find garbanzo recipes for:
Salads
Soups
Man dishes
Snacks
And even desserts!
With traditional, gluten-free, and vegetarian options, there's something in here for everyone.
Ready to dive in?
Protein Packed Garbanzo Salads
An often forgotten fact about chickpeas is that they're a good source of protein. In fact, you can make your favorite salad SO much more filling, just by adding in some canned chickpeas. Just drain, rinse and add half a cup to your salad bowl. Or better yet, try one of these mouth watering chickpea salad recipes.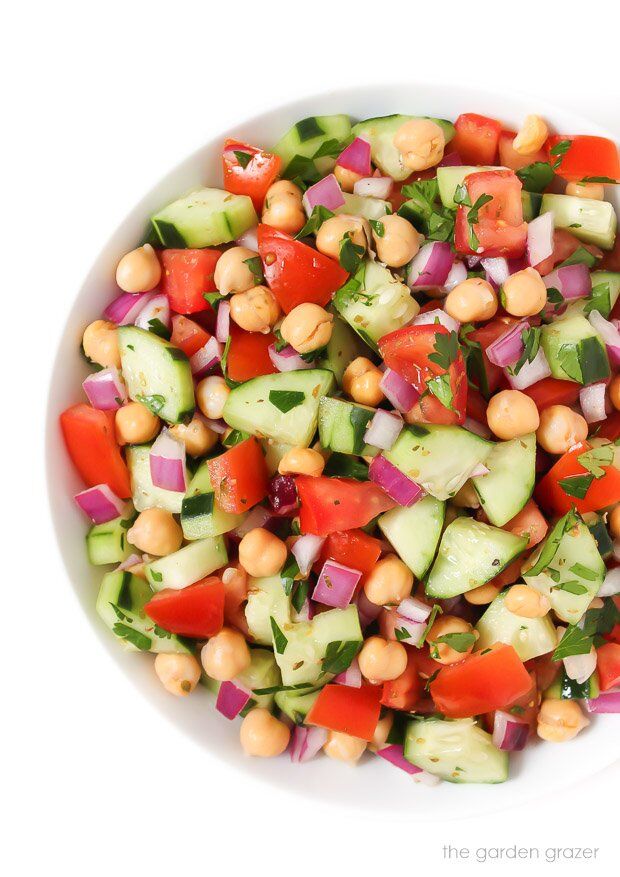 If you can chop tomatoes, you can make this salad. If you have a hard time handling a knife and a chopping board, have your roommate do the chopping. Buy a great greek salad dressing, and you don't even have to whisk the flavor in by hand.
Wow Yourself: Add in some crumbled feta cheese and your favorite olives and this simple garbanzo salad becomes restaurant-fare worthy.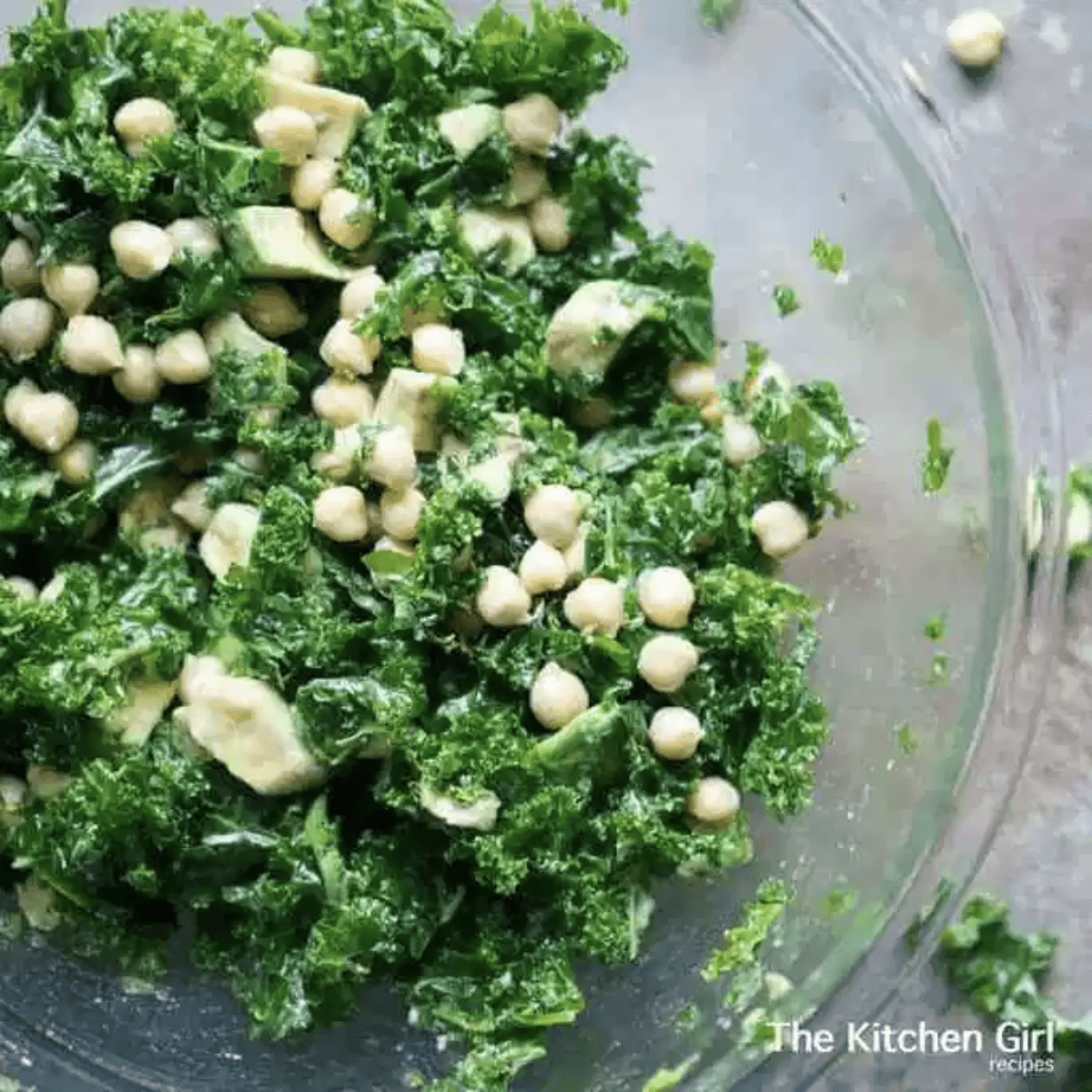 If you're looking for ways to eat more kale, this is the tastiest way (rubbed with oil, salt and lemon juice). Just add in the garbanzo beans and you've got a tangy salad that ups the nutritional value at any meal. It takes literally 5 minutes to throw together. Genius!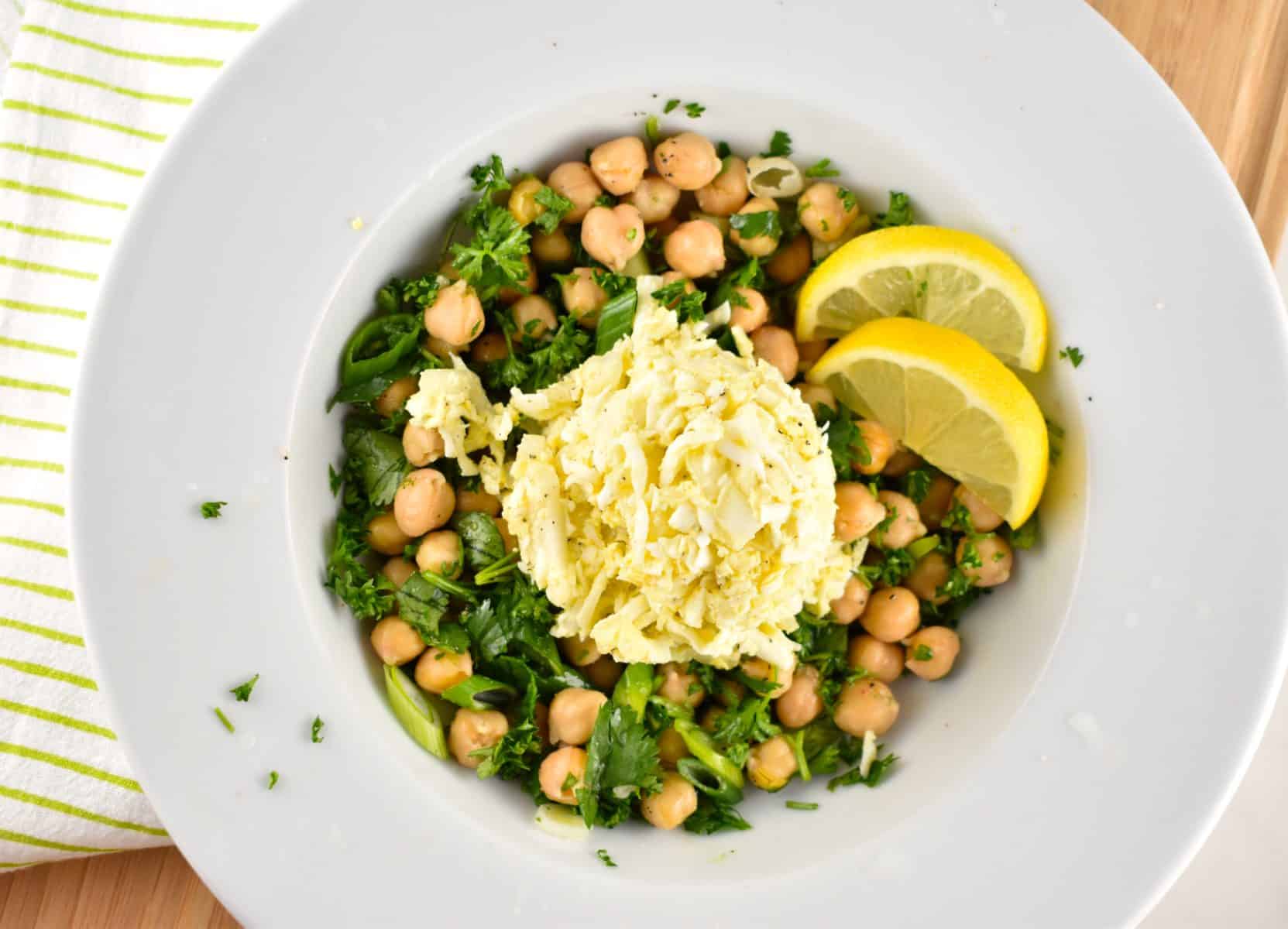 If you like eggs, you may want to pack this garbanzo bean salad for your lunch this week. It's filled with both protein (egg and chickpeas) and fiber (chickpeas) so you won't find yourself battling a grumbling stomach in the afternoon.
Time saving tip: Buy already peeled boiled eggs from the produce section of your supermarket, and you can have this meal done in less than 10 minutes.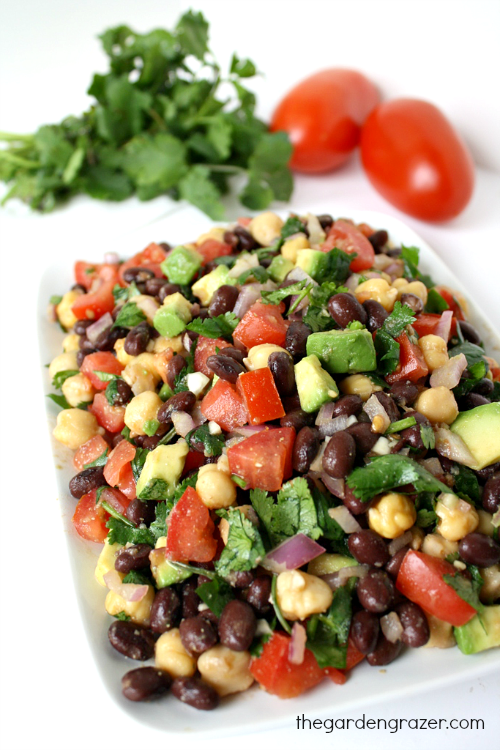 Next time you're too exhausted to mess with the oven or the stove, throw together this mix of mouthwatering goodness. It's got a Southwestern flair to it, so you can eat it by itself, or if you have tortillas handy, use it as stuffing and top with some guacamole. Dinner is in the bag!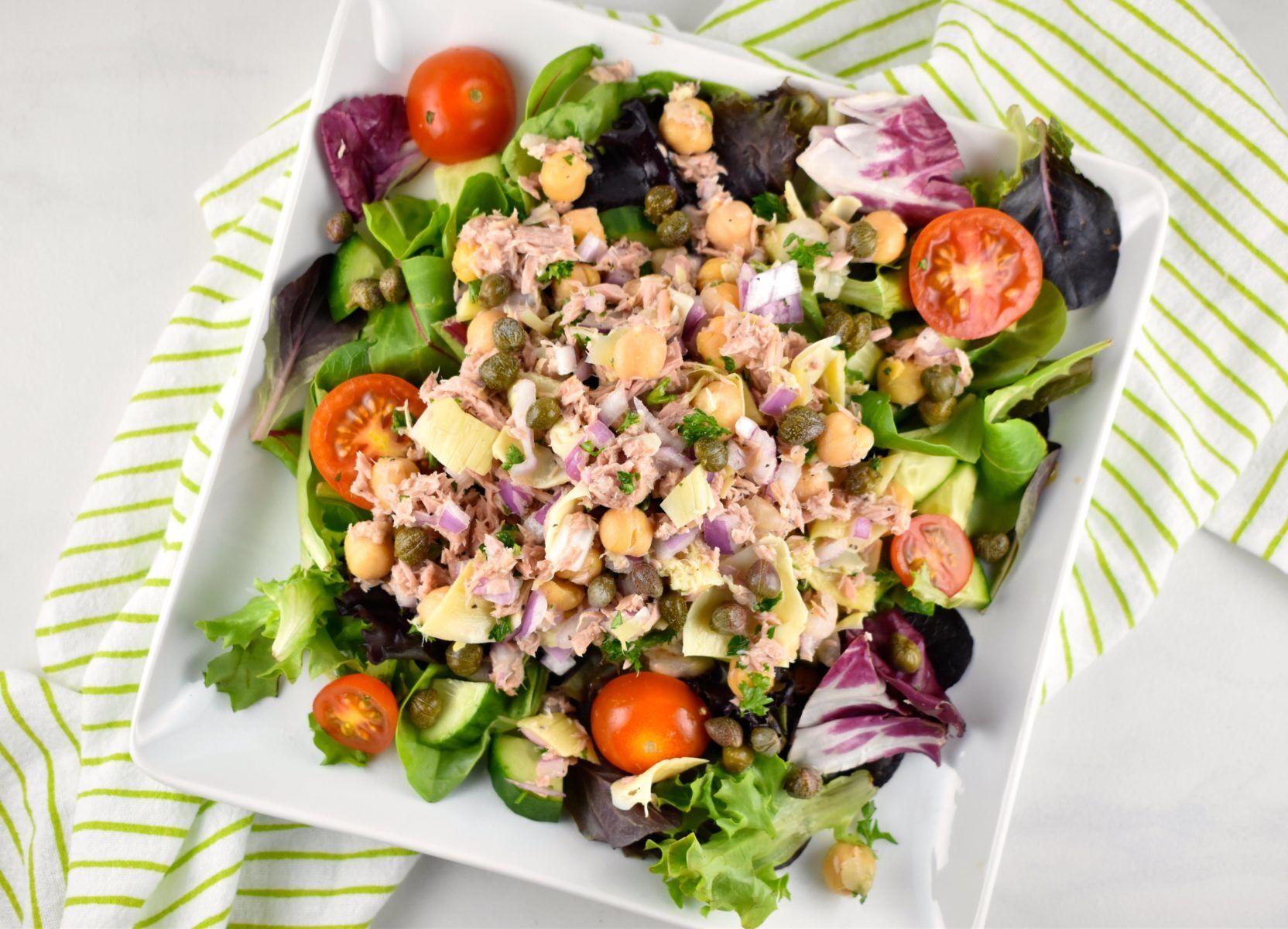 Here's a quick, easy, delicious and satisfying lunch idea that's also Weight Watchers friendly. That's right…it's healthy to boot. And you can have it ready it less than 15 minutes, which is even quicker than a trip to the McDonald's drive through.
Hearty Garbanzo Bean Soups
One of most delicious ways to enjoy chickpeas is in soups. They add an understated heartiness that transforms a simple bowl of soup into heart warming comfort on chilly nights. Plus, they're a great pick-me-up when you're feeling too sick to get out of bed.
You definitely won't want to miss these garbanzo soup recipes.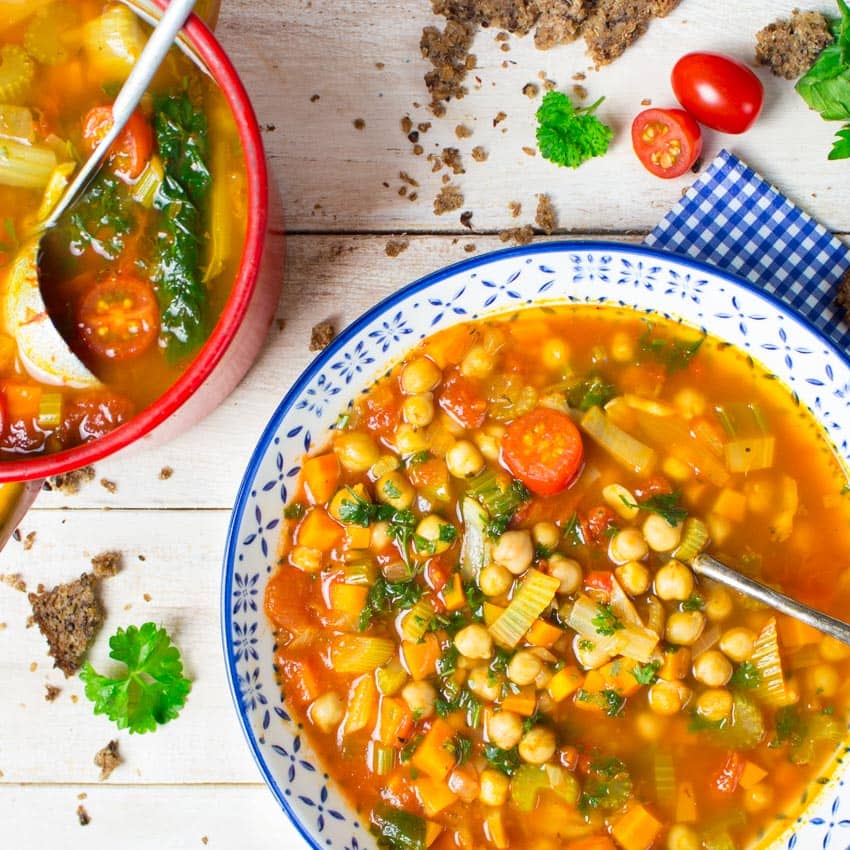 I love how easy this soup is to throw together. Just chop the veggies, dump the beans and tomatoes, and you're pretty much set. Spend the time it takes to cook catching up on your social media feed, because dinner for tonight and lunch for tomorrow are already taken care of.
Any recipe involving sausage is sure to be a crowd pleaser. What your family won't know is that it took you less than 15 minutes to get everything in the crockpot for this soup (we promise not to tell).
If you have an Instant Pot, save this recipe and buy what you need at the grocery store tomorrow. It will be an instant favorite for lunch or dinner alike. If you don't have an Instant Pot yet, buy one. Seriously. It's a lifesaver when it comes to getting meals on the table in less time with less effort.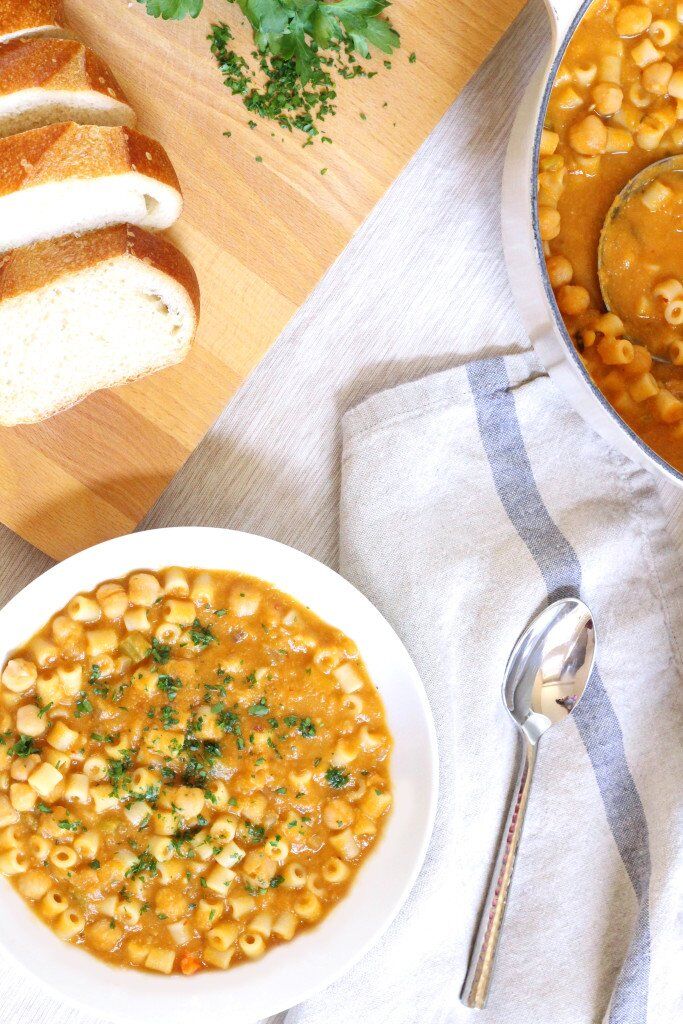 Nine years ago, on a crazy rainy day, I was walking through the streets of Florence, Italy, desperate to find a place to get warm. I was drenched, it was cold, and starting to get dark. A tiny little cafe beckoned me inside and this soup…it warmed up my frozen bones and literally brought me back to life. No exaggeration, it's THAT good.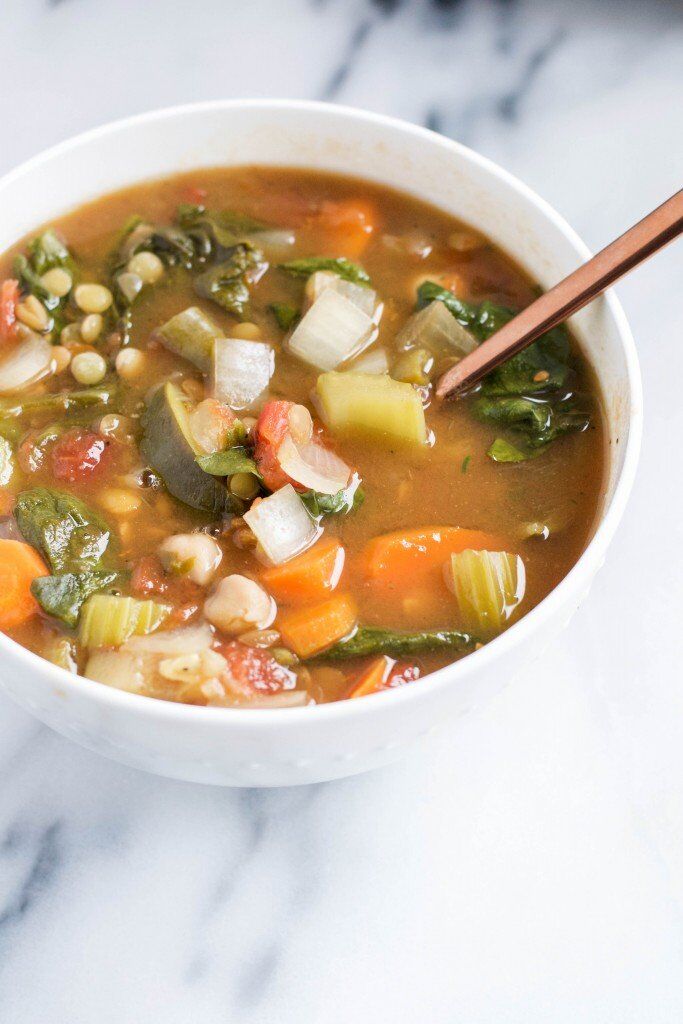 The Olive Garden might have a killer minestrone soup, but they certainly didn't invent it. Making this at home will be much lighter on the wallet, and since it'll cook while you work, it'll be that much more convenient than waiting to be served at a restaurant.
Main Dish Garbanzo Bean Recipes
For the record, there are thousands of chickpea main dish recipes, so narrowing things down was tough. In the end, we chose garbanzo recipes that would be the simplest to recreate so we could free up more time for you to spend doing the things you love.
Quick Tip: To cut down on prep time, try experimenting with canned garbanzo beans in these recipes: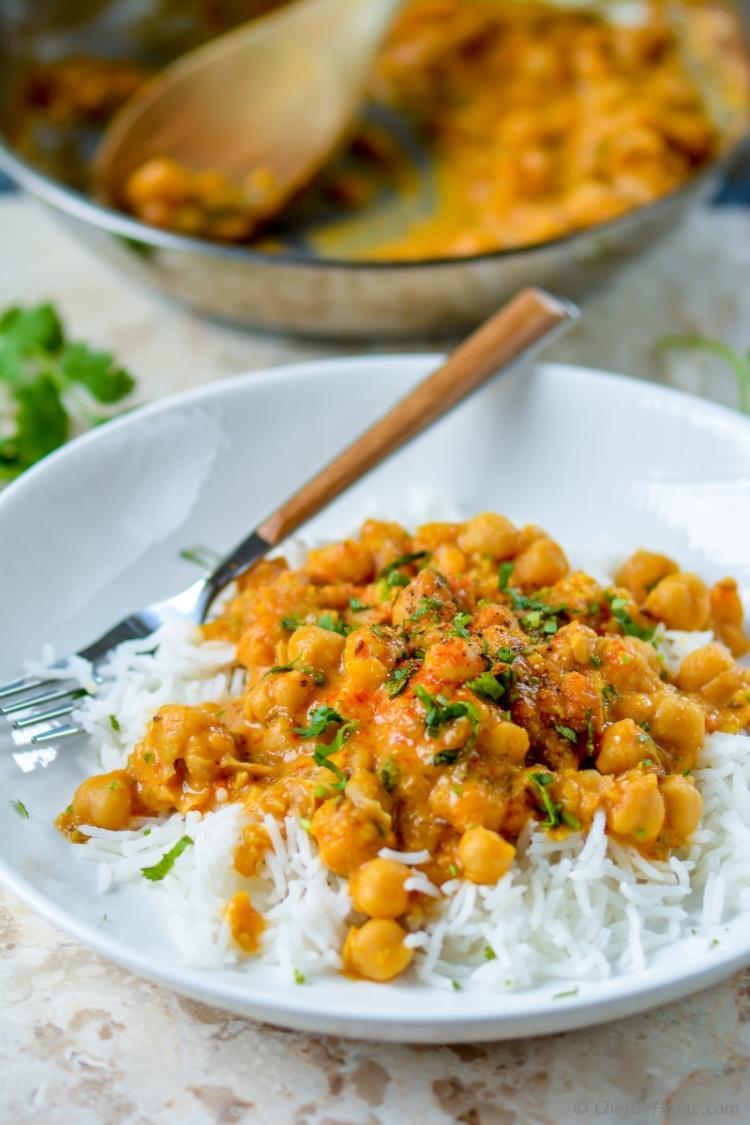 Since they're so flavorful, Indian dishes can feel intimidating to attempt in the kitchen. That is, until you try making it yourself and realize how easy it is to recreate that authentic, rich taste. I love how the author includes step-by-step pictures. Takes all the guesswork out of the process.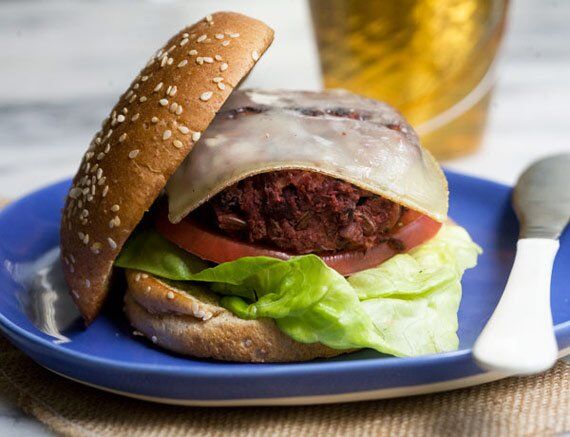 I'll be the first to admit – veggie burgers can be cantankerous. Which is why I love how this garbanzo bean recipe simplifies the process to just dumping the ingredients into the food processor, mixing, forming the patties and baking. Great recipe to try for a Meatless Monday.
When you think about it, rice and beans are a staple in pretty much every region of the world, yet they taste completely different depending on HOW they're seasoned. In this case, slightly caramelized veggies amplify the flavor without overpowering the dish.
Time saving tip: Use conventional canned chickpeas. Simply wash and drain them, and you won't have to make them from scratch.
Tacos are life. And when you're trying to eat less meat, garbanzos make a great filling alternative. Especially when you can pair them up with some good guacamole. It's a match made in heaven. 😉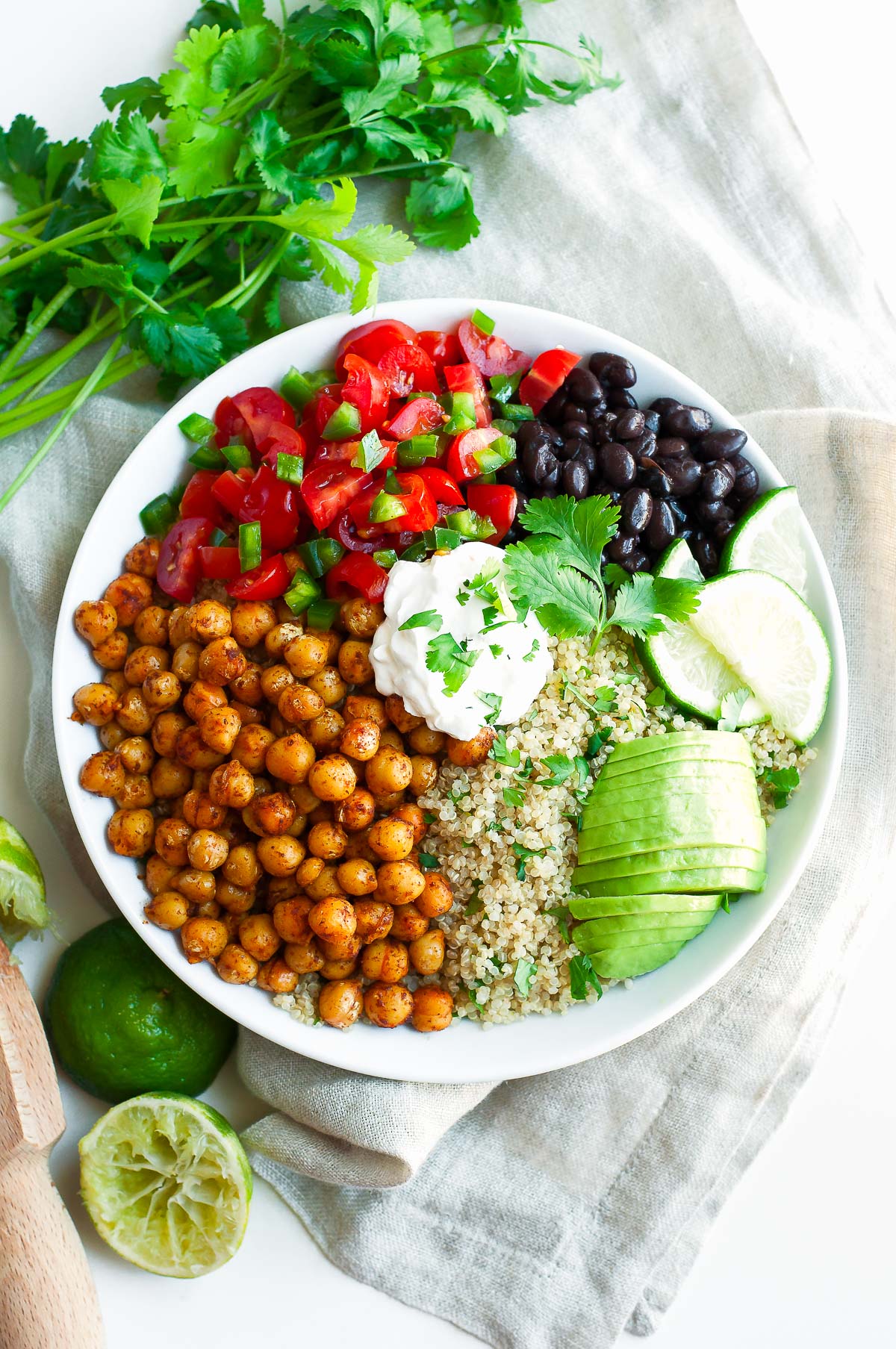 For those of us seriously immersed in the taco life, the taco bowl is a no brainer. Just take the inside filling of a taco, and serve it as a complete dinner bowl. Simply brilliant! This chickpea taco bowl recipe is also gluten free, making it a better choice for anyone with gluten intolerance worried about enjoying their tacos without digestive distress.
Time saving tip: Buy already cooked quinoa from the frozen food isle. Simply microwave and you're set. You can also purchase already roasted chickpeas, though they might be a bit more pricey.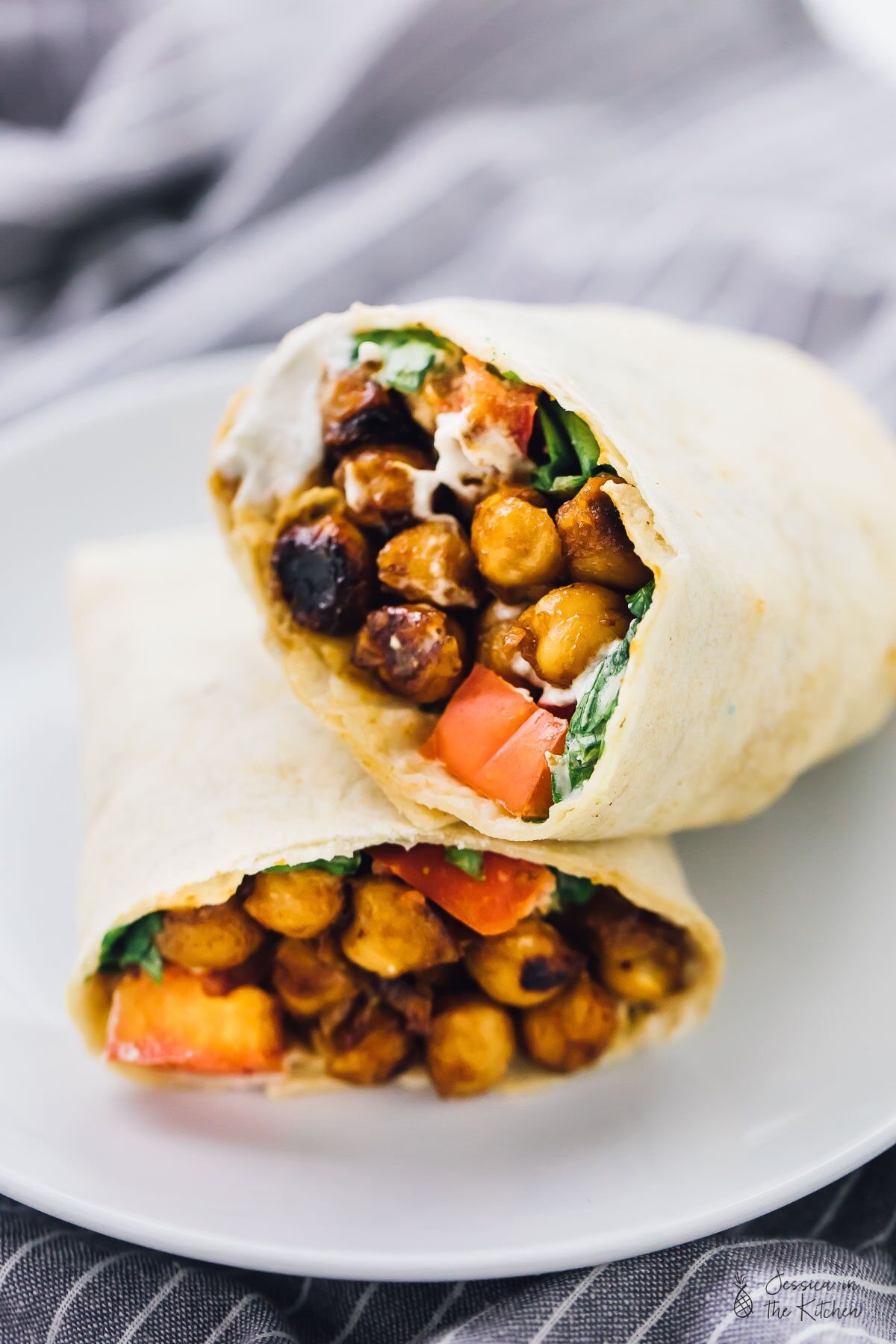 A good lunch wrap will taste good. A GREAT lunch wrap will have your coworkers asking where you bought your lunch as the smell of BBQ fills the office. You can, of course, offer to bring some for them tomorrow — for a price. 🙂
Don't worry, these only take 20 minutes to whip up.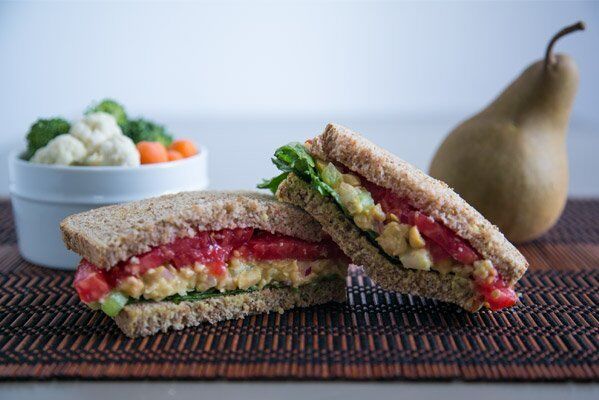 A lot of vegetarian friends swear this chickpea salad tastes like tuna to them. I'm not sure that's exactly accurate, but regardless, it's a favorite with meat eaters and veggie lovers alike. It's perfect in a sandwich, a wrap, a pita pocket, or even on top of a green salad.
Turns out you can scramble chickpeas the way you can eggs, which comes in handy for anyone with an egg allergy. For the rest of the world's population, it's a novelty to attempt at least once in your lifetime.
Addictive Chickpea Snacks
Store bought roasted chickpeas are quite pricey. Fortunately, there's a frugal DIY option for anyone who doesn't mind tossing some seasonings onto garbanzo beans and letting the oven do the rest.
Use roasted chickpeas instead of croutons in salads or as soup toppings for an instant gluten-free protein boost. Don't worry, we've got you covered with two great tasting chickpea snack recipes.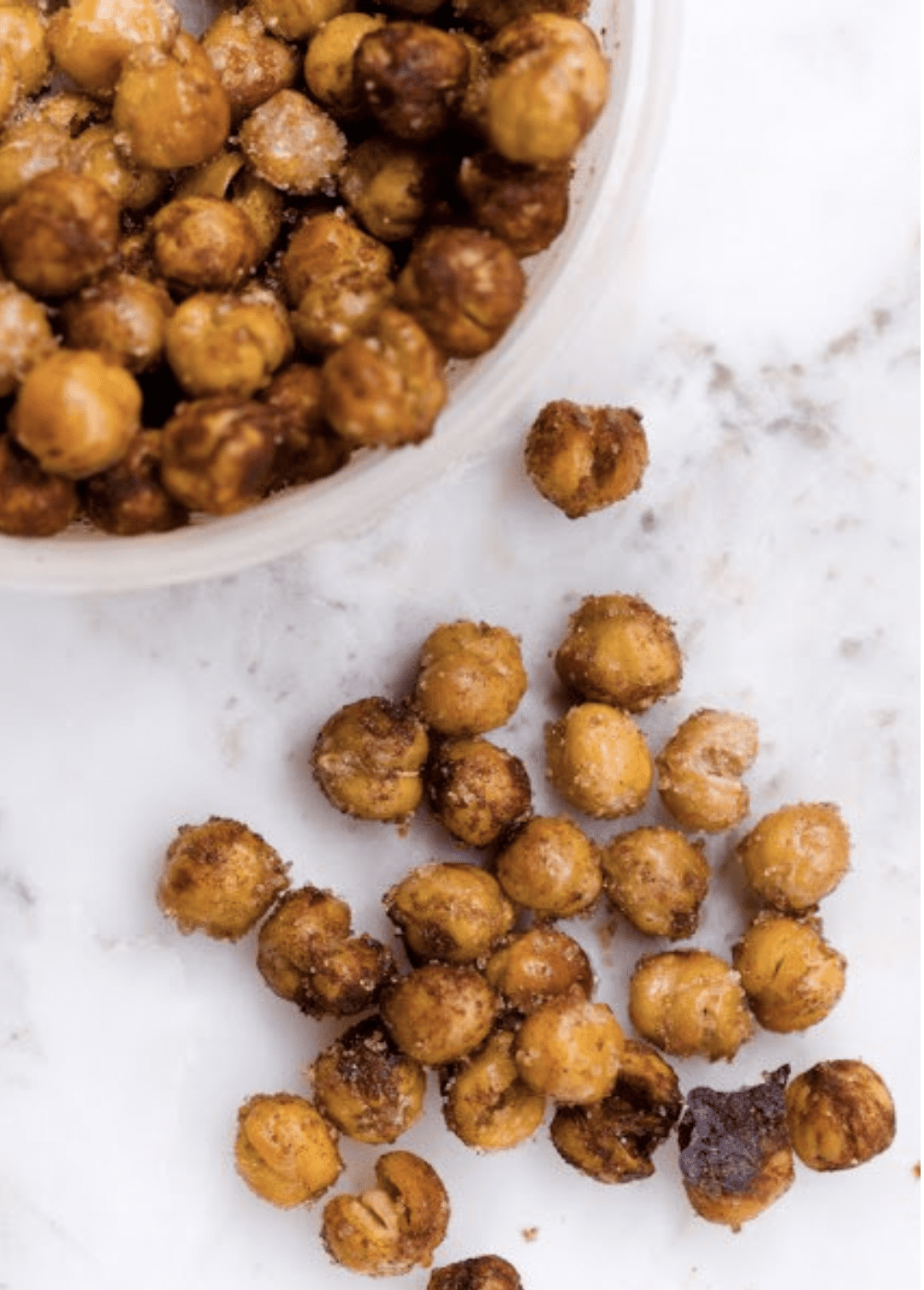 Sweet chickpeas didn't intrigue me too much until I had a raw cookie dough recipe (don't worry, we provide a link below) that taught me better. They're much more addictive than popcorn and much healthier too – if you care about that sort of thing.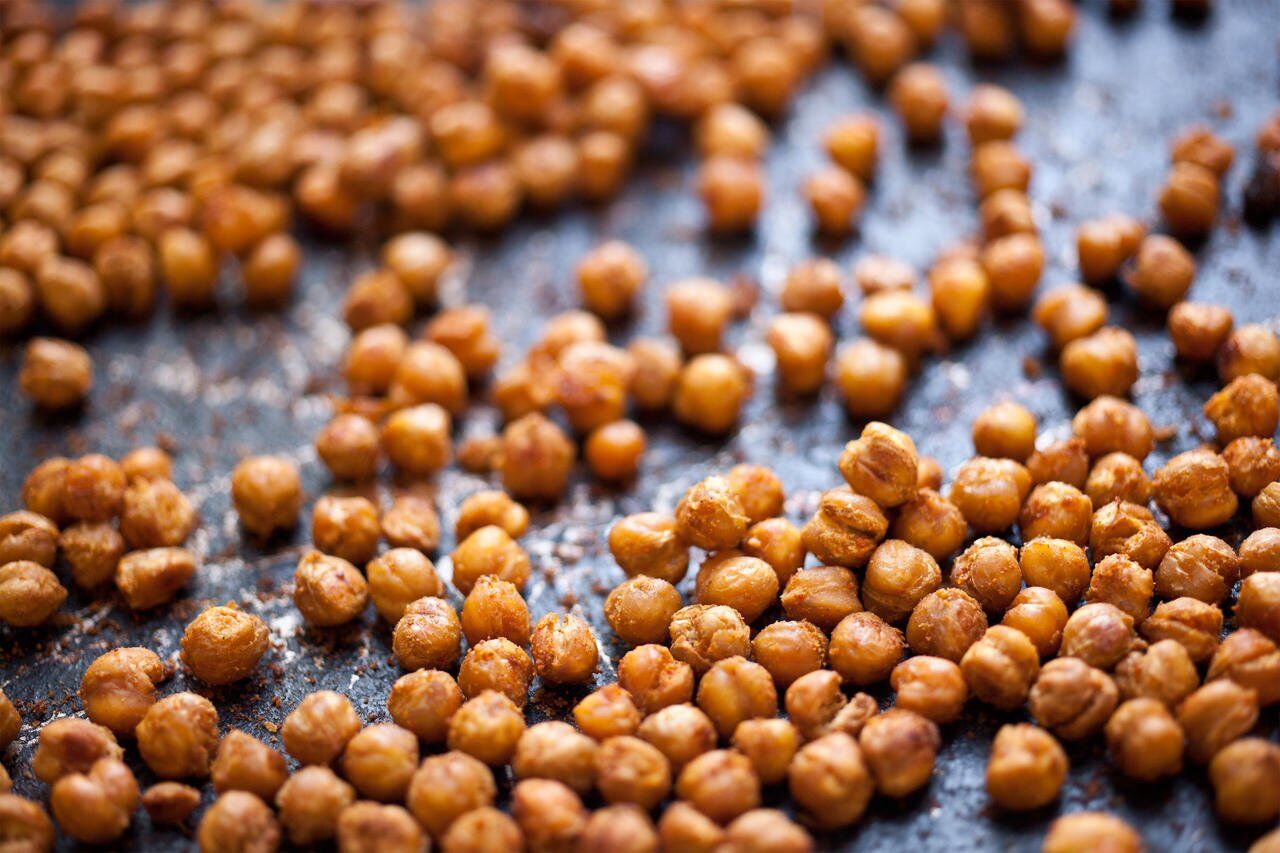 Plan to eat these by the handful, and find a good spot to hoard them in secret. Every batch I make disappears within minutes, so don't let your family know when you pull them out of the oven, unless you have a lot to spare.
Get Your Sugar Fix with Chickpeas
No garbanzo bean recipe list would be complete without desserts. Yes, this is a thing, and it's really popular with the vegan, gluten-free crowd. But you don't have to be a healthy foodie to enjoy these guiltless treats that nobody can tell are secretly good for you.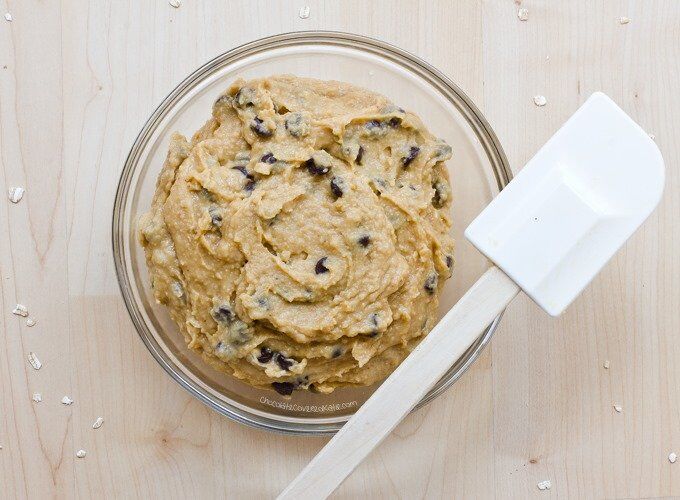 Cookie dough without food poisoning risks? You bet. Grab a spoon and dig in. Oh, and did we tell you all you have to do is blend the ingredients up? For real. This is fantasy come to life.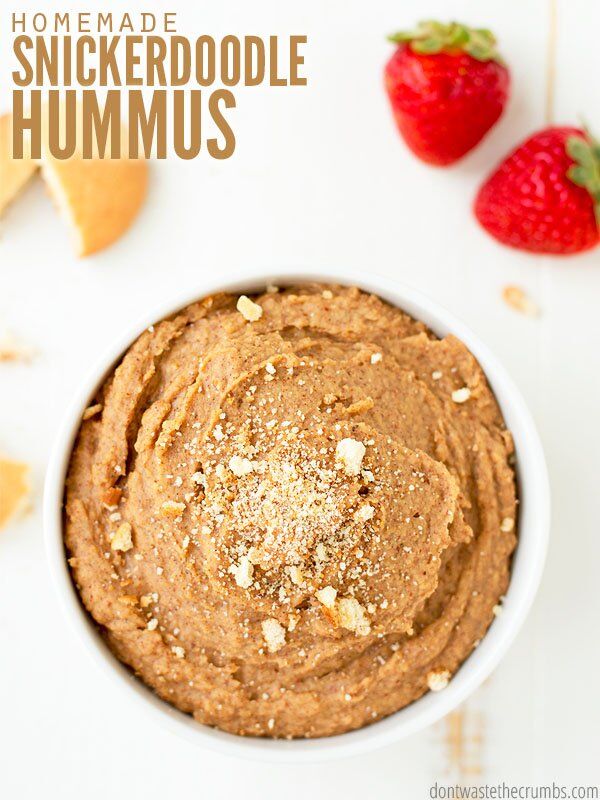 Ignore the hummus part and focus on the snickerdoodle. This is not a hummus, in any way, shape or form. It's a dip that tastes exactly like snickerdoodles. So if you're a cookie addict, here's your (healthier) fix.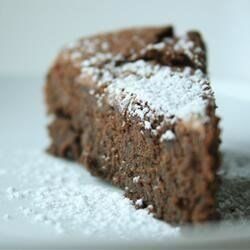 Why the world would anyone bake a cake out of garbanzo beans? The question is, why not? Beans, unlike flour, are packed with protein and complex carbs…you know, the good for you kind. And the yummy factor speaks for itself. So just try it! (Did we mention you could easily turn this into cupcakes too? )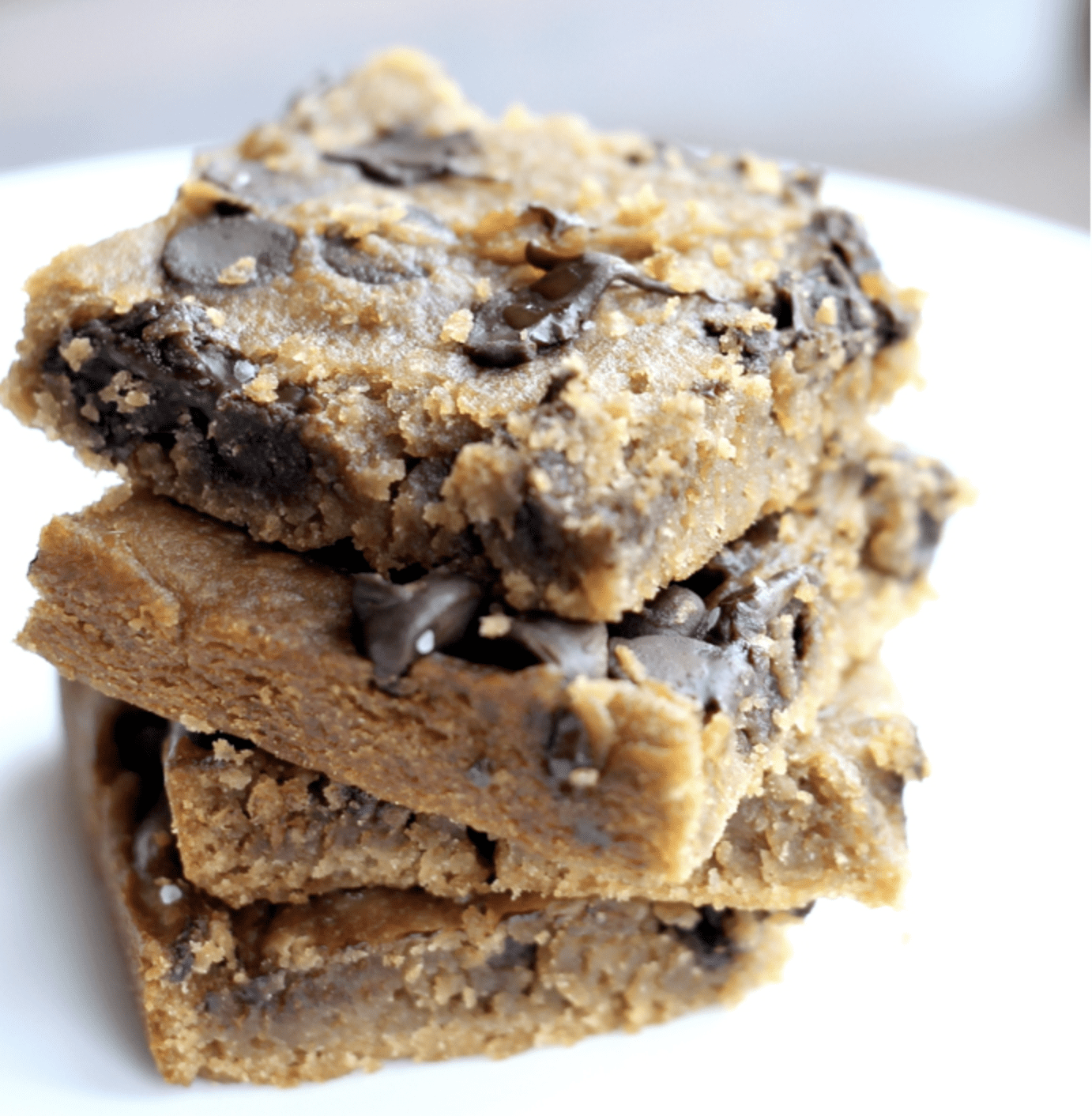 If you thought you had to throw brownies and blondies out the window when you went gluten-free, celebrate! You can make your favorites again using chickpeas instead of the flour. And I have to say, the result is just short of miraculous. They're that good.
Join the Global Trend – Load Up on Garbanzo Beans
By now you may have realized that stocking your pantry with chickpeas is a timesaver in the kitchen and easy on the wallet. So throw a few cans in your cart next time you're at the store. You'll definitely want to try at least one of the garbanzo bean recipes on this list. And if you come up with your own creation, tell us about it in the comments! We'd love to add it to our garbanzo bean recipe lineup.