Are you out of work and need extra money? Do you have some free time on your hands and are looking for something to fill up that time? Are you a college student looking for extra cash? If you're here, then you must be thinking of becoming a DoorDash delivery driver, or a "Dasher" as they are typically called.
If that's the case, then I'm about to take you on a step-by-step journey where I will reveal to you all you need to know about being a Dasher. By the end, you will decide whether you want to be a Dasher and if it's a worthy venture to earn good money.
First things first: what is DoorDash and what does it do? Find out here in our DoorDash Driver Reviews.
What's DoorDash?
DoorDash is an on-demand food delivery service in which delivery drivers deliver food orders to customers' drop-off locations for a small delivery fee. It's one of the largest food delivery platforms in the USA and Canada (even bigger than Grubhub) and is now quickly gaining popularity in Australia too.
What are the Requirements for Being a Dasher?
If you are thinking of becoming a Dasher to earn some extra income, you must be wondering what it takes to sign up. These are the requirements:
You must be of legal age, which is 18 and above.
You need a vehicle that you can use to make deliveries. It can be a car, scooter, or even a bike in some cities.
A valid driver's license. In the United States, you will also be required to submit your social security number.
Give consent for a background check. Before you become a Dasher, the company will need to carry out a background check. Don't worry — it's nothing to freak out about, as this is only a routine procedure to protect customers.
If you meet these requirements, all you need to do is submit an application, download the DoorDash app, and log in as a Dasher rather than a customer. After you have applied and signed up, you will be sent an activation kit—your hot bag, Red Card (a prepaid debit card), and a getting started manual—within a day or two. Once received, you are ready to start dashing. It's as easy as that.
How Does DoorDash Work?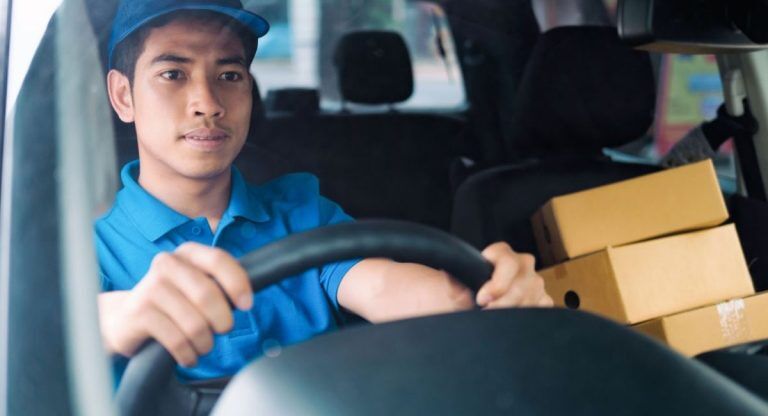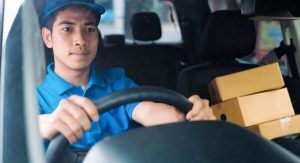 DoorDash is different from other food delivery apps like Postmates and Uber Eats, where you can go online any time you are available. Rather, on DoorDash you pre-schedule a shift.
When you start, the app will assign you a period to cover, say from 11:00 am to 2:00 pm. After 2:00 pm, your dash will end but you can request another shift if you want to keep working.
On other apps like Postmates, you won't necessarily know how much money you will make from a delivery beforehand. On DoorDash, however, you will see the guaranteed minimum wage you will make from a delivery before you accept it.
This lets you weigh the pay against the cost and if you don't think the delivery is worth the trouble, you can decline it. You should know, however, that there is something called an "acceptance rate" on DoorDash. This is the rate at which you accept deliveries presented to you without declining.
If your delivery acceptance rate is low, you may not get as many delivery opportunities. Plus, certain areas may offer a bonus if you qualify with a high enough acceptance rate. If you want to get the bonus payments, then you may have to accept all deliveries, especially the initial ones.
Declining deliveries may not be a good idea if you want to claim the bonus. It can be difficult to predict how many deliveries you may be offered, therefore it's advisable that you accept all deliveries in the beginning.
To help you get more deliveries, the app offers a map that indicates areas in which there's a high frequency of deliveries. These areas will be shaded red on the map. The darker the shade of red, the more deliveries an area is likely to have.
The map will also indicate hotspots, which are restaurants that customers order from most. If you are not near any hotspots, you should drive to or park close to one, especially during peak times.
How Much are DoorDash Delivery Drivers Paid?
If you're thinking about becoming a Dasher, then this must be the biggest question you have. This is how Dashers are paid for deliveries.
For every delivery, there is the base pay, which can range anywhere from $2 to $10. In addition to base pay, customers have the option to give you a customer tip.
At certain times in some delivery zones, there are peak pay bonuses. As I mentioned earlier though, you have to keep a certain rate of acceptance if you want to be qualified for peak pay rates.
DoorDash, unlike other delivery food deliveries such as Uber Eats, does not charge any service fees to the driver but instead makes their profits by charging the restaurant. As a result, you get better pay as a delivery driver in comparison.
The company advertises a pay of $15 to $25 per hour, but many Dashers say DoorDash pays closer to $10 to $20 per hour.
Tips Controversy
In the past, the company has been accused of exclusively using tips to pay their drivers or reducing a drivers' base pay if they receive a tip. A resulting lawsuit by a delivery driver forced DoorDash to change this policy and has since promised to roll over 100% of the tips that Dashers receive without reducing their base pay or bonuses.
How to Maximize Your Earnings as a DoorDash Delivery Driver
To make sure you get the most of your DoorDash shifts, here are a few tips that can help you.
Schedule Your Delivery Shifts for Peak Hours
Some shifts are slower than others. If you want to make the most out of your deliveries, schedule your shifts to fall on the busiest hours of the day when most people are likely to order food. This usually includes lunch and dinner hours on business days as well as most mealtimes on weekends.
If you qualify for "Early Access Scheduling" which DoorDash considers you "have[ing] a Customer Rating of at least 4.6, a Completion Rate of at least 95%, and have accepted and completed at least 5 deliveries on the DoorDash platform between 12 am the previous Friday and 11:59 pm the previous Thursday," then you can schedule your shifts 6 days in advance.
Deliver in Busy Zones
When you log into the DoorDash app, there will be a map indicating which areas are the most active for deliveries. The darker the red, the more deliveries you are likely to get in an area. If you want to get the most out of delivery, hang out in these high delivery areas.
The map will also indicate hot spots, which are places where people order from most.
Avoid Accepting Deliveries that are Too Far
When you receive a delivery, you will know how far you need to drive to the pickup point. Deliveries that are too far from where you are do not always reciprocate in terms of payment. Consider the amount of money it will cost you in terms of gas as well as the time you will be spending on one order (versus several orders). Some deliveries are not worth the hustle.
Look out for Areas with Peak Pay
Areas with a lot of demand will offer a bonus for every delivery. When you log into the app, the map will indicate areas with bonuses and the amount you will earn per delivery.
If you want to make more money as an independent contractor, you should always be on the lookout for peak payment areas. Remember, however, you must hit a certain acceptance rate for that particular dash if you want to collect the bonus payment.
Use an Efficient Vehicle for Deliveries
When you decide to sign up to be a driver for DoorDash, you should know that you don't need to have a fancy vehicle for the deliveries. Fuel efficiency will of course be important, but repair costs should also be considered. A car that frequently requires expensive repairs may ruin your overall profits.
Other than a car, you may also be able to use other means of transportation such as a bike or a scooter to keep the cost of the deliveries low. However, what you're saving in delivery costs you may be losing in time, as cars can be driven farther much faster.
Taxes
When you're working as a delivery driver, you can write some of the expenses you have for deliveries off when you are paying your taxes. In other words, you'll pay less on taxes if you deduct your expenses.
The phone bill and your car's mileage are good examples. Certain apps on your phone or devices for your car can help you keep track of your mileage.
Know Your Area
If you plan to deliver in a certain area, knowing that area well will save you a lot of time you might use looking for pickup and drop-off locations. For example, if you just moved to New York City from San Francisco, make sure you take some time to orient yourself first.
By knowing the area already, you might know some shortcuts you can use when there's heavy traffic or other obstacles. Anything safe you can do to make your deliveries more efficient is adding money to your wallet.
Offer Quality Customer Service
Any DoorDash delivery driver will tell you that tips go a long way in boosting the income they get from their dashes. They'll also say Customer Ratings can make or break you. If you want to get tipped more often, you have to deliver great customer service to the people you deliver food to. No one wants to give a tip to a delivery driver offering poor customer service.
Here's how you can give your customers an incentive to tip you.
Always keep your customers informed about the order. When you pick up their food from the restaurant, you are not obliged to tell them you have already picked their food up and are on your way, but you should. If you can, give them an estimated time for you to get to the drop-off point. This way they know their food is on the way.
Pick up extra condiments or napkins for the customers if they are available. Most restaurants will not mind giving you some extra condiments if you ask for them. Grab extra napkins or straws for your orders and customers may appreciate the gesture with an inflated tip.
Always double-check your order to make sure you got it right. Other food delivery apps may not remind you to double-check an order. In DoorDash, however, you are encouraged to check on the items before you head off to the drop-off point. Don't just quickly check the boxes either — ensure you have received everything you are required to deliver.
Always Bring Your Phone
Sometimes the GPS on the app is not very accurate. When you are delivering orders, you might have trouble locating a customer's apartment or they may not answer when you knock on their door. Having to go back to the car to get the phone is time-wasting. Bringing it with you will save you a lot of time.
The same goes for when you cannot locate the restaurants using the app's GPS. Do a quick search for the restaurant on a separate app instead and get your directions from there instead of wasting time looking for the restaurant.
Pros and Cons of Being a DoorDash Delivery Driver
If you're still not sure whether this is something worth venturing into for you, check out the section below as we lay out the pros and cons of being a Dasher.
Pros
Working on Your Own Schedule
If you're working as a DoorDash delivery driver you get to set your own hours. You are your own boss, no one tells you when to work. This makes being a Dasher the perfect side hustle for people looking to supplement their income.
For people with other engagements, like students or stay-at-home moms, being a Dasher allows you to schedule your work around your studies, kids, or other commitments.
You May Earn More from DoorDash than Other Platforms
DoorDash is the biggest food delivery platform in the United States. This has allowed DoorDash to offer competitive pay over other platforms.
DoorDash doesn't charge drivers service fees either, which means you get to keep all the money you get from a delivery.
You Don't Need Any Special Qualifications
If you want to be a DoorDash driver, you don't need any special qualifications. All you need is a means to deliver, a valid driver's license (and social security number if you're in the United States), and to pass a background check.
The Application Process is Simple
The application process to be a Dasher is very simple. It also takes a very short time to get approved and most applicants should receive an activation kit within one to two days.
Taxes
As I have already mentioned, you can write off the expenses you incur while working as Dasher which allows you to pay fewer taxes.
A Quick Source of Income
If you're looking to get some quick cash, then DoorDash is a perfect choice. By default, your earnings hit your bank account via direct deposit every week but if you need to, you can cash out as often as once a day.
Cons
Income inconsistencies
If you're looking for a permanent job, then being a Dasher may not be the best option for you. It can be difficult to estimate what your earnings will be in a given week or month.
Some drivers have also claimed that it can be difficult to get shifts on the app, especially if you are just beginning. Unlike other food delivery apps, deliverers can only work in shifts. There's no option to start and stop delivering on-demand.
Maintenance and Fuel Costs
DoorDash does not pay for car maintenance or fueling. All these costs are instead paid for by the driver. Since you'll be driving far more often, refueling will become more frequent as will maintenance costs from increased wear and tear.
App Woes
Delivery drivers have complained of the DoorDash app crashing, thus interfering with your ability to make deliveries. Sometimes the GPS on the app is inaccurate and you may waste a few minutes looking for pickup or drop-off points.
In Conclusion, Is Being a Dasher Worth It?
Being a Dasher is great if you're doing it on the side. If you're looking for something to do full-time, however, this may not be the best career choice.
Overall, the application process is very simple and there are no special requirements needed to be a Dasher. Areas with big populations provide steady work and decent pay, and you generally have plenty of flexibility with your schedule.