Whenever possible, we use affiliate links which help cover the costs of running this site.
Trying to save money on DoorDash? Here's a great deal for new customers:
Get $5 off your first delivery with code: STORETODOOR
Already started an order? Once on the DoorDash site, click the cart button (top right) to continue checking out.
Want a better deal? ($10 OFF!)
GrubHub, one of DoorDash's biggest competitors, is currently offering new customers $10 off their first order. With high customers reviews, a huge selection of restaurants, and a $10 discount, you should seriously consider giving GrubHub a try! Just click the button below to visit GrubHub.com. Then, click the prompt at the top of your screen to claim your $10 discount.
Save $10 off your first GrubHub order
How to use a DoorDash promo code or coupon
With DoorDash you know you are in good hands. DoorDash has handled over 10 million orders, and their ordering interface is simple, easy, and fun to use.
And with one of our DoorDash promo codes, you can save some money the next time you have a craving for pizza or a hankering for tacos.
Every month, we scour the internet for the best DoorDash coupons and promo codes and hand test them ourselves to make sure they work.
To use our DoorDash promo codes follow these simple instructions:
For web orders
First, you'll need to create an account at doordash.com (or log in if you already have one).
Then you'll put in your location to find out what restaurants are available near you. After you have made your selections, click on the cart button in the top right corner of your screen.
Double check your order information, enter your payment details, and look for the "Add promo code" option under the payments section.
Pick a DoorDash coupon to try, paste (or type) it into the box and then just click "Apply."
And that's how you use a DoorDash coupon!
For mobile orders
If you don't already have it, you'll need to install the DoorDash app. If you have an iPhone, click here or if you have an Android phone click here.
Select some tasty cuisines and put them in your cart. After you're done, click on the red "View Cart" button. Make sure that your order is correct then click on "Promo code" towards the bottom.
Enter your DoorDash coupon and hit the "Apply" button.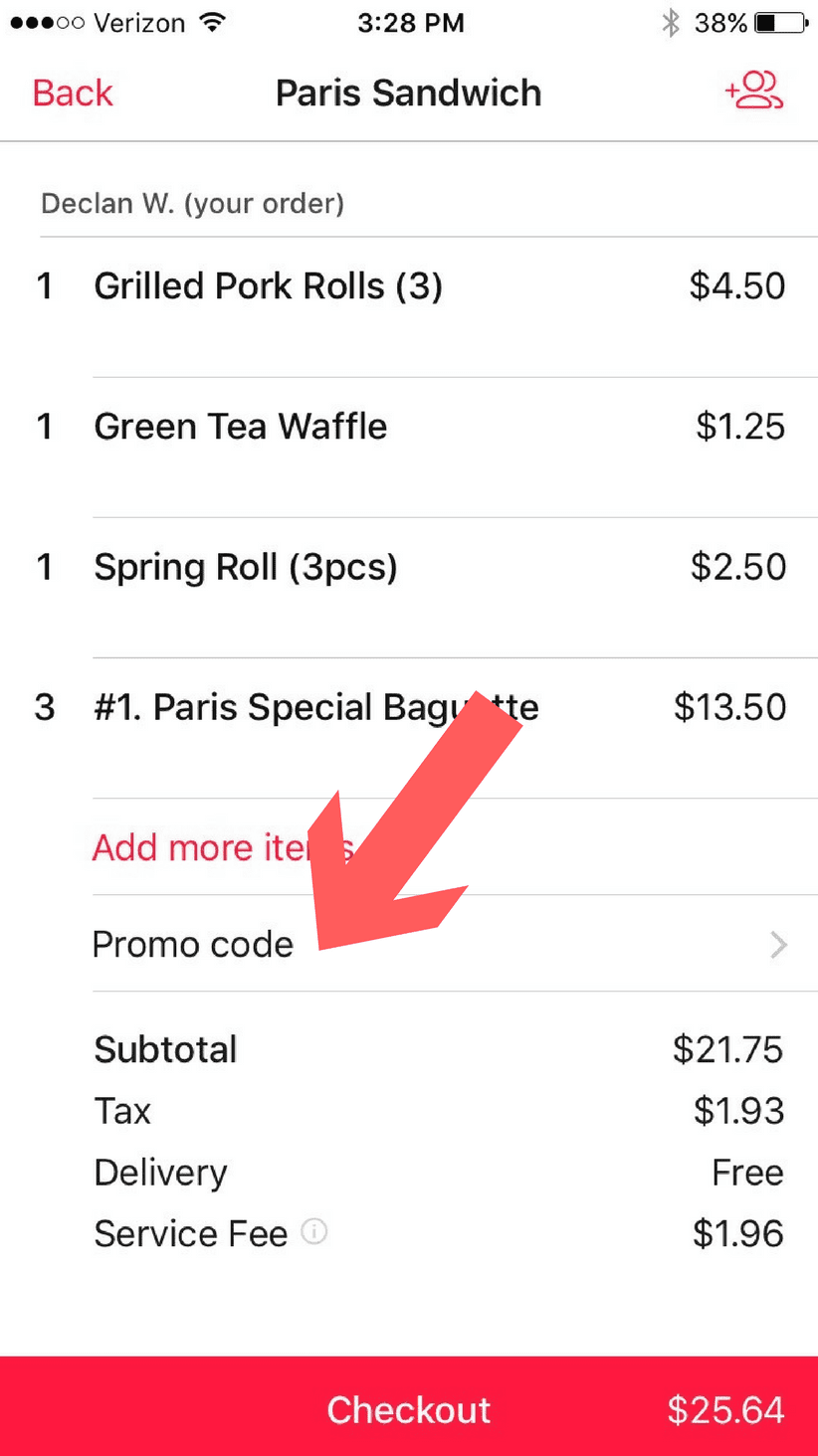 Woohoo! The DoorDash promo code just added a dash of cash back in your wallet!
Not too hard, right? Just…
Pick a DoorDash promo code
Open DoorDash's website (doordash.com) or app
Apply your DoorDash promo code
Find a fork
If, for any reason, your DoorDash promo code doesn't work, here are a few things you should try:
Delete any blank spaces from the DoorDash promo code (sometimes they slip in at the beginning or end)
Check to see if your order qualifies for that specific DoorDash coupon ("first time customer," etc)
Email support@fooddeliveryguru.com and we'll see if the DoorDash promo code needs to be removed from this post!
Is there a DoorDash promo code we don't know about?
DoorDash prides itself on putting an entire city's cuisine within thumb's reach. Which is convenient for you, because at the end of a long day there is nothing better than having a delicious meal delivered right to your door.
Well, there is one thing that's better — having a delicious meal delivered and saving money with a DoorDash promo code!
Each DoorDash coupon we offer is human tested to ensure you don't waste time slugging through clunky coupon sites.
If you stumble upon a DoorDash coupon we don't have, leave us a comment below.
And if one of our DoorDash promo codes turns out to be expired, feel free to reach out so we can prune it from our list.
Happy eating!