We've tried both of these services personally, and we use affiliate links to help cover the costs of running this site.
When you Google search "cheapest meal delivery kit," two brands will appear at the top: Dinnerly and EveryPlate. Both of these brands smash the competition with their low-cost meal kit delivery services of $4.99 per serving. However, when a budget-conscious consumer wants to cut down on takeout or skip a grocery shopping trip, which company provides a better product? We put each brand to the test and sampled a variety of different meals and are now ready to provide you with our unbiased results.
Let's dive in and see how Dinnerly and EverPlate compare to one another!
Dinnerly vs EveryPlate Head to Head
EveryPlate Overview

EveryPlate is a relatively new player in the meal delivery market. In fact, the company has only recently hit its 3-year anniversary! Owned by HelloFresh, EveryPlate is one of the more budget-friendly meal kit services on the market. They also offer their meals at a mere $4.99 per serving, and their weekly menu lineup includes 14 recipe choices.
EveryPlate only charges a flat shipping rate each week, regardless of which plan you select. EveryPlate currently delivers everywhere within the continental United States, but their available delivery dates vary based on your exact geographical location.
EveryPlate Meals: Key Benefits
All EveryPlate recipes feature:
Quality ingredients and responsibly sourced
Preparation in 6 steps or less!
Lists of potential allergens
Additionally, EveryPlate offers:
Hand-selection of your meals each week
The ability to skip weeks
Dietarily-diverse menu options
EveryPlate Meal Plan Pricing
| | Cost Per Serving | Total Per Week (includes shipping) |
| --- | --- | --- |
| 3 Meals for 2 People | $4.99 | $38.93 |
| 4 Meals for 2 People | $4.99 | $48.91 |
| 5 Meals for 2 People | $4.99 | $58.89 |
My Personal EveryPlate Experience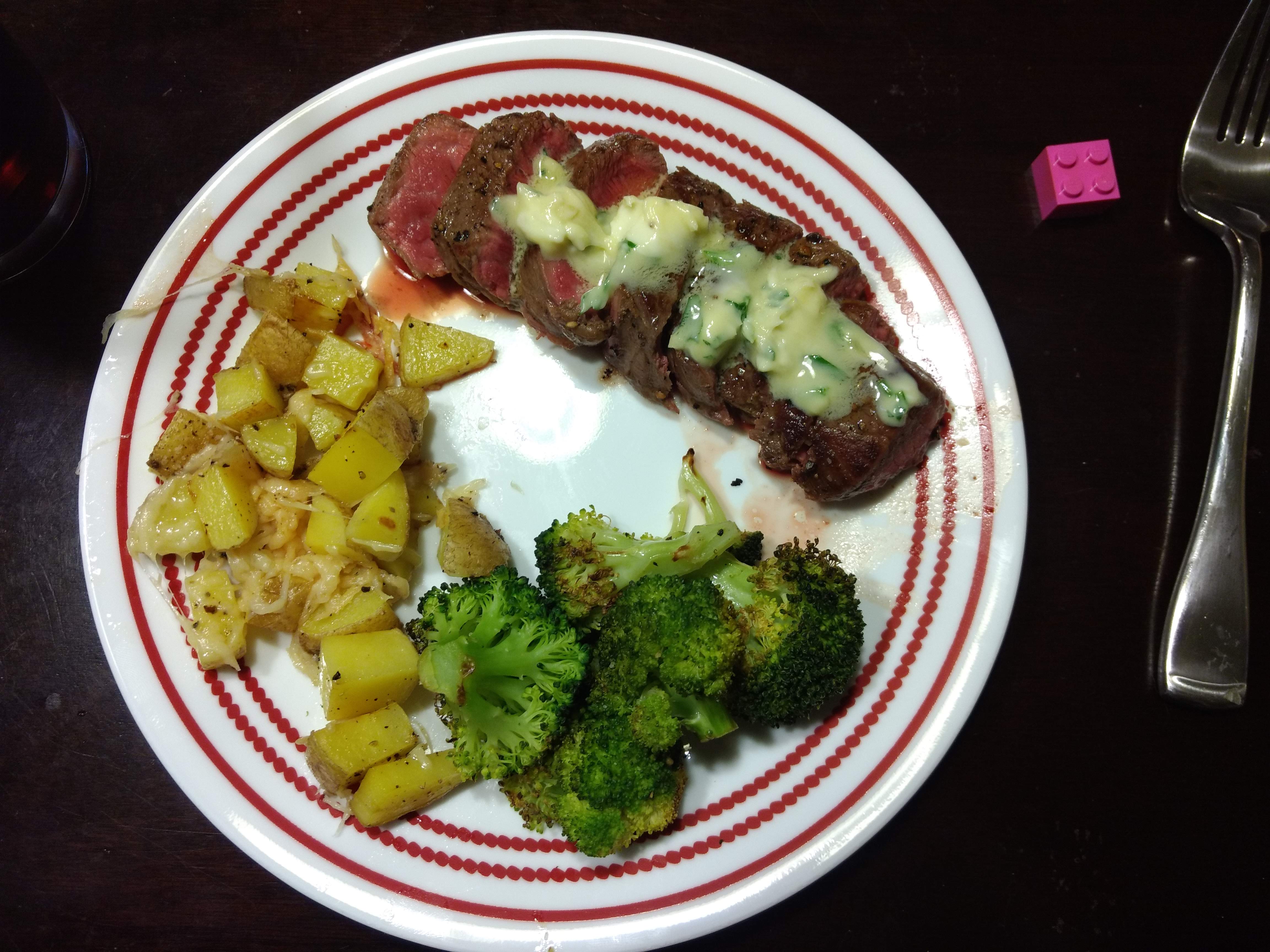 I found my week with EveryPlate to be a mostly positive experience. Everything shipped and arrived as expected and the veggies looked great. They shipped everything with as minimal packaging as possible, which left some items less labeled than I would have liked, but I figured it all out with the help of the recipe cards. The gel ice pack was easy to recycle (just snip a corner and throw away the gel before recycling the plastic!).
Most of the EveryPlate recipes were fairly simple and user-friendly, each containing around 6 steps. However, I felt like the directions could be written in a slightly better format. I enjoyed each of the recipes I prepared, even the most exotic one in the lineup.
I only have two complaints about EveryPlate. The first is that I felt the meat quality was a bit lacking in comparison to other meal kits (including Dinnerly). The other complaint is actually about everything I've experienced since cancelling. Their salespeople really want you to stay, and they will call you several times after you cancel. Not the end of the world, but a bit annoying.
Regarding EveryPlate's flexibility, if you ever want to modify your meal kit, you have 11:59 PM EST on the fifth day prior to your next scheduled delivery. Perfect for when you're craving tacos instead of lasagna.
Drawbacks to EveryPlate
1. Limited Menu Options For Dietary Restrictions
Since EveryPlate only provides a very limited amount of weekly recipe options, they do not provide any recipes that accommodate those with specific dietary restrictions. In fact, they typically don't even include vegetarian meal options within their weekly recipes.
Per EveryPlate's website: "Our priority is to keep prices low, so we do not cater for special diets yet, such as keto, gluten-free, paleo, vegetarian, low carb or vegan. We do offer a range of 14 diverse recipes every week that are well suited to regular diets."
They do, however, list all ingredients and provide disclaimers for potential allergens on each recipe card.
2. Low-Quality Meats
Personally, I wasn't impressed with any of the meats provided for EveryPlate recipes. I understand that they are a budget-friendly service, but even in comparison to Dinnerly, I felt like their meats lacked quality processing.
3. Pushy Sales People
After I did a full review of EveryPlate, I went through their easy online cancellation process. Unfortunately, my communications with EveryPlate didn't end there. I received weekly calls for over a month from EveryPlate's customer service department asking me to complete a short phone survey to receive a discount offer for their service. Even after completing the survey, they continued to call me and ask me to complete the same survey. Eventually, after I explained to multiple callers that I had already finished the survey and did not plan to return even with the discount offer, they stopped calling.
Dinnerly Overview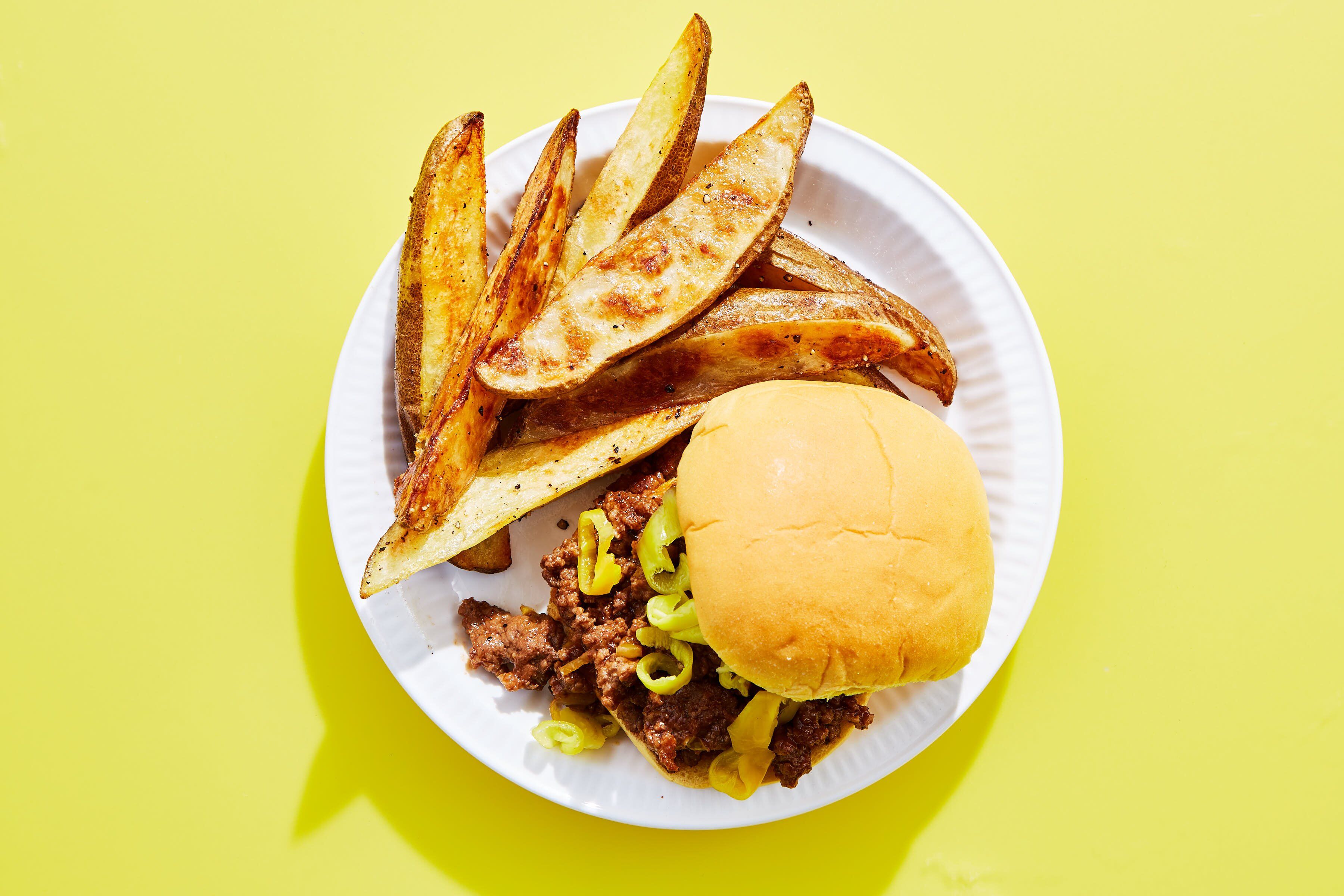 Originally a budget-friendly spinoff of Marley Spoon, Dinnerly started offering affordable meal kits to customers across the continental United States in 2017. In fact, Dinnerly was the first meal delivery service to offer $4.99/serving meals. Today, they still offer that low price of $4.99/serving and span nearly 93% of the entire continental United States.
In addition to their affordability, Dinnerly also helps home chefs save time in the kitchen by providing meals that you can fully prepare in 30 minutes or less. These easy-to-prepare meals require just basic culinary skills that most people possess. Finally, Dinnerly promises that all of their meals are "picky eater approved," meaning everyone will love what's for dinner when you cook with Dinnerly!
Dinnerly Meals: Key Benefits
All Dinerly recipes feature:
High-Quality Produce
Grass-fed Beef & Antibiotic-free Chicken
Complete Nutritional Information
Preparation in 6 Steps or Less!
Additionally, Dinnerly offers:
Hand-selection of your meals each week
The ability to skip weeks or pause service
Scheduling for up to 5 weeks in advance
3 vegetarian recipes in each weekly lineup
A smartphone app (new perk!)
Dinnerly Meal Plan Pricing
Dinnerly has adjusted its pricing plan in recent years. First, you choose your box size, either a two-person box or a four-person "family-sized" box. Then, you choose the number of meals (3 to 6) per box for the week. If you choose the two-person, 6 meal option, your price per serving drops by a hair to $4.89. If you choose the four-person, 6 meal option, you only pay $4.69 per serving. Not too bad.
| | Cost Per Serving | Total Per Week (includes shipping) |
| --- | --- | --- |
| 3 Meals for 2 People | $5.29 | $40.73 |
| 4 Meals for 2 People | $4.99 | $48.91 |
| 5 Meals for 2 People | $4.99 | $58.89 |
| 6 Meals for 2 People | $4.89 | $67.67 |
My Personal Dinnerly Experience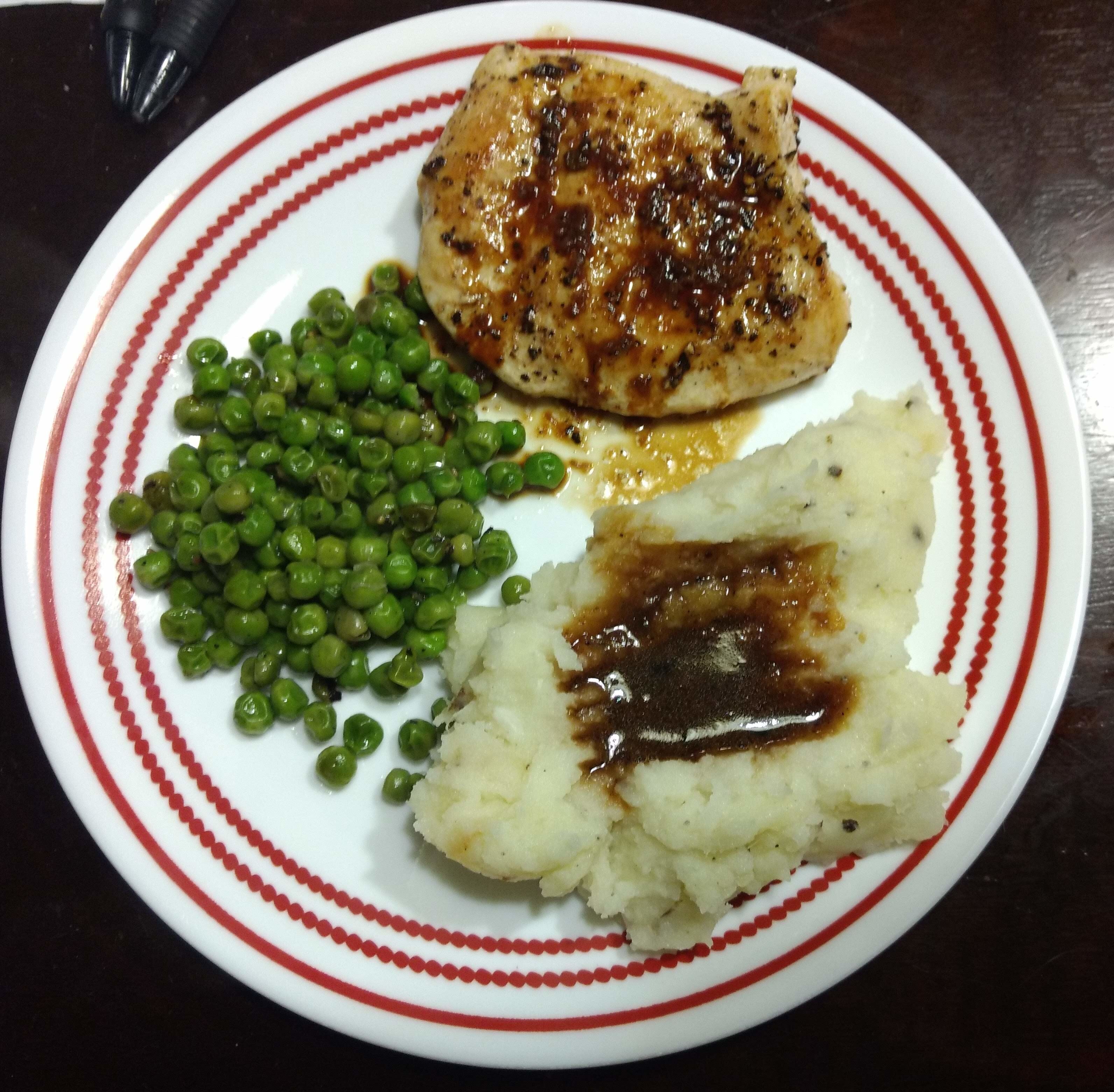 Overall, I felt highly impressed with Dinnerly. Their sign-up process was easy, the menu included great variety, and their website is relatively easy to navigate. They emailed updates when my first box shipped and arrived at my house, which is handy. Finally, their cancellation process takes no time at all if you decide that Dinnerly isn't for you.
Although Dinnerly boxes use minimal packaging, I did feel like each item was well labeled so that I could easily identify what it was. I also loved that each of their recipes only required 6 steps (or less) and that they provided ways to enhance the meal if you wanted to challenge yourself.
The portion sizes were adequate and family-friendly. They clearly did their homework on the kid-friendly meals that they labeled, creatively, "Kid-Friendly." Best of all, and cleanup was a breeze.
My only complaint was the digital recipe cards. I tried reading them from my phone the first night and that resulted in a messy phone screen. However, once I printed them out, the meal planning and cooking went much easier.
Drawbacks to Dinnerly
1. Limited Menu Options For Dietary Restrictions
Although Dinnerly offers 3 vegetarian recipes each week, they do not provide any vegan or allergen-free options (like low-calorie or dairy-free meals) for customers with allergy-related dietary needs. With that being said, some of their recipes can easily be altered with a few items from your home to make them meet your specific dietary needs. You can always preview the menu online up to 5 weeks in advance and plan ahead based on your specific dietary needs.
2. No Printed Recipe Cards
One of Dinnerly's cost-cutting measures includes only providing their customers with digital recipe cards online. This means that when you receive your order, it will not include the full-color print recipe cards that so many other similar companies offer. However, you can always print the recipe card from the website if you work better with hardcopy recipes while cooking.
3. No Complex Recipes
Since Dinnerly's target audience is anyone looking for cheap, easy-to-prepare classic meals, they do not offer any complex or challenging menu items. In fact, all of their meals prepare within 30 minutes. If you're looking to really boost your culinary skills with a meal-delivery kit, consider more involved options like HelloFresh or Blue Apron.
Dinnerly vs. EveryPlate: Which plan is right for you?
Here's the thing: Both Dinnerly and EveryPlate charge the same price per serving and the same shipping rate (Dinnerly charges slightly less if you order in bulk but we're talking only a few bucks). However, there are a few differences.
Dinnerly offers 14 recipe choices each week, including 3 vegetarian options. You can receive 3-6 meals with either the two-person or four-person serving plan. Finally, Dinnerly is all about going paperless, so their recipe cards are only available through digital download or their new smartphone app.
EveryPlate only offers 9 recipe choices each week, and only one of those is typically a meat-free entree. Their 4-serving plan is limited to only 5 meals per week, 1 meal less per week compared to Dinnerly. With that being said, EveryPlate does provide printed recipe cards (this also means they don't have a smartphone app, though).
My recommendation? Visit each brand's website and preview their menus, then try out whichever one looks the most delicious. If I had to choose based on quality ingredients alone, I'd lean towards EveryPlate. If I based my decision on feeding my family for a week at a decent cost, I'd go with Dinnerly. Overall, it depends on your unique situation and preferences.
Remember, you can easily cancel and try the other at any time.
Or, if you'd like more information, you can read our full Dinnerly review or check out our full EveryPlate review.