Who is tired of ordering pizza or picking up a rotisserie chicken at the grocery store because you just don't know what to cook? Better yet, who feels like they can never commit to home cooking because of the time it takes to prepare a meal?
Luckily for you, meal delivery kits exist for this very reason!
With that being said, so many services are out there today, which makes it hard to decide which meal delivery kit will work best for you. We are working to review as many of these kits as possible, and the next one in the lineup is Dinnerly.
This Dinnerly review will include the following:
An Overview of Dinnerly
Info How Their Plans Work
How You Can Sign Up for Dinnerly
My Personal Experience With Dinnerly
Cancelling Dinnerly
Frequently Asked Questions About Dinnerly
Who is Dinnerly?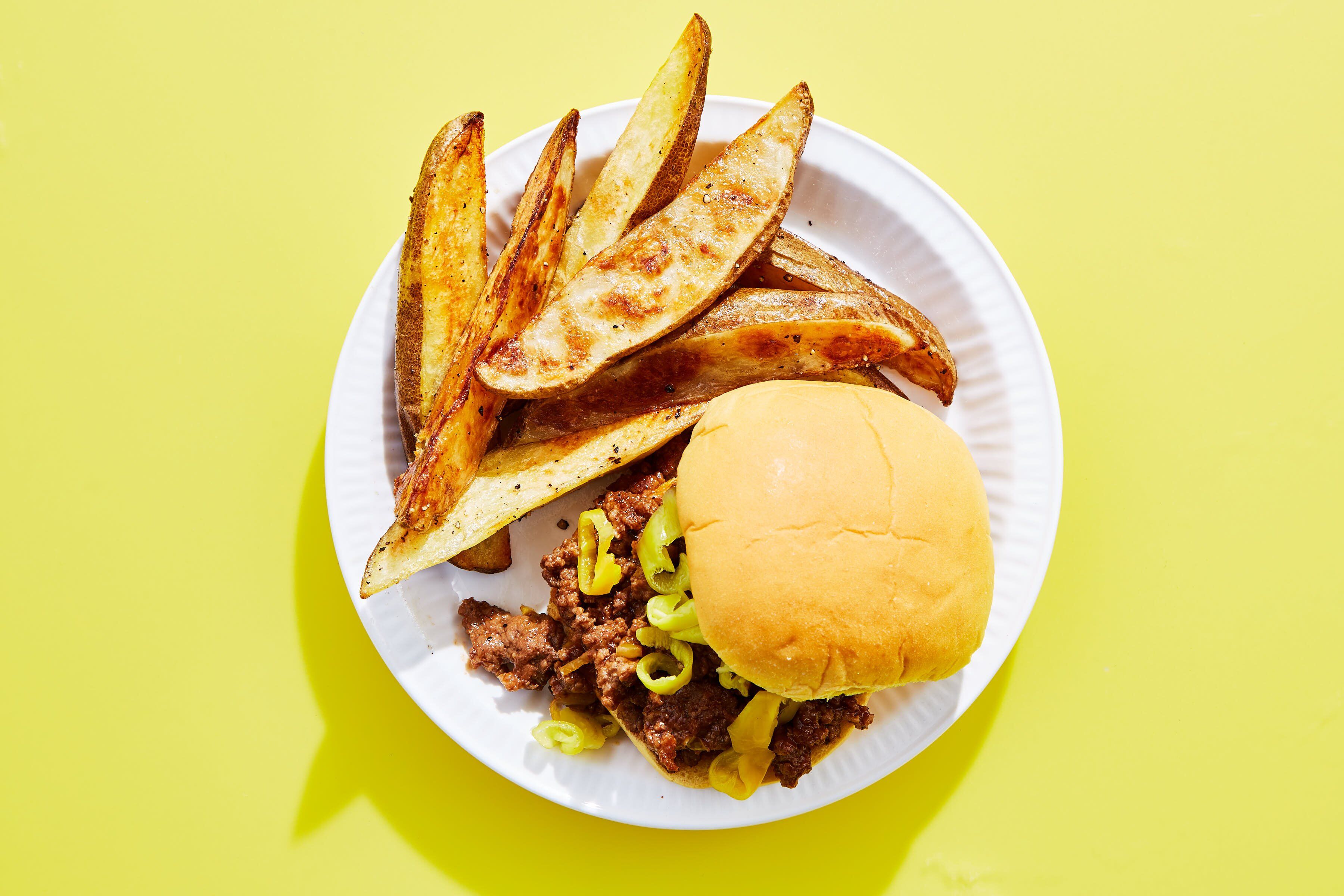 Since mid-2017, Dinnerly has been offering affordable meal kits to customers across the continental United States. Dinnerly was created to provide affordable ingredients to your doorstep so that you could enjoy simple home cooking without paying too much. In fact, Dinnerly was the first meal kit delivery service to offer $4.99/serving meals, and they continue to be one of the few on the market today.
Nearly every Dinnerly meal can be prepared in 30 minutes or less. They are simple to prepare, require minimal chopping, and only require the most basic culinary skills. Most dishes require just a few dishes, so cleanup is easy, too! The meal kits include quality ingredients, including grass-fed beef and antibiotic-free chicken. What's more, Dinnerly promises that all of their meals have been picky-eater tested and approved.
Dinnerly is now available nationwide, with delivery availability for 93% of US households. They maintain their low price of $4.99/serving by simplifying their packaging, providing digital recipe cards, and not spending money on fancy marketing campaigns.
Dinnerly Plans
Dinnerly offers 2 basic plans based on the number of servings you want per meal. Each plan allows you to receive 3, 4, or 5 meals per week. They charge a flat shipping rate of $8.99/box regardless of which plan or how many meals you receive.
| Meals Per Week | 2-Serving Cost | 4-Serving Cost |
| --- | --- | --- |
| 3 Meals/Week | $38.93 with shipping | $68.87 with shipping |
| 4 Meals/Week | $48.91 with shipping | $88.83 with shipping |
| 5 Meals/Week | $58.89 with shipping | $108.79 with shipping |
Although Dinnerly does not offer specific plans for vegetarians, they do include several vegetarian meals in their weekly menu, so vegetarians can simply select the vegetarian options. However, note that they typically only include 3 vegetarian options, so you would want to only select 3 meals per week if you're vegetarian. Furthermore, they do not provide specific plans for dietary needs, but they do label each of their dietary-friendly offerings, provide a full list of ingredients, and include nutritional info per serving.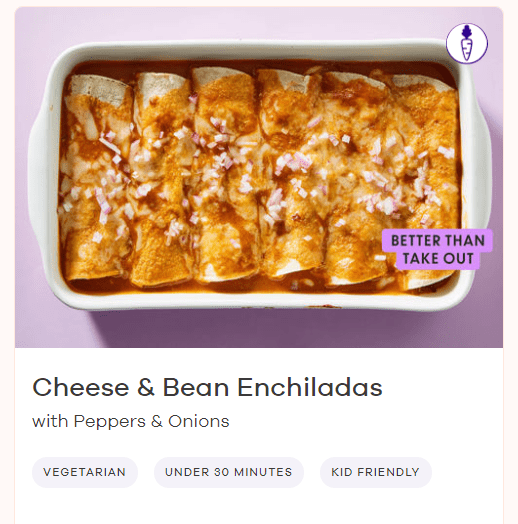 With every Dinnerly plan, you can select your meals up to 5 weeks in advance. You can edit these selected meals at any time up to 6 days before your expected delivery, plus you have the option to skip weeks as desired or needed.
The Dinnerly Sign Up Process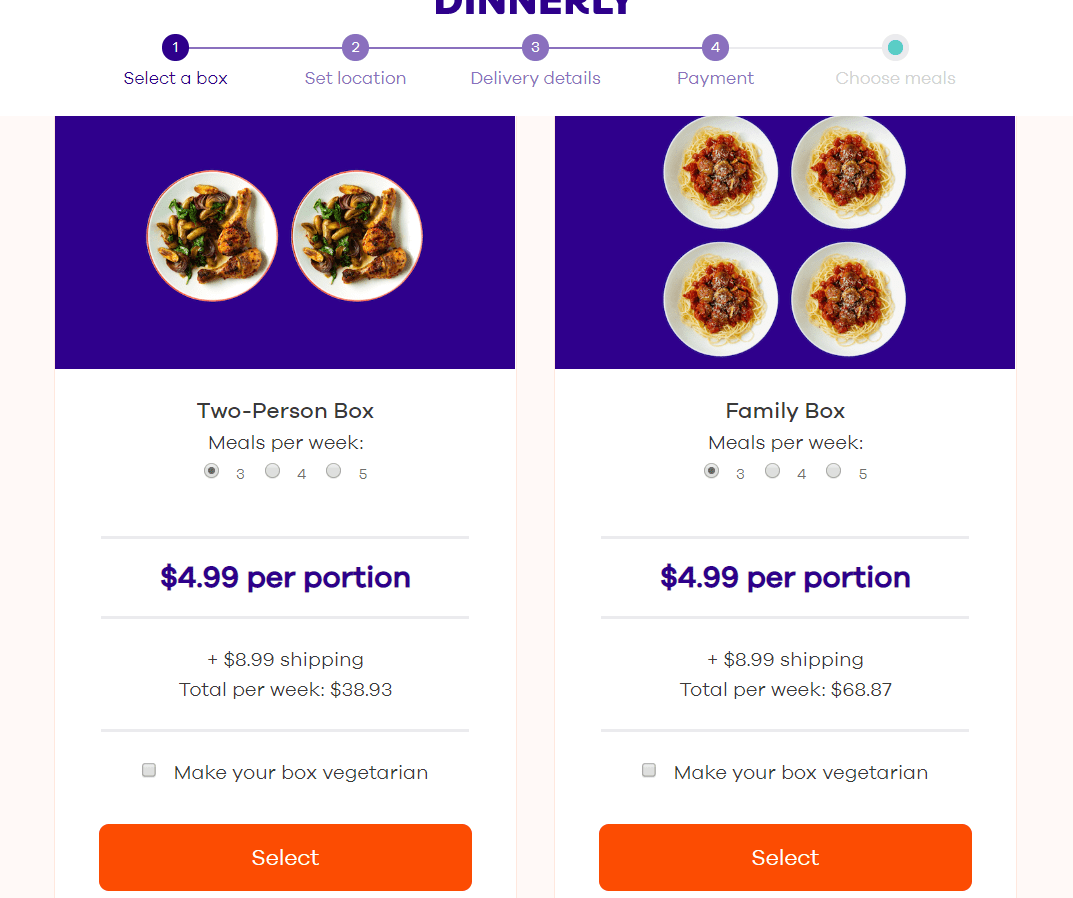 Signing up for Dinnerly is actually a very simple process. First, you select which plan you want and how many meals you'd like each week. Then you enter your location information, select your desired delivery date, and enter your preferred payment method. Finally, you select your meals for the first week and subscribe.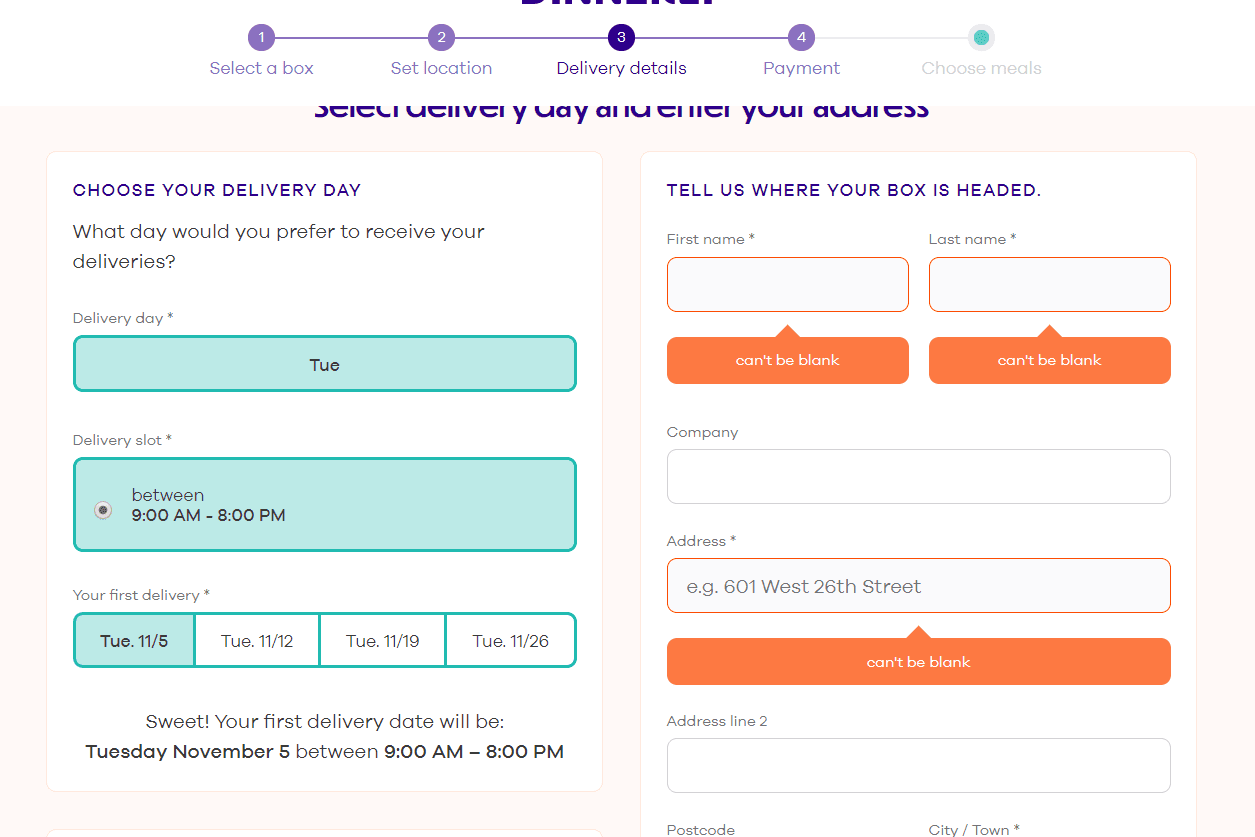 You can change your plan at anytime by logging into your Dinnerly account via computer or smartphone. You can also change meal selections, skip weeks, pause, or cancel your subscription at anytime through the website. Note that you need to make any changes or cancellations at least 6 days in advance of your next scheduled delivery.
My Personal Dinnerly Experience
For this Dinnerly review, I selected the most comparable plan to the other meal kit reviews I completed, meaning I selected the 4-serving Family Plan with 3 meals per week. For my specific location, the only delivery option was Tuesdays, but obviously all delivery options will vary based on geographic location.
When selecting meals, I really loved the keywords like "kid friendly" and "low calorie" that they included with the meal previews. I also loved that you could click on the individual meals and instantly see a full list of ingredients, complete preparation instructions, potential allergens, and nutritional information per serving.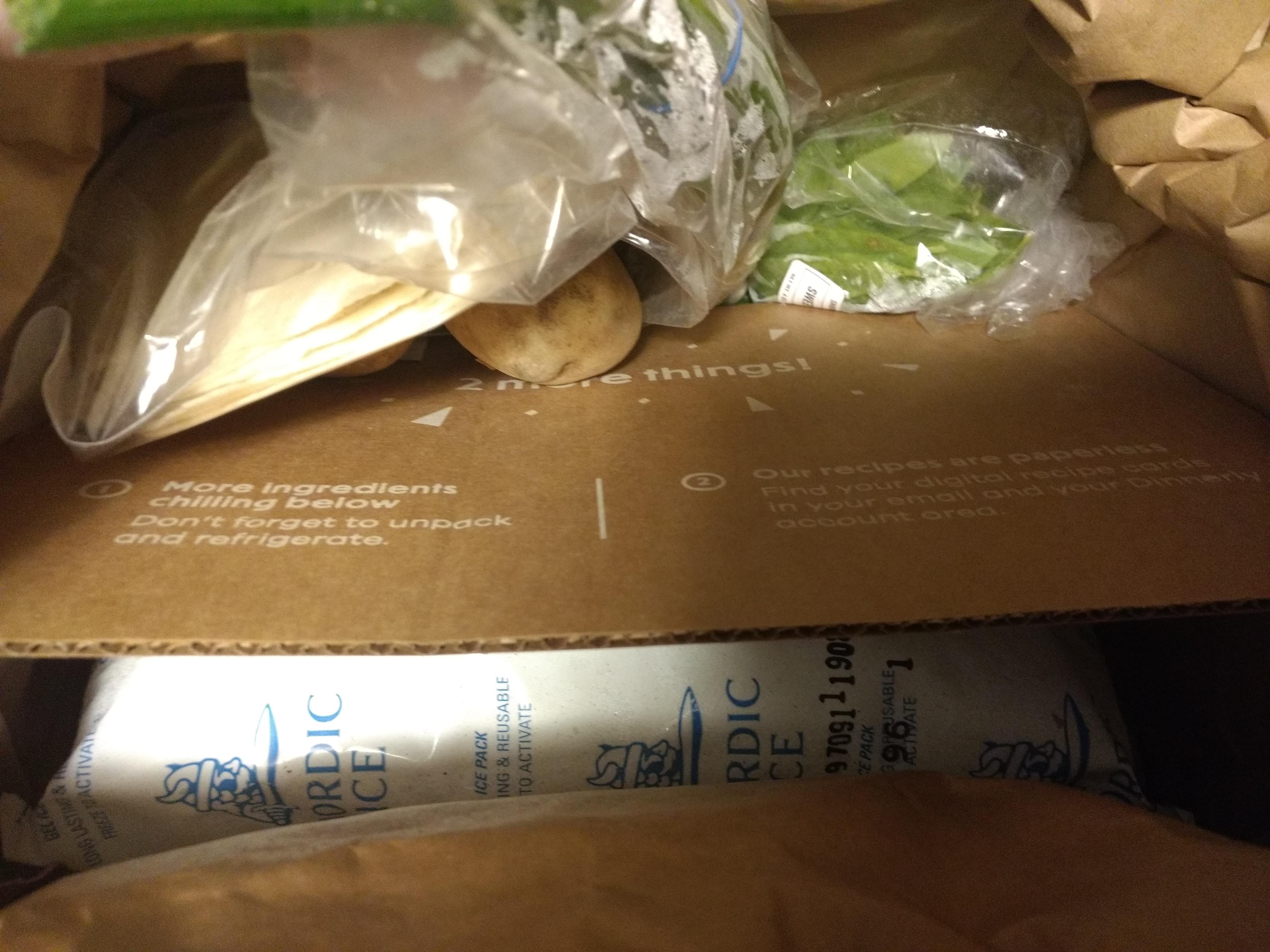 Dinnerly provided email notifications when my box shipped and when it arrived at my door. Within these emails, it also included links to download my recipe cards (note that Dinnerly does not include these in your kit each week). When I unpacked my box, everything felt very cold and seemed well-packaged even with their minimal packaging policy. Although items were not sorted by meal like HelloFresh, items were labeled so that you could easily identify them.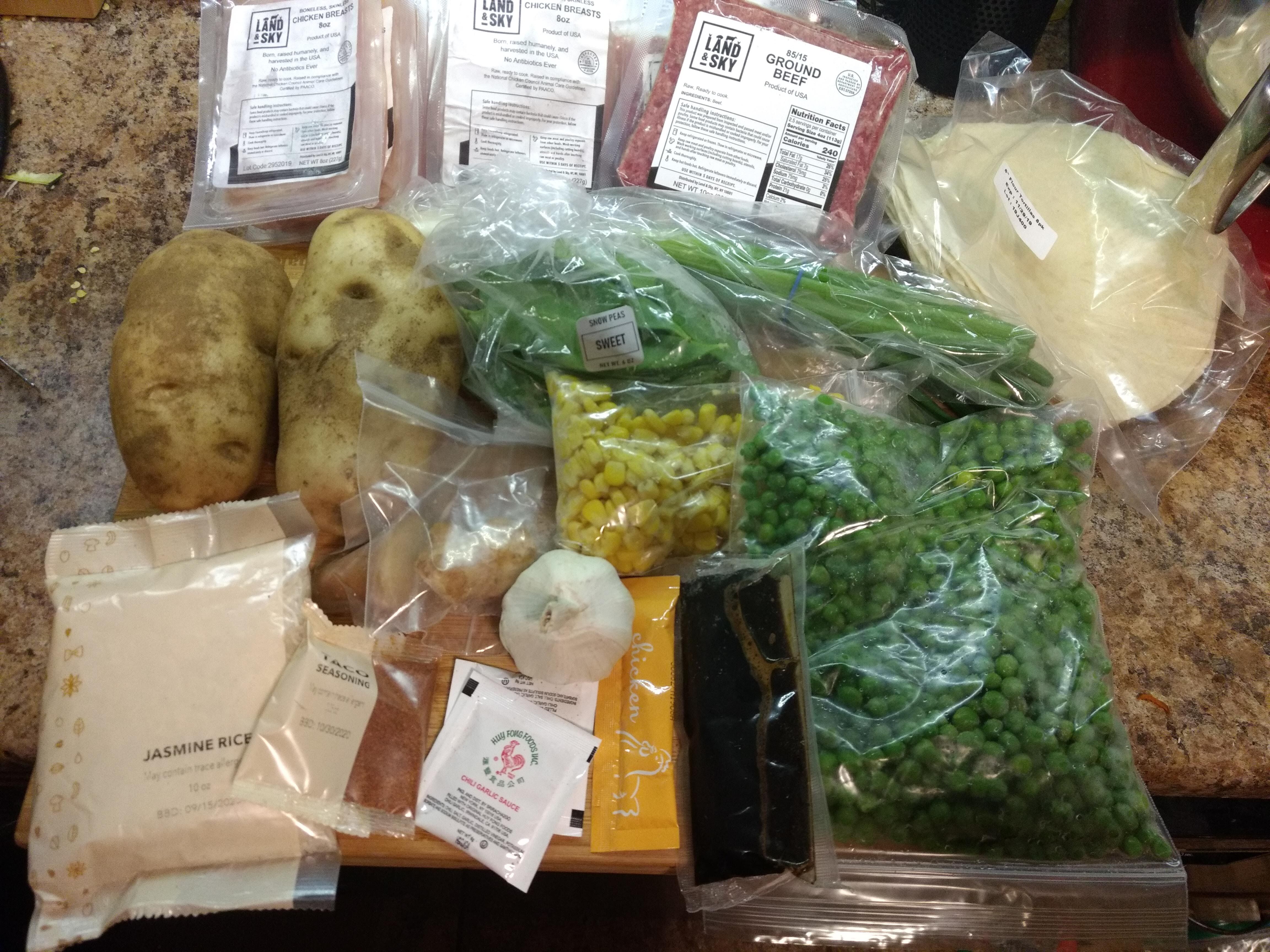 Meal #1: Beef & Cheddar Quesadillas
Everyone in my house loves Mexican food, so I hoped these quesadillas would go over well with even the pickiest in my bunch. As promised, this meal was easy to prepare and went from refrigerator to table in under 30 minutes. The directions were incredibly easy to follow, even for someone who lacks culinary skills like I do. While I love the idea behind the digital recipe cards, I found that trying to read them from your smartphone may not be the best way to go. Not only did my phone end up a bit dirty in the process from my constant scrolling and zooming in and out, but while I chopped or cooked something in the skillet, my phone went to sleep and required me to enter my lock code before I could read more of the recipe. My only other complaint about preparation is that all of the ingredients are at the very bottom of the recipe card instead of at the top or on the side like most other meal kits.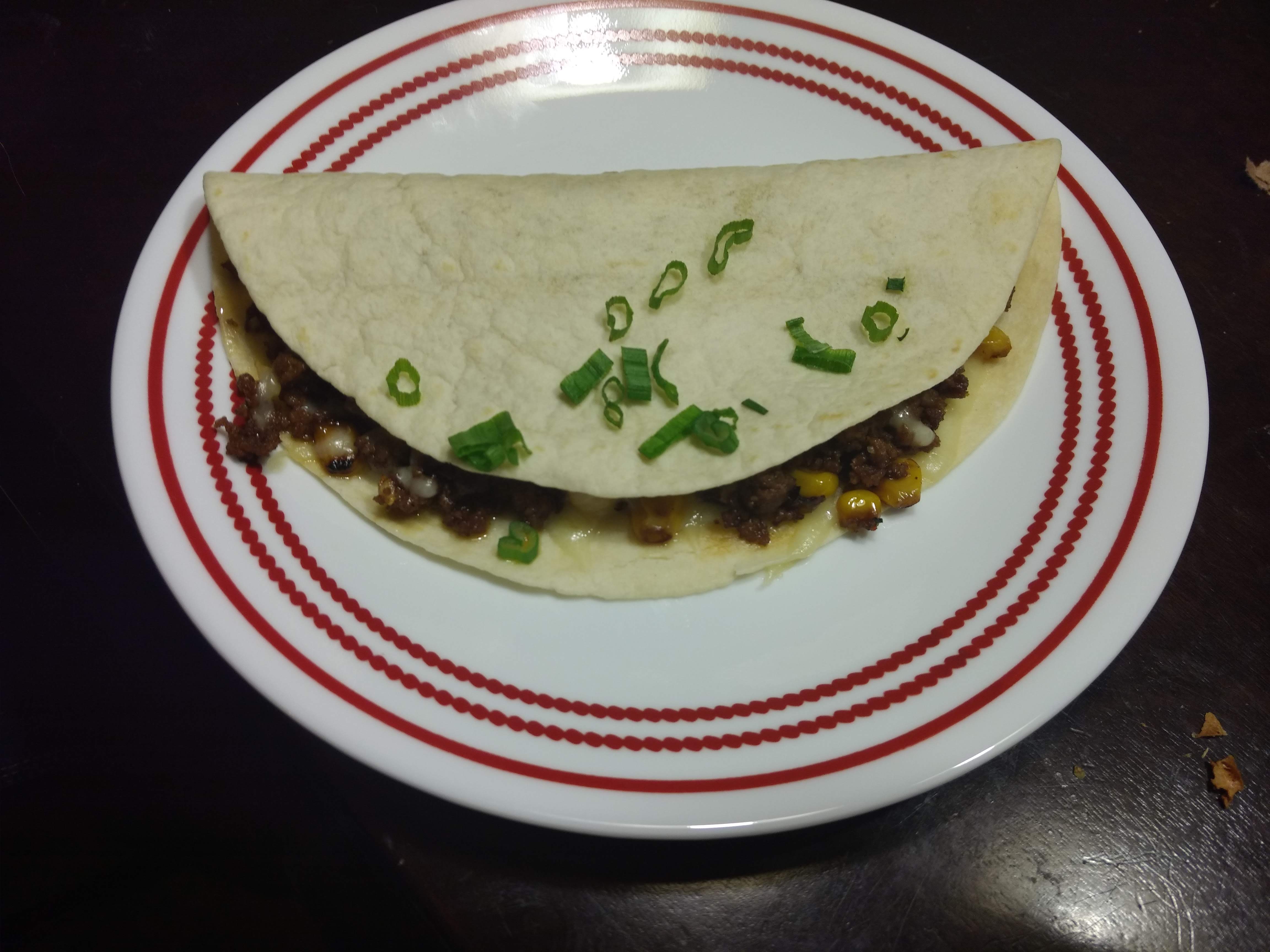 As far as the meal itself, it tasted absolutely great! There were plenty of quesadillas for everyone since the kit includes 8 tortillas. In fact, I ended up taking some of the leftover ones for lunch the next day and they still tasted great after reheating.
Although this meal didn't come with any side items, I planned ahead with some chips and salsa (a favorite of my 4-year-old). You could easily made up some refried beans and or instant rice if you wanted to stretch this meal a bit further.
Meal #2: Seared Chicken & Gravy with Mashed Potatoes and Peas
Although this meal sounded a bit more intimidating, I quickly found the preparation easy as long as I followed the recipe. To save myself some frustration this time, I simply printed the recipe out with my home printer, and that worked out really well. Once again, the recipe steps were easy to follow, I never felt confused or uncertain, and the entire meal came together in under 30 minutes.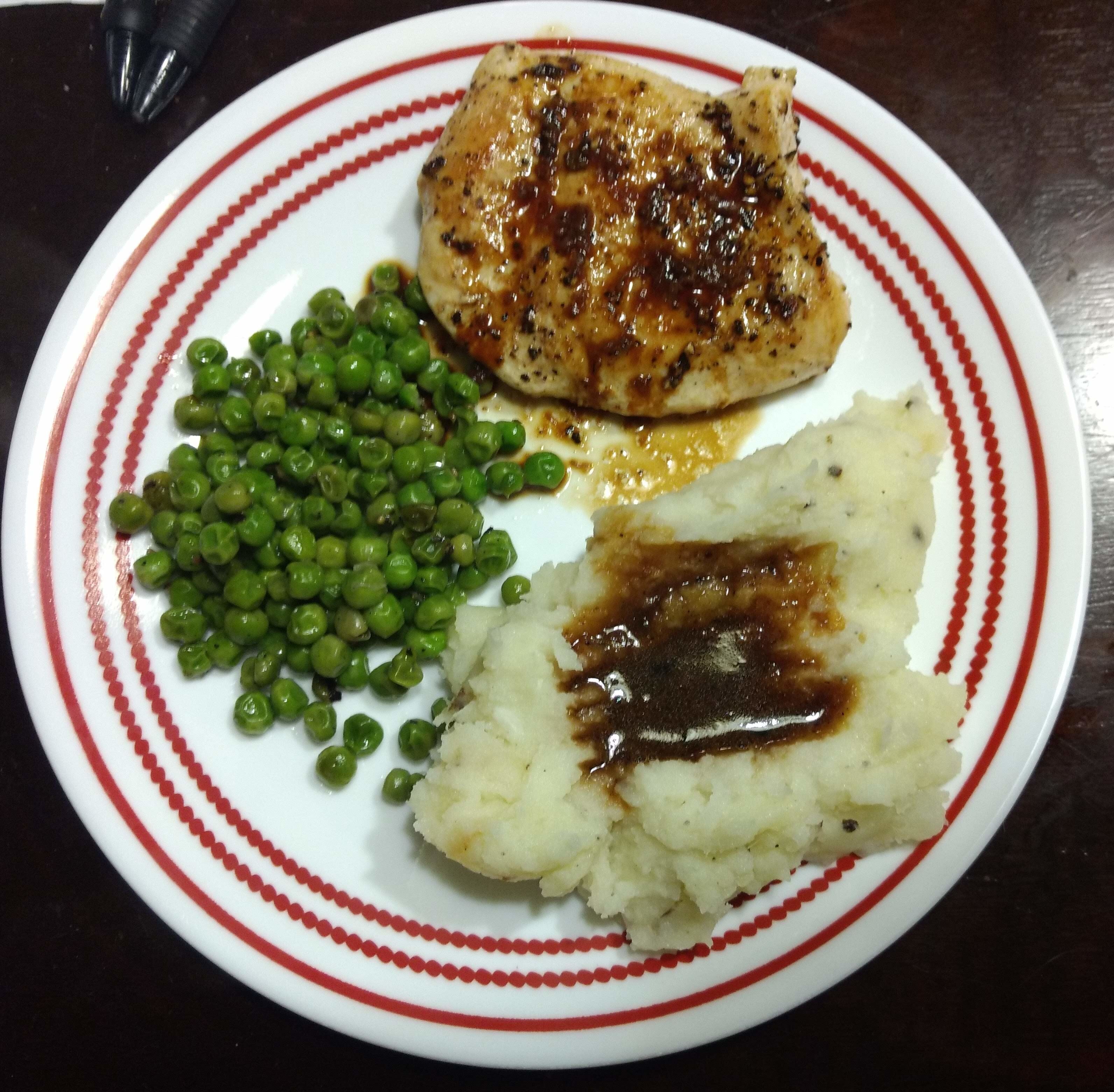 I stretched my family's taste buds a bit with this one, but I'm really glad I did! The preparation allowed for a lot of variety in what everyone included on their plate, which is always an added bonus when feeding children or even picky adults. The portions once again proved perfect for our family of four (with some leftover peas). What I really liked about this dish was the combination of flavors and relatively easy cleanup. The smoothness of the mashed potatoes also really impressed me, and that's all thanks to the directions provided. Also, for this recipe, I followed the "challenge step" they provide at the end and added some extra kick to our mashed potatoes. It turned out really great!
How to Cancel Dinnerly
Cancelling Dinnerly is just as easy as signing up. When you login to your account on their webiste, you will see options at the top of the screen to look at your upcoming orders and edit them, view or change your user information (including delivery address and payment), change your plan settings, or the option to refer a friend.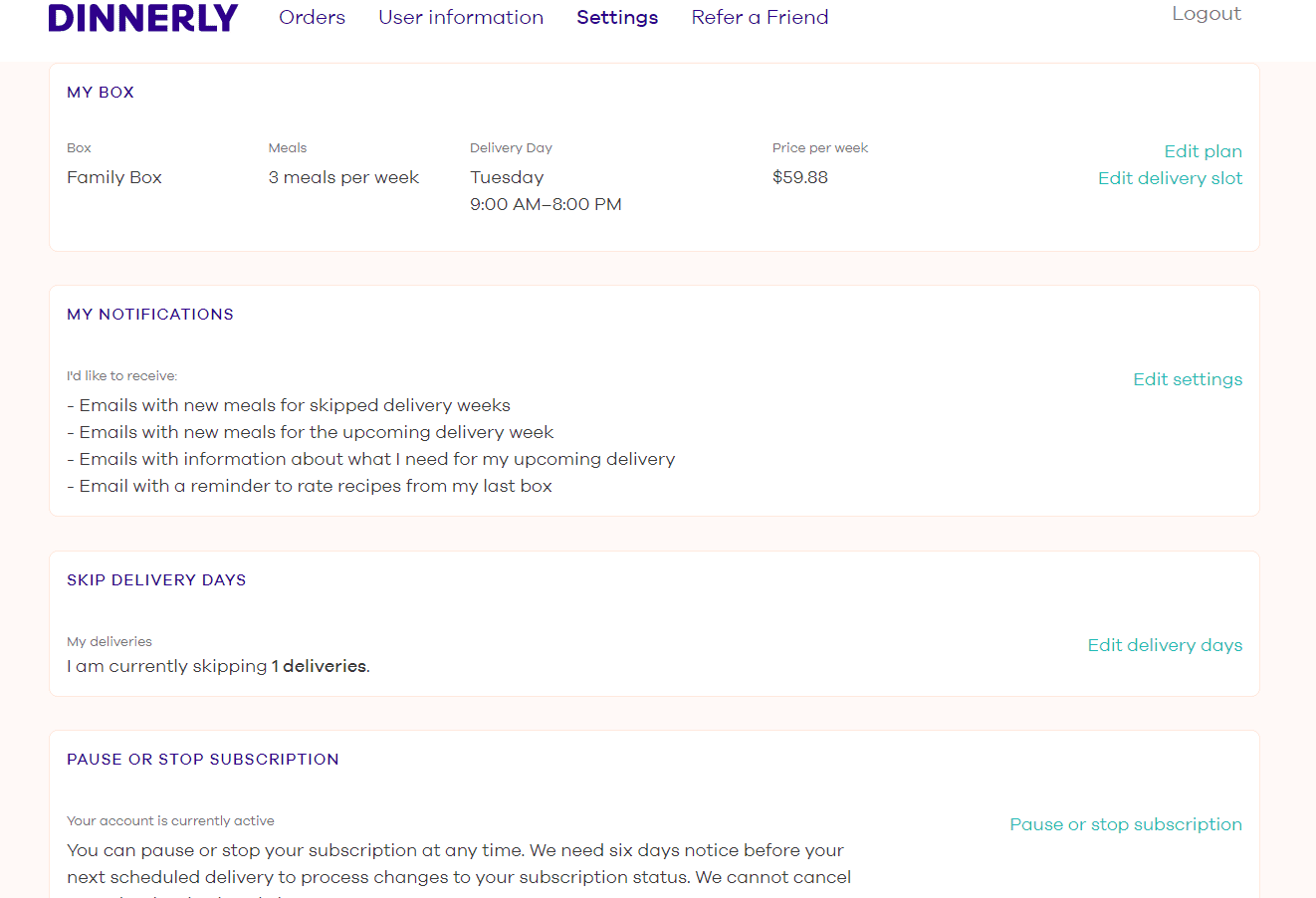 Under the settings menu, you'll see several things that you can do, but the very bottom allows you to pause your subscription until a specific date or cancel it entirely. Once you click "pause or stop subscription," you will see the ability to do both of these things.
When you select cancel, you'll simply answer a few questions, then confirm your cancellation. No complicated process, no strings attached. In fact, you can cancel your plan at any time; just note that you must do so 6 days in advance to avoid receiving another box.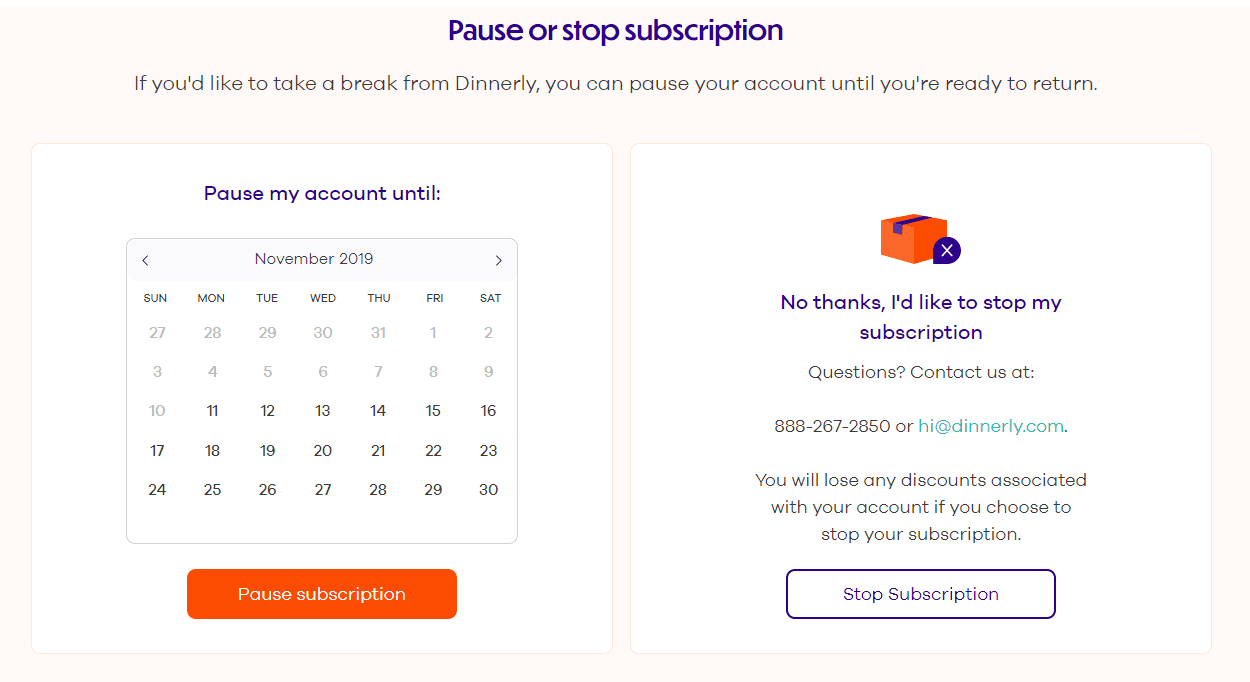 FAQs
1. What is DInnerly?Dinnerly is one of the most affordable meal delivery kits on the market. For just $4.99 per serving, they provide great options for recipes and ingredients each week.
2. How many servings will I receive?Depending on which plan you select, you can receive either 2 or 4 servings per meal.
3. Can I select my meals?Yes, you can select which meals you receive each week with every plan option.
4. When does Dinnerly arrive?You can choose to receive your deliveries on the days available for your location. For me, I found that they only deliver in my area on Tuesdays.
5. What if I'm not home when my Dinnerly box arrives?Luckily, Dinnerly packs each box so that your food will remain fresh for the duration of the delivery day. Just don't leave it on the porch overnight.
6. What does a Dinnerly subscription cost?Every plan follows the same rate of $4.99 per serving, plus a flat shipping fee of $8.99 per box, regardless of how many meals or servings you receive.
7. What if I don't want a delivery on a certain week?Dinnerly offers the option to skip deliveries up to 5 weeks in advance. This is great for people who travel or cannot commit to cooking every week due to busy schedules.
8. What options does Dinnery offer for specific dietary needs?Although Dinnerly does not offer any specific plans for people with special dietary needs, they do offer some helpful features. They label each meal according to what meat it includes or if it is a vegetarian option. They also label the previews with keywords of major allergies, like milk or gluten. Finally, you can preview a full ingredient list for each meal before selecting it in your menu lineup for the week.
9. Does Dinnerly use organic products?Dinnerly does not specifically list that they use USDA certified organic ingredients. However, they do list that they provide quality ingredients and specifically list that they only provide grass-fed beef and antibiotic-free chicken.
10. What if I want to cancel my Dinnerly subscription?You can cancel your Dinnerly subscription at any time with just a few clicks after logging into your account online.
11. What makes meal kit delivery services like Dinnerly worth the investment?If you struggle to prepare healthy meals that use fresh ingredients, Dinnerly and other meal delivery services can help you get there. What's great about Dinnerly in particular is that they cater to people who need easy-to-prepare meals with minimal skills required. Furthermore, they boast that all of their meals are picky-eater tested and approved, making them a great and affordable option for families.
Final Thoughts
If you're looking for a great meal delivery kit without all the frills and extra costs, Dinnerly is a great option for you. They provide tasty meals that come together in 30 minutes or less and don't use excessive amounts of ingredients that you've never heard of before. Also, Dinnerly caters to families with busy schedules who still want healthy, home cooked meals to enjoy together.
If you want more elaborate meals, specifically need meals that meet your dietary restrictions, or want a certified organic meal kit, we encourage you to check out some other options. With that being said, Dinnerly is a great baseline product to help you test out meal delivery services and see if they're right for you.