If you've been wondering how much to tip delivery drivers you've come to the right place! We'll help you get your delivery tip just right.
Since different food delivery services have different policies, we've broken this post into sections based on which service you chose. Instead of reading the whole post, click from the list below to skip to the section that's most relevant for you.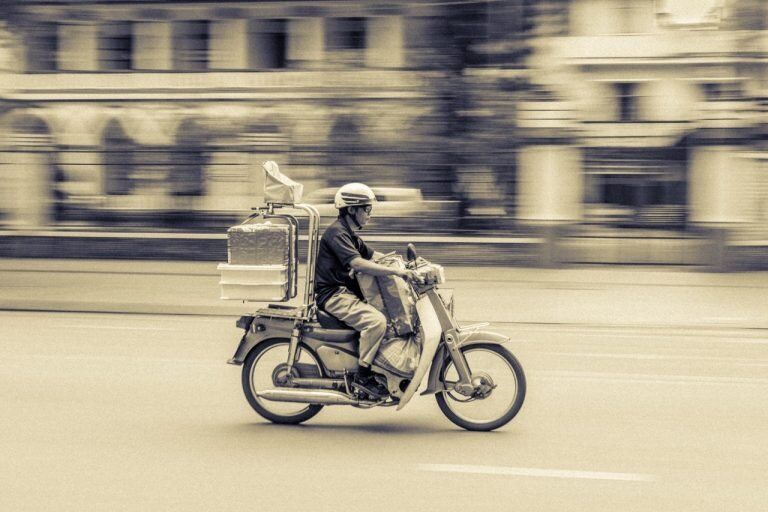 So the first big question is, do you tip GrubHub?
And the answer is YES. Although many food delivery services don't expect you to tip, GrubHub very much does.
If you're wondering how much to tip for delivery, on their website, GrubHub recommends, "If everything goes smoothly with your delivery and the weather is good, 20% is the standard cost of having the mealtime brought to your doorstep. Never tip less than five bucks, though."
GrubHub also encourages you to tip a little extra for large orders (think office party), for orders that require drivers to climb several flights of stairs, or on days when the weather is bad.
And in a Facebook post, Matt Maloney, one of GrubHub's co-founders, also encourages you to "double" your standard GrubHub tip for rush orders.
Is the delivery fee the tip?
In a word, "No".
GrubHub says, "Some orders may include an additional "delivery fee", but this is not a tip — drivers do not receive this money — so make sure not to deduct this charge from your tip amount."
Do you
have
to tip GrubHub?
If you just found out about GrubHub tipping and you have no cash on hand, consider simply telling your delivery person the truth. It's not like they won't give you your food.
Or if you haven't placed your order yet, you can include a delivery driver tip when you checkout with your credit card, which is a way to get around the cash conundrum.
One final thought about GrubHub tips…
According to Maloney's Facebook post, "Giving change as a tip is usually viewed by delivery drivers as disrespectful."
While we can assume that would not be the case if you paid with a large bill, when possible, consider tipping delivery drivers separately, instead of saying "keep the change."
This moment of acknowledgement communicates appreciation, which is a great non-monetary way to show your GrubHub driver some love.
So the big question is: Do you tip Caviar?
As you can see from the screenshot below, with Caviar tips used to be included with your order.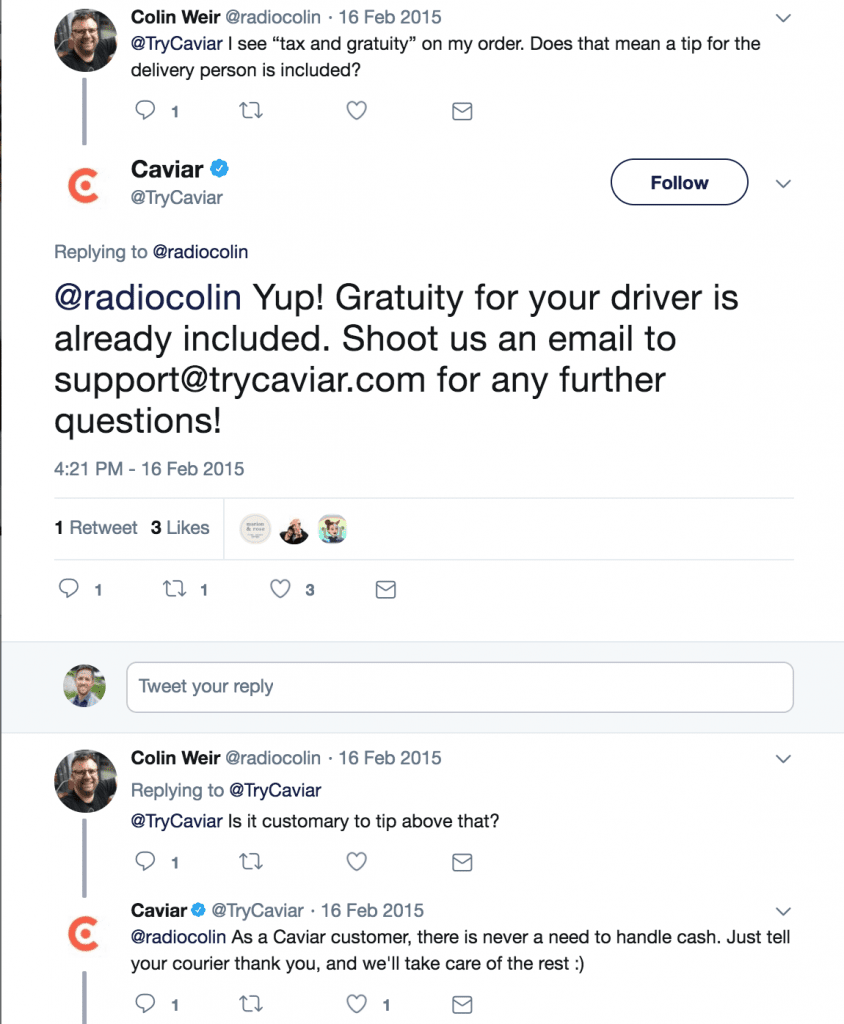 However, similar to many other food delivery services, Caviar now makes tipping optional — and does not automatically include it.
You can tip your courier with cash at the door or add it to your bill at checkout.
When it comes to how much to tip delivery drivers, it's really up to you. For context, Grubhub encourages 20% and Doordash recommends 15 – 25%.
Although with Caviar tipping is optional, a tip for delivery is still a great thing to do — especially if your apartment is on the 38th floor or if it's a blizzard outside.
And if your driver does a great job, showing up quickly, being friendly, etc, you should definitely consider offering a tip to show your appreciation.
UberEats Tipping
First things first, do you tip Uber Eats?
Tipping Uber Eats is optional, as you can see here on their website:
"You have the opportunity to tip your delivery partner in the Uber Eats app after your meal is delivered; tipping is optional. You can also rate your experience each time you order–just like you rate an Uber ride."
Takeaway: If you'd like to provide a delivery tip, you certainly can. But it is not a requirement.
As for whether it's expected by drivers, the company again says, "No."
If your home or office is difficult to reach (think parking, stairs, etc) you might want to offer a tip for delivery. And tipping is always an opportunity to recognize great service — or simply to be nice.
Uber Eats takes the time to say, "your delivery partner is welcome to accept or decline."
But it's hard to imagine a driver actually turning down free money, right?
As for how much to tip for delivery, Uber Eats doesn't appear to offer a suggestion. For reference, GrubHub recommends 20% and Doordash suggests 15 – 25%.
Since UberEats tips are optional, the amount is up to you.
Doordash Tipping
So you're probably wondering, do you tip Doordash?
According to Doordash, a delivery tip is optional:
"Now when ordering on DoorDash, customers pay for the price of their food and any local taxes, plus a delivery fee, an optional Dasher tip and a service fee."
Is the delivery fee the tip?
As you probably gathered from the quote above, the Doordash delivery fee is NOT a delivery driver tip.
If you choose to tip, you will have to provide that separately — and you have two options.
The first option is to add a delivery tip at checkout. Doordash offers pre-set amounts you can choose from, or you can enter a custom amount.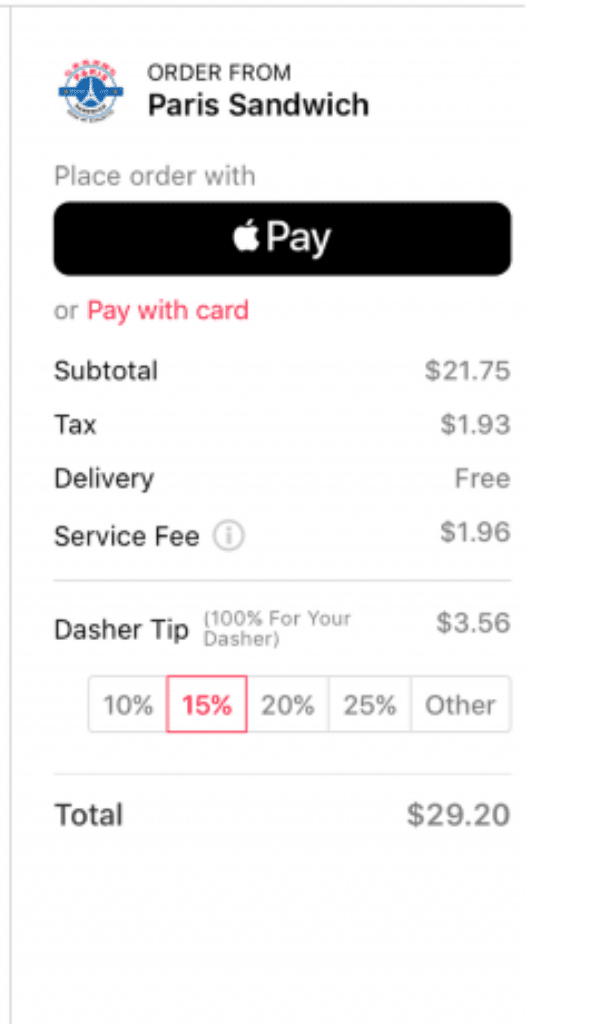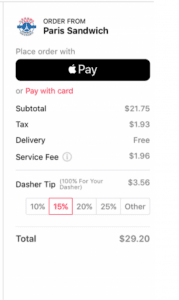 The second option is to tip with cash when your "Dasher" arrives.
If your order is difficult to fulfill due to size, location, weather, etc, a tip for delivery is certainly a good idea. Good service or just wanting to be nice are also great reasons to include a Doordash tip.
And if you're wondering how much to tip delivery drivers, Doordash's suggestion of 10% – 25% is a helpful reference.
You might be able to offset some of this cost with a Doordash promo code.
Conclusion
Now you have a guide to help you know how much to tip for delivery, so you can stress less and enjoy your food.
If you have any suggestions or experiences to share, let us know in the comments!