Trying to decide between Blue Apron vs Freshly? Well, hopefully we can help you figure out which meal delivery service would be a better fit for you!
Here's the big picture:
Blue Apron sends pre-portioned ingredients and easy-to-follow recipes so you can prepare healthy meals in your own home. Their meals can either make 2 or 4 servings.
Freshly send fully-prepared meals in individual serving sizes, meaning all you do it heat them in your microwave!
Blue Apron vs Freshly Head to Head
| | Blue Apron | Freshly |
| --- | --- | --- |
| Price Per Serving | $7.49-$9.99 | $8.99-$12.50 |
| Shipping | Free | Free |
| Menu Options Per Week | 8 | 40 |
| Cancel At Any Time? | No | Yes |
| Trustpilot Reviews | 3.8/5 (1720 reviews) | 3.5/5 (1621 reviews) |
| Promo Codes | | |
Blue Apron Overview
Blue Apron opened their doors as one of the first US-based meal delivery services in 2012. Now, they're a nation-wide favorite among busy families and business-savvy couples alike, delivering nearly 8 million meal kits within the continental United States each month. Their ultimate goal is to deliver delicious, farm-fresh ingredients right to your door so you can expand your culinary skills. Each Blue Apron meal requires less than an hour of preparation, and their plans allow you to select how many meals you'd like each week for either 2 or 4 people.
For all of their plans, you decide if you'd prefer 2 or 4 servings per meal, then select how many recipes you want (2-4). Additionally, Blue Apron offers a vegetarian plan and a calorie-smart WW plan.
Blue Apron offers a total of 8 recipes on their menu each week. By using your smartphone or computer, you can select which meals you want in your shipment with a few clicks. You can also skip weeks if you're not in the mood for what they're offering. Blue Apron says they offer shipping 7 days of the week, but check the specifics for your location.
Key Benefits of Blue Apron
All Blue Apron recipes feature:
Quality, responsibly-sourced ingredients
Grass-fed beef
Hormone-free poultry
GMO-free ingredients
Additionally, Blue Apron offers:
Hand-selection of your meals each week
Recyclable packaging
The ability to skip weeks
Dietarily-diverse menu options
Refunds for dissatisfied customers
Blue Apron Pricing
| # People | Recipes per week | Price per serving | Shipping | Total cost per week |
| --- | --- | --- | --- | --- |
| 2 | 2 | $9.99 | $7.99 | $47.95 |
| 2 | 3 | $9.99 | FREE | $59.94 |
| 4 | 2 | $8.99 | FREE | $71.92 |
| 4 | 3 | $7.99 | FREE | $95.88 |
My Personal Blue Apron Experience
On the surface, Blue Apron seems like a great meal kit option, and it is for millions of people. They offer a decent variety in their weekly lineup, provide great cooking directions and ingredients, and delivery nearly every day of the week. Their free shipping is an amazing perk!
Minus all the dirty dishes, I enjoyed the week we tried out Blue Apron. In fact, we even recreated one of the recipes on our own when we tried out some of the chicken from ButcherBox. I personally saw just how great Blue Apron is if you're wanting to up your cooking game (and don't mind the extra time in the kitchen).
Biggest Drawbacks to Blue Apron
1. Cancellation
While most meal delivery companies allow customers the ability to easily cancel their subscription at any time, Blue Apron doesn't. To begin the cancellation process, you must first email them, then complete multiple other steps before you're cancellation will be processed. Of course, if you love their service, you may never need to cancel anyway.
2. Limited Menu Options For Dietary Restrictions
Although Blue Apron offers some vegetarian recipes each week, they do not provide any vegan or allergen-free options for customers with allergy-related dietary needs. With that being said, you can easily browse their menu options and read the full list of ingredients before selecting which meals you'd like to receive that week. Some of their recipes can easily be altered with a few items from your home to make them meet your specific dietary needs.
3. No Quick-Prep Options
Most of Blue Apron's recipes require at least 45 minutes to prepare. Many of their recipes also require lots of dishes, meaning you also add extensive cleanup time to your evening. Although this may not be the best fit for busy people with little time to prep meals or clean them up, it's all part of the experience Blue Apron hopes to offer their customers.
Freshly Overview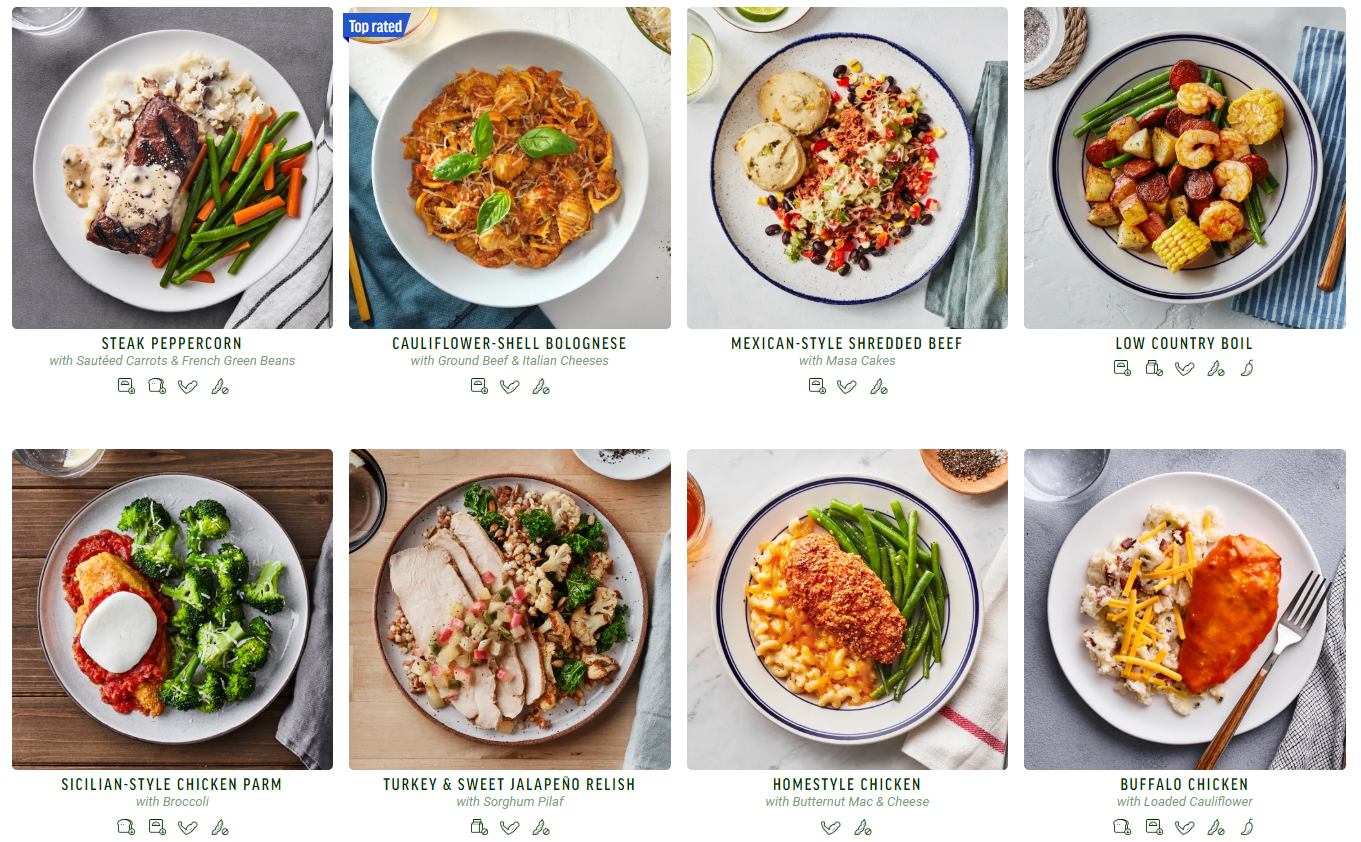 Freshly opened their doors in New York in 2015. Unlike most meal delivery services on the market, Freshly promises ultra-healthy meals that customers can serve—you guessed it—in minutes. The company delivers nearly 250,000 meals per month to areas within each of the continental 48 US states.
Each gourmet, ready-made meal arrives to your doorstep fully prepared and individually portioned. Their menu lineup includes nearly 40 entrees, they avoid refined sugars and additives with all of their recipes, and they provide options that are free of gluten, eggs, tree nuts, dairy, meat, poultry, soy, and shellfish. Their plans allow you to choose 4, 6, 9, or 12 individual meals per week, and all of their plans include free shipping.
You can easily select your meals through your online account or smartphone app, or just let Freshly pick for you based on your noted dietary preferences and past orders. What's more, each meal averages around 500 calories, making them a great choice for anyone trying to watch their daily caloric intake.
Key Benefits of Freshly
Freshly meals feature:
Zero additives and refined sugars
All-natural foods and ingredients
Well-balanced plate
Individual servings
Additionally, Freshly offers:
Ability to hand-select meals each week
Fully recyclable packaging
Options to change plans or skip weeks
Dietarily-diverse options
Amazing selection
Easy cancellation at any time
Freshly Pricing
| # of Meals | Price per serving | Total cost per week |
| --- | --- | --- |
| 4 | $12.50 | $49.99 |
| 6 | $9.99 | $59.99 |
| 9 | $9.99 | $89.99 |
| 12 | $8.99 | $107.99 |
My Personal Freshly Experience
While meal delivery kits like Blue Apron and HelloFresh are great ways to bring healthy meals straight to your table, not everyone can dedicate 30-60 minutes to meal prep each night. Luckily, Freshly takes all the prep work out of the mix!
While this service wasn't an ideal dinner solution for my family of 4, it did yield a great ticket to healthy lunches for us. Although the price tag may seem like a lot, I found that these meals provided about as much as any fast food or quick lunch outing would for about the same price. My favorite part of these meals was definitely the fresh ingredients and lack of grease or processed products involved. What's more, I didn't spend my entire lunch break waiting in line or traveling between the office and a restaurant.
Biggest Drawbacks to Freshly
1. Individual Portions
While this can be a great option for singles or busy adults looking for quick, healthy meals, the individually packaged portions aren't the most ideal option for families. Also, since each meal is already pre-portioned out to be 350-650 calories, this doesn't allow much wiggle room for someone needing to take in more calories.
2. Microwave Heating
Many people see microwave heating as a massive perk because it saves time and energy. However, if you're heating multiple meals, this can take almost as much time as baking or other heating methods. Also, these meals can look and feel a bit like eating leftovers (which you essentially are) or a TV dinner from the freezer section. These meals may not come out looking Instagram-worthy, but thankfully studies have debunked any negative health benefits from microwave use.
3. Limited Delivery Zone
Because these meals are already fully prepared, the window of fresh delivery is very limited. Freshly clearly states on their website that their delivery zone is currently fairly limited. Although they deliver to some areas within all 48 contiguous states, they have many areas that they simply cannot reach within the 48 hour freshness window. In fact, even with areas that they can reach, shipping issues can cause delays that make your food no longer edible. We experienced this in our test of Freshly, but were highly satisfied with how the company handled the shipping issue.
Blue Apron vs. Freshly: Which plan is right for you?
Blue Apron delivers ingredients for high-quality meals straight to your doorstep on a weekly basis. With years in the business, the company prides itself on tried-and-true recipes and brand recognition. And with 8 million meals delivered each month, I think their reputation speaks for itself.
This option is best for:
People hoping to boost their cooking skills without having to find recipes or shop themselves.
Busy couples or singles who wish to start making delicious dinners at home.
Older adults or "empty nesters" who struggle to cook smaller portions.
Freshly offers fully-prepared meals that are already individually portioned. Their meals can be ready in just 3 minutes, and they live by the motto that faster is in fact better. And considering that investors put over $21 million into the concept, it seems that this unique spin on meal delivery kits is doing quite well.
This option is best for:
Anyone looking to improve their overall eating habits but lacking the time to cook healthy dinners in the traditional sense.
Busy adults who need healthy options for lunch in the office.
Families with busy teens who need food fast.
Regardless of which option you choose, we feel you'll likely be satisfied based on our tests of each of these services. Check out our unbiased reviews of Blue Apron and Freshly for more information or visit their websites to preview menus.
Feature Image by Dana Tentis from Pexels