If you're considering a meal delivery service, you've no doubt heard of Blue Apron—but have you heard of the many Blue Apron alternatives that may be better suited to fit your budget and dietary needs?
For many years, Blue Apron didn't have much competition in the good old U.S. of A. But now, there are an estimated 150 subscription services (some with odd names like Marley Spoon, Purple Carrot, and Gobble), fighting for customers. And chances are, one of them is just right for you and your family.
Most people who don't like Blue Apron fall into one of the following categories:
They want something less expensive but still high-quality
They need meals better tailored to their dietary restrictions (or to the approval of those pesky little picky eaters)
They're looking for single-serving options instead of two-person or four-person family boxes
They'd rather not cook at all and are hunting for fully prepared delicious meals
If any of those sounds like you, we've got you covered. In this article, we'll talk about 6 Blue Apron alternatives that might be a better fit for you and your situation.
6 Blue Apron Alternatives: A Quick Snapshot
Whenever possible, we use affiliate links, which help cover the costs of running this site.
| Company | Big Differences from Blue Apron | Special Deals |
| --- | --- | --- |
| EveryPlate | Less expensive, $4.99 per serving. | Save 50% on EveryPlate |
| Sun Basket | Organic, more diets to choose from. | Save $70 on Sun Basket |
| Green Chef | Organic, paleo, and keto menus. | Save $40 on Green Chef |
| Freshly | Fully prepared, single serving | Save $40 on Freshly |
| Veestro | Fully prepared, single-serving, vegan | Save 20% off first order with code AFF7 |
| Factor75 | Fully prepared, single-serving, keto & paleo | Save $25 off first order with code GOFACTOR25 |
Ready for more info? Let's take a look at what each of these services like Blue Apron has to offer.
EveryPlate — A Cheaper Blue Apron Competitor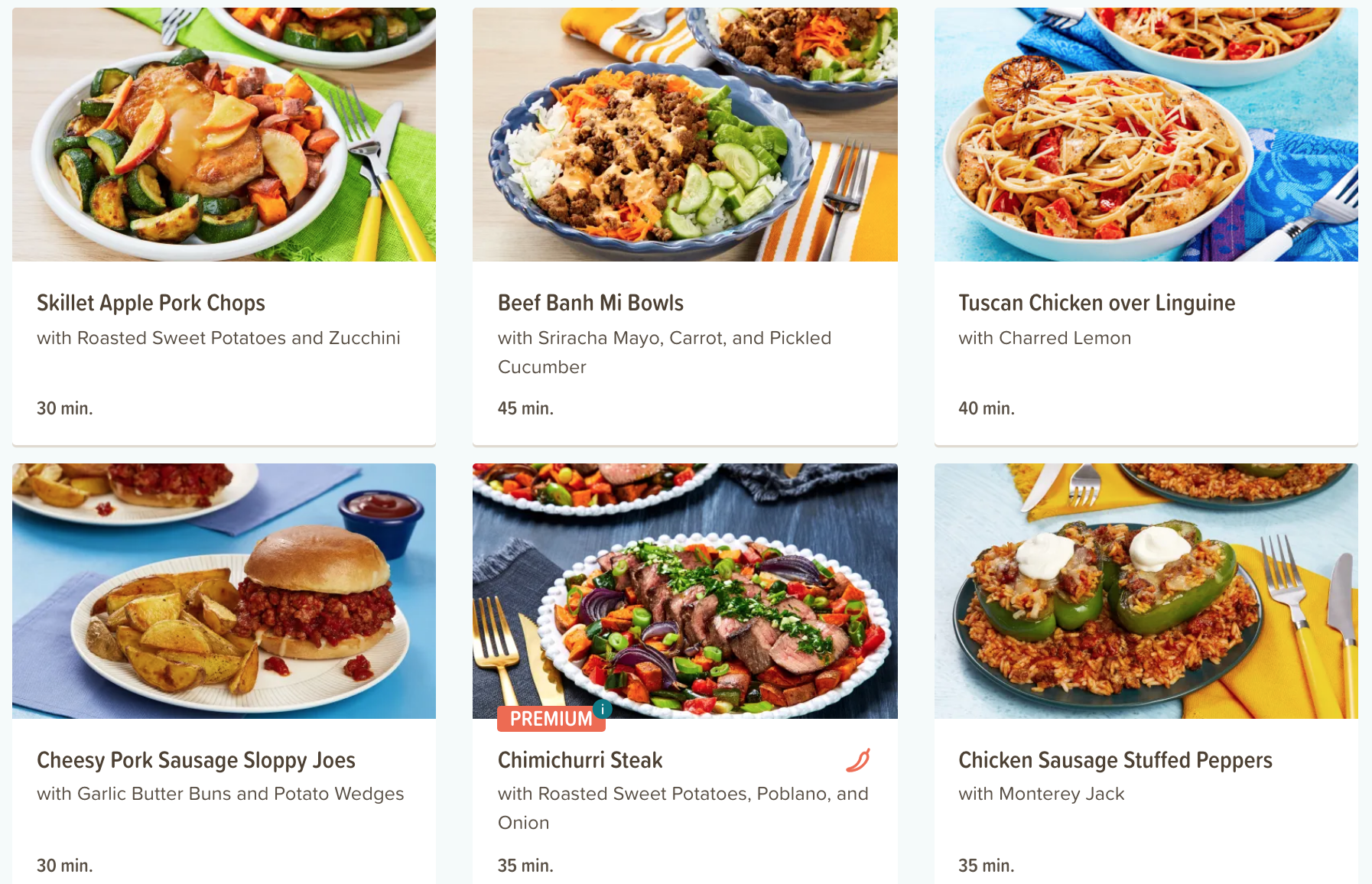 EveryPlate.com
If pricing is the reason Blue Apron doesn't feel like a fit for you, here's a great service to consider.
EveryPlate is a similar food delivery service to Blue Apron because it delivers easy-to-follow recipe cards and weekly, pre-portioned quality ingredients — so you can prepare home-cooked meals in less time. But unlike Blue Apron, EveryPlate meals are only $4.99 per serving, and with our promo code, you can save even 50% on your first box.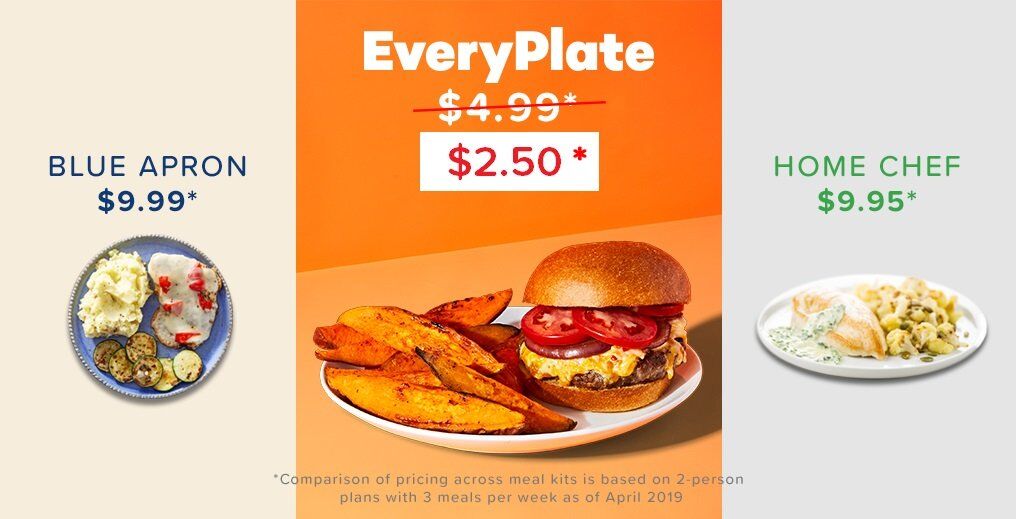 EveryPlate.com
How does EveryPlate keep costs low? Compared to Blue Apron, they offer fewer meal options on their weekly menu, they use simpler packaging and labels, they don't have a veggie plan, and they have fewer meal subscription options to choose from.
But we've personally tested EveryPlate on kiddos and adults and found the meals to be very good. The company's step-by-step recipes take about 30 minutes to complete, and the meals stay fairly simple, which not only helps you save money but also leads to fewer dirty dishes.
If you're looking for a cheaper alternative to Blue Apron, you should definitely look into EveryPlate. You can save 50% on your first order with our link below!
Organic? Special Dietary Restrictions? These Services Like Blue Apron Can Help.
Blue Apron offers standard meals, vegetarian fare, Mediterranean dishes, and quick one-pan options. But what if you're trying to follow a more specific diet? Or what if you want more organic ingredients than Blue Apron has to offer?
Here are two Blue Apron competitors that would be more than happy to work with you.
Sun Basket — 10 Different Menus to Choose From
SunBasket.com
Some subscribers dislike Blue Apron because they're trying to follow a specific diet and need more carefully crafted meals. If that sounds like you, Sun Basket just might be your new best friend.
Sun Basket offers 11 different menus, including:
Mediterranean
Paleo
Quick & Easy
Lean and Clean
Carb-Conscious
Gluten-Free*
Vegetarian
Vegan
Pescatarian
Diabetes-friendly
And Chef's Choice
And the best part is, Sun Basket allows you to mix and match a variety of meals from their different plans — all in the same shipment!
Unlike Blue Apron, most of Sun Basket's produce is organic. In fact, the company is actually a USDA-certified organic food handler.
Sun Basket's poultry and meats are always antibiotic-free and hormone-free. Seafood ingredients are always wild-caught (never farmed), and the company only serves seafood rated "Best Choice" or "Good Alternative" by the Monterey Bay Aquarium Seafood Watch® program.
Sun Basket was also the first meal kit to implement 100% recyclable packaging!
Meals range from $10.99 to $11.99. And you can save $35 on your first order with our discount link!
Green Chef — "The U.S.'s First Certified Organic Meal Kit Company"

GreenChef.com
Green Chef is another meal kit delivery company that offers several special menus — including a Keto menu!
Unlike Blue Apron, Green Chef uses lots of organic ingredients and offers several special menus to choose from, including:
Balanced Living
Paleo
Keto
Plant-powered
Omnivore (4-person family plan only)
Carnivore (4-person family plan only)
Green Chef is a USDA "certified organic company." They also have a Gluten-Free Certification from the Gluten Intolerance Group's Gluten-Free Food Service program. This applies to their Keto and Paleo meal plans.
Green Chef is very environmentally conscious, balancing 100% of the company's carbon emissions through sustainable offset programs.
Meals range from $10.99 – $12.99, and you can save $40 with the special offer below!
Blue Apron Competitors That Offer Fully Prepared Meals — No Cooking, Great for Singles!
After a hard day of work, maybe you don't want to cook. Maybe washing a bunch of pots and pans doesn't sound too fun either. We feel you. And we have good news! There are several meal services like Blue Apron that deliver fully prepared meals instead of fresh ingredient boxes!
These services are also a big win for solo diners, who sometimes feel single-shamed by meal kits that offer a minimum of two servings per meal. Unlike Blue Apron, the fully prepared meal services we'll discuss below all offer single-serving meals.
Freshly — Tasty, Fully Prepared Meals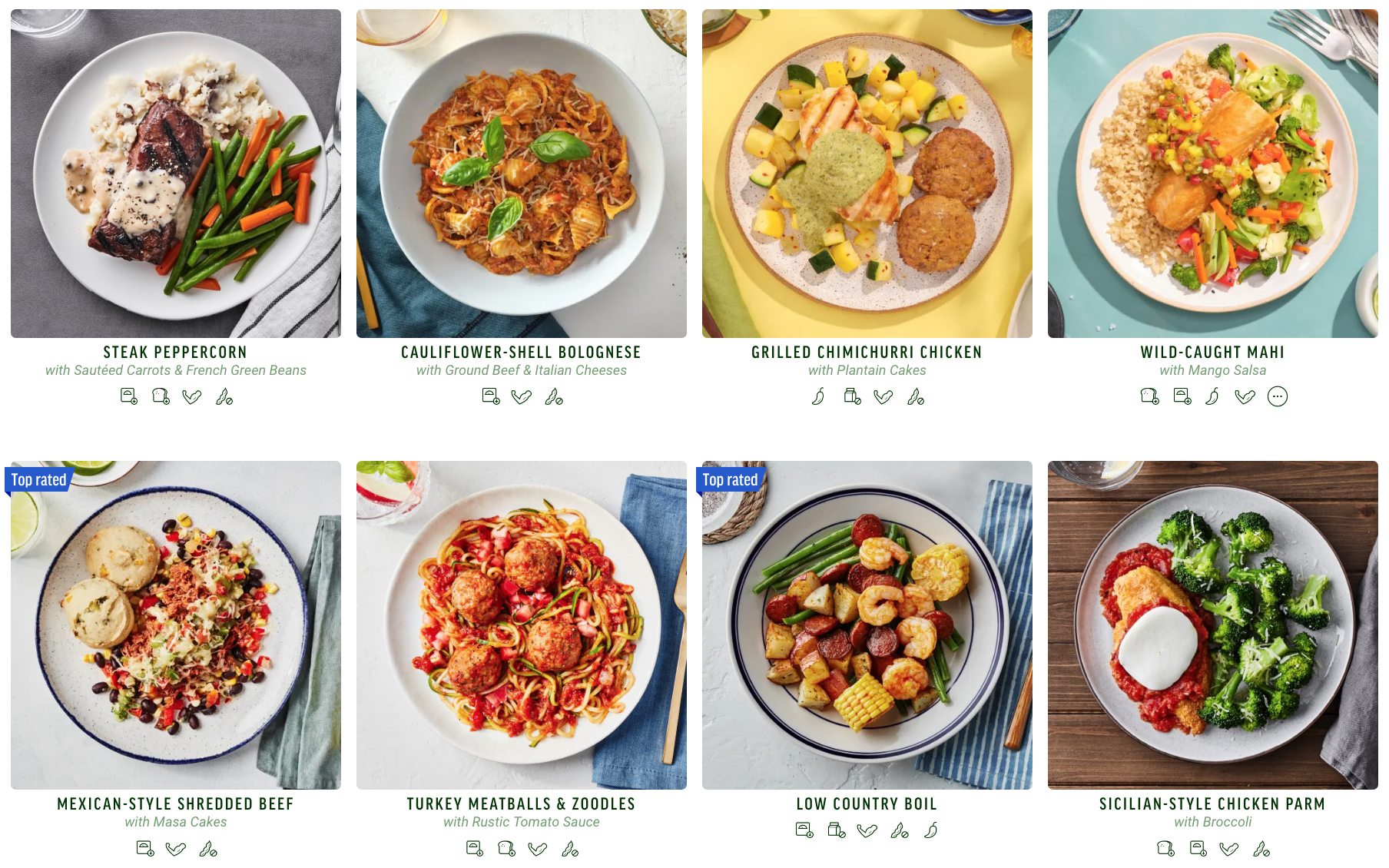 Freshly.com
Whereas Blue Apron saves you time meal planning and shopping, Freshly goes a step further by actually prepping the meals for you!
Freshly's fully prepared healthy meals are shipped fresh, not frozen — and they're already cooked for you. When you heat them up in the microwave, your food will be ready in under 3 minutes. Easy and convenient! While the Blue Apron customers are slicing and dicing, with Freshly, you'll already be munching on some delicious food.
You can choose your meals from a rotating menu with 30+ options per week. Meals are offered in single-serving sizes, which is great if you need a solo lunch or dinner. And, of course, couples can simply order two servings of the same meal — or two separate meals if they have different food preferences.
Freshly meals are:
Gluten-Free
Packed with Protein
Free from Refined Sugars
All Natural
Prices range from $8.99 to $12.50 per meal, and you can save $40 thanks to our partnership with Freshly.
Veestro — No-Prep Vegan Meals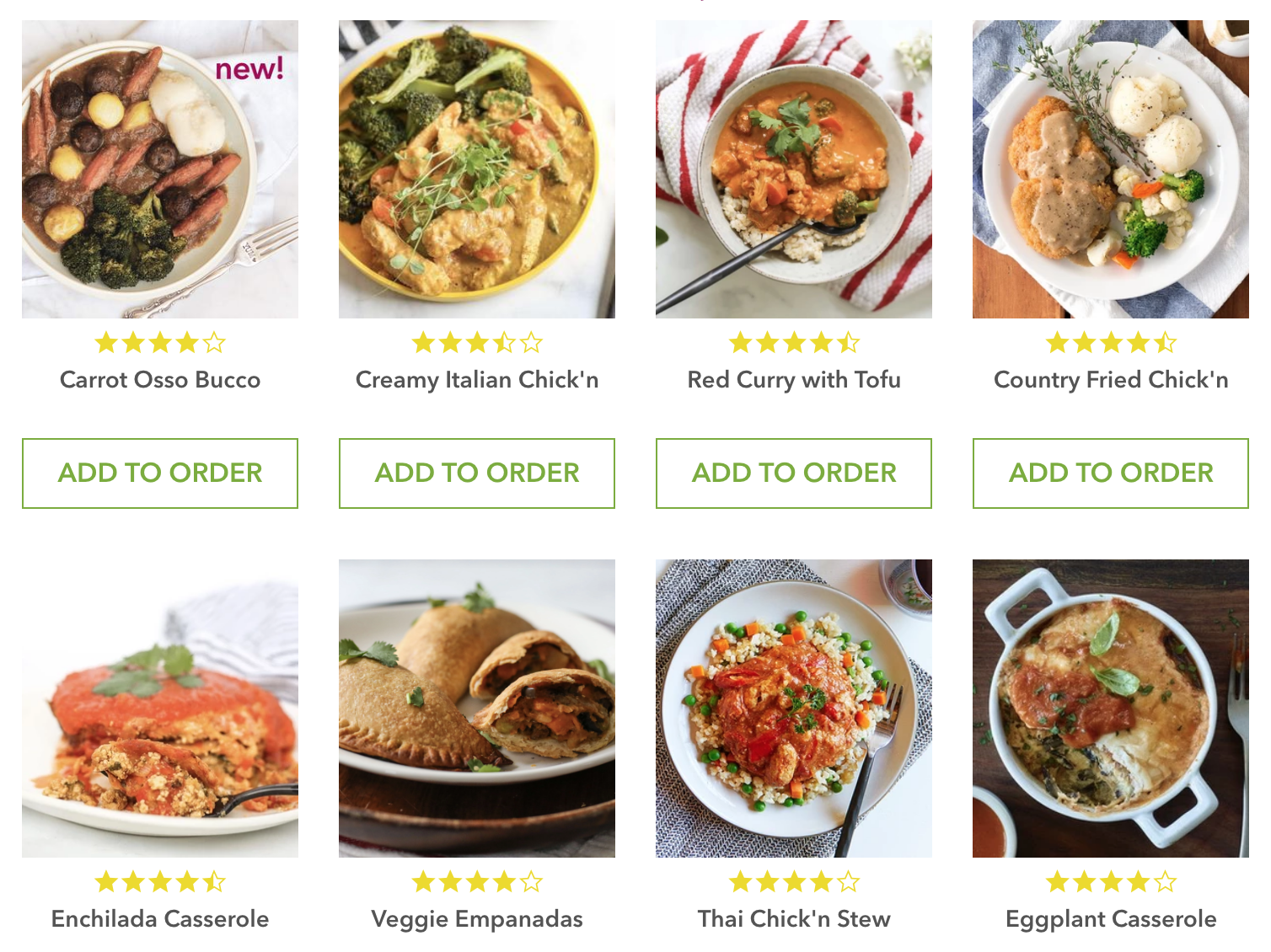 Veestro.com
If you want fully prepared meals that are vegan or vegetarian, look no further than Veestro.
Veestro delivers tasty, single-serving meals that are "free from meat, chicken, fish, dairy, eggs, and honey."
They also have an a la carte ordering option which lets you avoid a subscription and instead fill a delivery box with add-ons such as prepared breakfasts, entrees, soups, and desserts that are all chef-prepared and made fresh from organic ingredients and non-GMO plants.
Veestro's tasty meals are chef-created and delivered in eco-friendly packaging.
They're also:
100% plant-based
Largely organic
non-GMO
And offered with a wide selection of gluten-free options
Veestro's prices tend to be in the $8 – $12 per meal range. Be sure to check out our promo code below!
Save 20% off first order with code AFF7
Factor75 — Keto and Paleo-Friendly meals
Factor75.com
If you're trying to follow a low-carb diet, such as Keto or Paleo, Factor75 can make your life a whole lot easier.
Rounding up good-tasting recipes and the right ingredients for these popular diets can be time-consuming. But Factor 75 makes things simple by delivering delicious, fully-prepared meals every week.
Like most fully-prepared meal services, Factor75 meals come in single-serving sizes, which many people think of as a plus.
Factor 75 has a team of nutritionists that designs their menus. In fact, the company even offers nutrition counseling to make sure customers with specific dietary needs get exactly what they need.
All of Factor 75's meals are:
Grass-fed
Pasture-raised
Gluten-free
Non-GMO
Hormone-free
Generally free of any preservatives
Meals range from $11 – $15, and you can save $25 on your first order with our promo code!
Save $25 off first order with code GOFACTOR25
HelloFresh, Home Chef, and Plated—Other Blue Apron Alternatives
You might be wondering, "What about HelloFresh, Home Chef, or Plated?" These services are very similar to Blue Apron — so similar, in fact, that if you're aren't interested in Blue Apron, we think you probably won't be interested in them either.
However, if for some reason Blue Apron doesn't ship to your area, you can certainly look into these alternatives. HelloFresh is actually available in 10 different countries! And since Home Chef is owned by Kroger and Plated is owned by Albertsons, you can sometimes find individual meal kits from these services in your local grocery store. This can be a great way to give meal services a try before signing up for a weekly delivery subscription.
Which of These Blue Apron Competitors is Right for You?
If you're looking to save money, we think EveryPlate is the way to go.
If you have special dietary restrictions, or if you're trying to stick to a certain eating plan, Sun Basket and Green Chef have several options to choose from.
If you don't want to spend time cooking, we get it. Freshly, Veestro, and Factor75 offer convenient, fully prepared meals. And since these meals are single-serving, they're great Blue Apron alternatives for solo diners.
Or, What if Blue Apron IS the Right Service for You?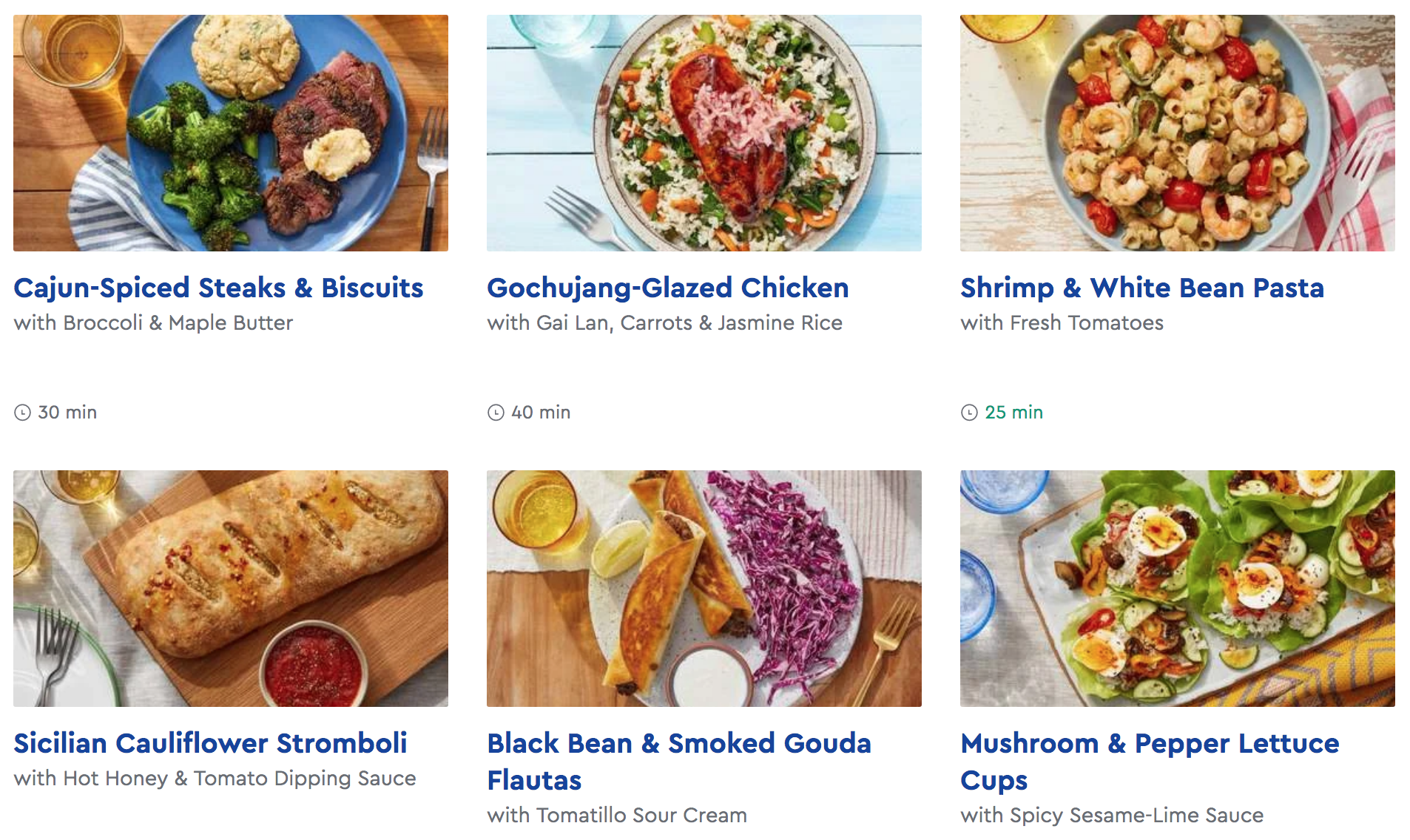 BlueApron.com
So far in the article, we've been showing a lot of love to companies like Blue Apron, and before we wrap up, it's time to give the brand in blue its due.
Starting at just $7.49 per serving, Blue Apron is a solid option for most families. Their chef-designed recipes allow you to choose from balanced Mediterranean meals, quick one-pan dinners, vegetarian options, customer favorites, and more! Through a partnership with Weight Watchers, Blue Apron also offers a "Freestyle" plan, featuring recipes that make it easier and faster to prepare healthy, home-cooked meals for those low-calorie connoisseurs.
Blue Apron even has a wine club, with wines that are specially chosen to complement Blue Apron recipes. This plan starts at just $10 / bottle.
Altogether, Blue Apron is well-loved by thousands of happy customers. On the popular customer review site Trustpilot, Blue Apron has an average rating of 4.0 / 5, with over 3,300 reviews.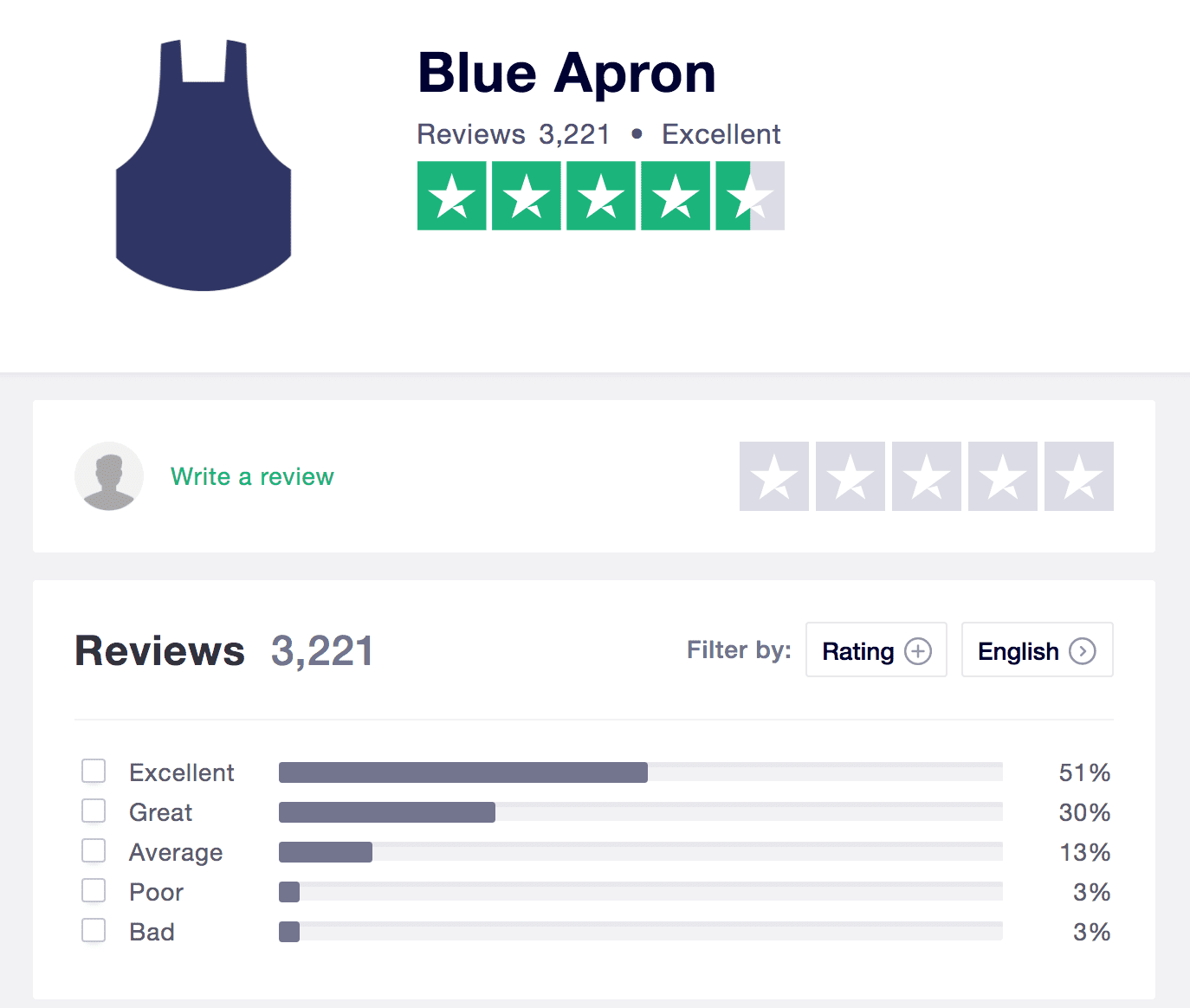 Trustpilot.com
If none of the Blue Apron alternatives in this post struck your fancy, maybe it's time to give Blue Apron a try!
That's a Wrap!
We hope this article has helped you choose the best meal kit delivery service that best fits your needs. At Food Delivery Guru, we believe that healthy food delivery services should fit your budget and dietary needs. So whether you live in Georgia or San Francisco, we want to give you the best information out there to make an informed decision on your meal delivery needs. So, did you find your next Blue Apron alternative? Do you know of any Blue Apron competitors we could have covered instead? If this article wasn't exactly what you were looking for, let us know in the comments. We read everyone and regularly make updates!
Photo by Edgar Castrejon on Unsplash